As the world's population grows exponentially, so does the demand for quality collectibles. The most expensive things in existence include a few of the world's most famous paintings and precious gems, but there is also a fair amount of collectibles in addition to that. The creators of these pieces have dedicated their time and money to create something which is truly exquisite.
Money is a part of life, but collecting valuable merchandise or other rare types of goods can also be seen as a hobby and passion by many people around the world. If you're an avid collector of something, you may this article interesting as it lists down the most expensive collectibles in the entire world, which still exist today.
12. Stefani Canturi Barbie
Price: $302,500
Country of Origin: Australia
Year Produced: 2010
Owner: Anonymous bidder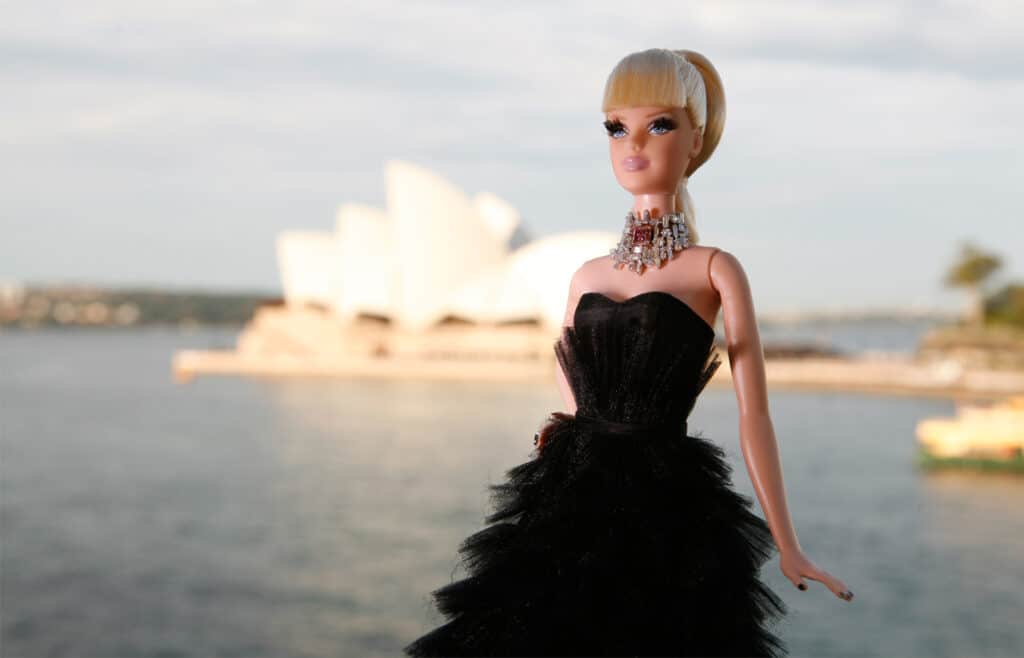 photo source: canturi.com
With gems created by Australian Stefano Caturi, the most valuable Barbie ever auctioned for $302,500 at Christie's in New York. The finger-wide neckpiece and small matching ring were designed by Canturi for Mattel in order to advertise its new Barbie line. An emerald-cut pink diamond weighing one carat and being surrounded by three carats of white diamonds make up the necklace in the jewelry set.
The doll's peep-toe stilettos, tumbling blonde hair, and black strapless party dress were all created by jeweler Stefano Canturi. The ultimate initial offer of this doll was significantly increased by the inclusion of an uncommon pink diamond from Australia's Argyle mine, which is worth around $3,000 by itself.
Did You Know?
The diamond's pink hue is a reflection of the pink ribbon, and its tenacity pays homage to all the ladies battling breast cancer.
---
11. USA 1868 1¢ Benjamin Franklin Z Grill
Price: $3 million
Country of Origin: United States
Year Produced: 1868
Owner: Bill Gross, New York Public Library
photo source: usphila.com
A number of engraved grill designs, including the Z grill, were utilized to separate the fibers on several early U.S. stamps. It is difficult to remove the cancel and use the stamp again since the ink was soaked into the grill when the stamp was revoked. Because of the relatively small grid projections' horizontal orientation, the Z grill pattern is distinct. It measures around 11 millimeters by 14 millimeters.
One of just two known specimens of this unique printing, a 1-cent blue Benjamin Franklin Z-Grill, dating to 1868, is in a private collection. This 1868 1-cent Z-Grill stamp was acquired by philatelist Bill Gross for just under $3 million when it was purchased in 1998 by the M blue Benjamin Franklin Z-Grillystic Stamp Company. It was reportedly afterward traded for the Unique 1918 24c Inverted Jenny Plate Block in 2005.
Did You Know?
In 2006 and 2007, the National Postal Museum featured the very first portion of the Benjamin Miller Collection and the two distinct examples of the 1c Z-Grill.
---
10. Professional Sports Authenticator grade 10 Pikachu Illustrator card
Price: $5.275 million
Country of Origin: Japan
Year Produced: 1998
Owner: Logan Paul
photo source: forbes.com
According to Guinness World Records, the most expensive Pokémon card as of August 2022 is a Professional Sports Authenticator grade 10 Pikachu Illustrator card. The card stands out in a variety of ways in addition to being absurdly uncommon.
It is the only Pokémon card that has "Illustrator" written at the top of the card rather than "Trainer," and it features a unique pen icon in the bottom right corner to signify that it was made for the design competition. The Illustrator was purchased by YouTuber Logan Paul in return for a PSA 9 edition of the exact same card, which is estimated to be worth $1,275,000 plus an extra $4 million.
He purchased it in 2021, but the private sale wasn't made public until he wore the card around his neck during the WWE wrestling competition WrestleMania in 2022. At that time, he was awarded a Guinness World Record for the most expensive Pokémon trading card ever sold at a private sale.
Did You Know?
Illustrator Atsuko Nishida, who created the popular favorite Pokémon Pikachu, created the Pikachu image for the Professional Sports Authenticator grade 10 Pikachu Illustrator card.
---
9. Superman No. 1
Price: $5.3 million
Country of Origin: United States
Year Produced: 1939
Owner: Anonymous buyer
photo source: forbes.com
With a $5.3 million private transaction arranged by Tony Arnold of Tony eTrade Enterprises, the first issue of the Man of Steel's comic book, Superman No. 1, published in 1939, set the record for the costliest comic book ever.
With his introduction in Action Comics #1, Superman was for a long time the most costly comic book superhero. After momentarily losing the title to Spider-Man in 2021, Superman rose to the occasion to retake it, but this time, Superman #1 was the source material instead of Action Comics. The first comic book series centered exclusively around a single character was Superman #1, which was published in 1939 by DC Comics.
Did You Know?
The copy with an 8.0 grade was a piece of Edgar Church's Mile High Collection, which included almost 20,000 vintage comics. This collection is arguably the most well-known in comic history and became the first to be designated by CCG as a "pedigree."
---
8. Mickey Mantle 1952 Topps SGC 9.5
Price: $12.6 million
Country of Origin: United States
Year Produced: 1952
Owner: anonymous bidder
photo source: espn.com
Mickey Mantle's best baseball card is breaking records more than 50 years after he was crushing pitches for the New York Yankees. At the auction on August 28 this year, a 1952 Topps #311 Mantle card brought in $12.6 million.
It flew past the game-worn Diego Maradona jersey from his "Hand of God" goal to become the most expensive piece of sports memorabilia, surpassing the record for the most expensive baseball card of all time by almost $5 million.
A selected few Mantle cards in mint condition are said to still exist, including the 1952 Topps #311. It was the year that Topps began creating its yearly collection of baseball cards, thus even though Mantle's rookie season, when cards from that period of a player's career generally have the most value, did not see release, it was the year that Topps began.
Did You Know?
The "finest known example" of its sort was characterized when it was put up for auction on Heritage Auctions in July.
---
7. Oskar Barnack's 1923 0-Series Leica
Price: $15 million
Country of Origin: Germany
Year Produced: 1923
Owner: Anonymous bidder
photo source: kosmofoto.com
The 0-Series Leica was issued by the firm to evaluate the market two years prior to the introduction of the Leica A. There are currently less than 12 in existence, and the Leitz Auction estimates that just about 22 have ever been manufactured.
Oskar Barnack, the man who created Leica, owned camera number 105; his name is inscribed on the Galilean viewfinder. Barnack allegedly utilized this camera until 1930, at which point he gave it to his son Conrad and switched to the Leica I Model C, which includes interchangeable lenses. The 0-Series Model 105 was still in Barnack's family up until 1960 when it was acquired by an American collector.
Did You Know?
In addition to the extensively altered camera, the wealthy bidder also got the original leather lens cap, an aluminum cap personalized with Barnack's initials, and correspondence related to the Model 105.
---
6. Rothschild Fabergé Egg
Price: $18.4 million
Country of Origin: Russia
Year Produced: 1902
Owner: anonymous Russian bidder
photo source: luxurycolumnist.com
The Rothschild Fabergé Egg is a majestic piece of artwork made by a skilled craftsman; it is absolutely enormous with wonderfully chased varicolored gold work and enamel coated in Fabergé's most enticing and vibrant color — a lovely translucent pink — and it appears to contain an automaton cockerel on its clock-face.
The diamond-encrusted cockerel emerges from its egg once every hour, flaps its wings four times, bobs its head three times, opens and closes its beak, and crows.
The Rothschild Fabergé Egg set three bidding world records when it was acquired at Christie's for $18,499,830: for a Russian artifact, excluding paintings; for a Fabergé work of art; and for any wristwatch.
This outstanding feat of workmanship was a thrilling find that was displayed by Christie's in London, Moscow, Paris, Geneva, and New York prior to the auction.
Did You Know?
Only one Imperial centerpiece has been owned by the same family continuously since its commission: the Rothschild Fabergé Egg. It was Germaine Halphen's present from Beatrice Ephrussi in honor of her engagement to Baron Edouard de Rothschild, Beatrice's younger brother.
---
5. Saint-Gaudens Double Eagle
Price: $20.1 million
Country of Origin: United States
Year Produced: 1907 to 1933
Owner: the United States Government
photo source: numismaticnews.com
One of the most appealing, well-liked, and generally recognizable gold coins is the Saint-Gaudens $20 Double Eagle. It will always stand as a testament to the nation's ascent to prominence in the 20th century as the final $20 gold coin the U.S. government ever minted for widespread distribution. Considering their gorgeous design, true rarity, and widespread appeal, $20 Saint-Gaudens gold coins are a steadfast choice for gold coin collections and financial assets.
The later years in the Saint-Gaudens collection are when most of the major unique items are found. The 1929 double eagle had a mintage of about 1.8 million pieces, but only a few thousand are thought to be in existence today, with the majority having been melted by the government in the late 1930s.
Did You Know?
$20 Saint-Gaudens gold double eagles are excluded, like other pre-1933 US gold coins, from IRS broker reporting rules since they are collectibles.
---
4. Graff Diamonds Hallucination
Price: $55 million
Country of Origin: South Africa
Year Produced: 2014
Owner: Laurence Graff
photo source: thejewelleryeditor.com
The Graff Diamond Hallucination now retains the title of the most expensive watch ever created, with a $55 million market value. However, the word "watch" could be utilized extremely broadly in this context. Right in the heart of the item, among the many stunningly brilliant diamonds, is a little quartz dial encircled by tiny pink diamonds.
The features that encircle the quartz dial in the middle, rather than those on either side, are what give this clock its worth. More specifically, the Graff Hallucination is made up of several fancy colors, including fancy vivid yellow, fancy intense blue, fancy light grey blue, fancy green, fancy orange, and of course fancy intense pink and fancy light pink diamonds.
The Chairman of Graff Diamonds, Laurence Graff, was the catalyst for the creation of this clock that broke records. The Graff Hallucination was a remarkable item to demonstrate the company's power, competence, creativity, and competence in the diamond enterprise, from manufacturing to retailing.
Did You Know?
The Graff Diamonds Hallucination watch has an incredible 110 carats worth of diamonds in total.
---
3. Mercedes-Benz 300 SLR Uhlenhaut Coupé
Price: $142.7 million
Country of Origin: Germany
Year Produced: 1955
Owner: anonymous bidder
photo source: carscoops.com
The Mercedes-Benz 300 SLR Uhlenhaut Coupé bears Rudolf Uhlenhaut's name and is regarded by automotive specialists and enthusiasts all over the world as one of the best examples of automotive design and development.
The 1955 Mercedes-Benz 300 SLR Uhlenhaut Coupé was purchased by a private collector at auction for a record-breaking 135 million euros. One of the two prototypes was manufactured at the time, rendering this piece of automotive history an exceptional uniqueness.
The 300 SLR Coupé, an unmatched car that defied its era's technological limitations, was designed by Uhlenhaut in 1955. This was to be the culmination of a brilliant engineer's life's work wherein he bravely ventured to make possible what his colleagues had not even dared to imagine as feasible.
Did You Know?
Mercedes-Benz has preserved one Uhlenhaut Coupé, which is on exhibit at the company museum in Bad Cannstatt. The earnings from the sale of its lone brother from the museum to a private collector for $142 million went toward starting the Mercedes-Benz Fund.
---
2. Hope Diamond
Price: $350 million
Country of Origin: India
Year Produced: 17th century
Owner: Smithsonian Institution
photo source: ids.si.edu
Originally taken from the Kollur Mine in the City of Guntur in India, the 45.52-carat Hope Diamond was discovered there in the 17th century. Because of minute levels of boron, it has a blue hue. A new understanding of how diamonds develop has been provided by their extraordinary size. As one of the Golconda diamonds, the gem is well-known.
A 112 3/16-carat gem was acquired by the French businessman voyager Jean Baptiste Tavernier, and thus the origin of the stone that would later be called the Hope Diamond started. The form and cutting of this diamond were triangular, Tavernier describes it as being a "beautiful violet" in hue. 16 white diamonds in the pendant's pear and cushion shapes encircle the Hope Diamond. The McLean Diamond and the Star of the East were two additional gems that Mrs. McLean frequently hung on the pendant's bail.
Did You Know?
The Hope Diamond's striking steely blue hue was documented in the royal inventories, and the stone became known as the "French Blue" or the "Blue Diamond of the Crown."
---
1. Salvator Mundi
Price: $450.3 million
Country of Origin: Italy
Year Produced: 1490
Owner: Mohammad bin Salman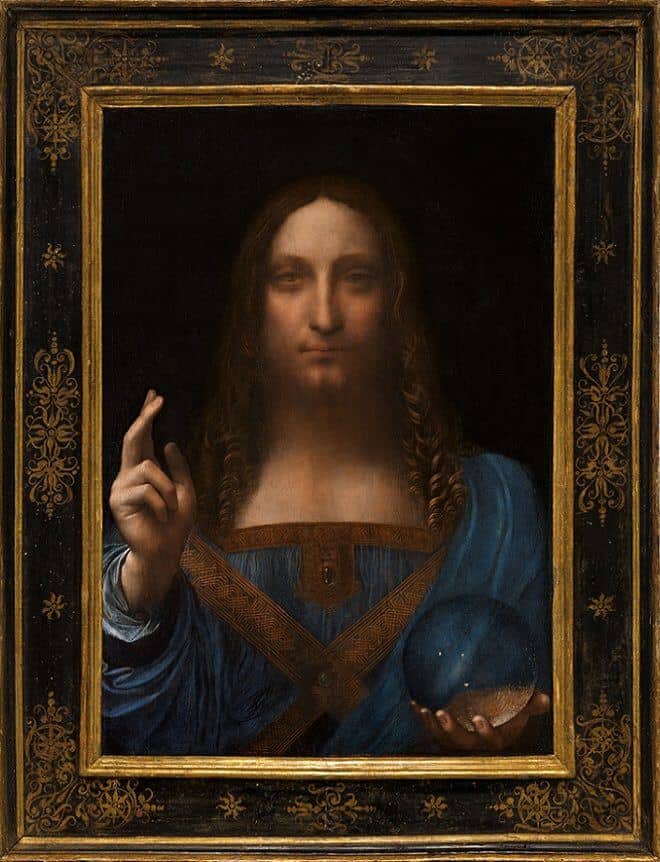 photo source: leonardodavinci.net
The 26-inch Salvador Mundi eerie oil-on-panel painting is the most expensive collectible in the world which costs 450.3 million dollars. This artwork illustrates a mid-length image of Christ as the Savior of the World, standing with his back to the viewer and wearing Renaissance-era garb.
It was previously thought that Salvator Mundi had been ruined. Between 1763 and 1900, the painting vanished until Sir Charles Robinson acquired it and distinguished it as a Leonardo imitator by Bernardino Luini. When it reappeared in the early 2000s, the artwork was no longer in pretty good shape, like many of Leonardo's surviving pieces. It needed a lot of restoration.
Even though several reputable Renaissance art experts dispute the painting's provenance to Leonardo, it was auctioned off for $450,312,500 in November 2017 at Christie's in New York, breaking a new record for a piece of art. The buyer was deliberately hidden.
Did You Know?
Perhaps for King Louis XII of France and his spouse, Anne of Brittany, da Vinci painted Salvator Mundi. Most probably, it was ordered not long after Milan and Genoa were conquered.