San Diego is a city with a lot of options when it comes to dining out, and this is especially true for the high-end restaurants that are so popular in the area. With its ideal location, San Diego has become a popular tourist destination, with beautiful beaches and a close proximity to the border. As a result, there is an abundance of high quality restaurants that please every palate.
San Diego has a lot of restaurants, but some are more expensive than others. The most expensive restaurants in San Diego are those that serve food from the ocean. This is because the water is fresh and clean, so it's ideal for cooking.
Whether you are exploring the city or just getting to know it through the internet, you are definitely in the right place! This article will show you the most expensive restaurants in San Diego.
14. Vessel Restaurant
Meal Price: $30 and under
Cuisine: American, Contemporary, Seafood
Location: 1551 Shelter Island Dr, San Diego, CA 92106
Owner: Brian Reeder
photo source: Kona Kai Resort
One of San Diego's most popular eating spots, Vessel has just undergone a facelift that includes the installation of a 360-degree bar in the middle and a video screen exhibiting regional landscapes. Their culinary team's seaside gastronomy gives classic dishes a savory twist by incorporating local, seasonal, and sustainable ingredients.
In a distinctive, modern environment, Vessel offers a substantial breakfast, lunch, and supper menu. Along with the relaxed, unpretentious ambiance and excellent food, diners go to restaurants for the breathtaking panoramic view of the marina.
Did You Know?
Vessel's expertise is grilling locally caught Mahi-Mahi and bringing in buttery scallops from Maine.
---
13. Tommy Bahama
Meal Price: $30 and under
Cuisine: American, Bar, Seafood
Location: 7007 Friars Road, Suite 305. San Diego, CA 92108
Owner: Doug Wood
photo source: Tommy Bahama
The restaurant-retail concept Tommy Bahama Marlin Bar was created in keeping with the apparel line's laid-back vacation aesthetic. Visitors may dine, sip, and shop in a relaxed setting at the Tommy Bahama Marlin Bar in Fashion Valley.
The 7,200 square foot floor layout mixes a retail store with the whole Tommy Bahama collection of sportswear, swimwear, accessories, and select home décor goods with a laid-back bar and restaurant where patrons place countertop orders and also have their meals and drinks brought to their table.
Did You Know?
Highlights on the menu include Ahi Poke and Salmon Avocado bowls, salads, and sandwiches with Tommy Bahama's Famous Coconut Shrimp, Blackened Mahi Mahi or Jerk Chicken Tacos, All American Beef or "Nashville" Hot Chicken Sliders, and Blackened Mahi Mahi or Jerk Chicken.
---
12. Truluck's Ocean's Finest Seafood & Crab
Meal Price: $31-50
Cuisine: American, Seafood, Vegetarian Friendly, Gluten Free Options
Location: 8990 University Center Ln. San Diego, CA 92122
Owner: Stuart Sergeant and Patty Turner
photo source: Truluck's'
Established in 1992 and adamantly independent ever since. A short drive from the ocean, UC San Diego, and historic Torrey Pines, Truluck's La Jolla is situated in UTC at The Aventine on La Jolla Village Drive just east of The 5. Every night, Truluck's is dedicated to offering our customers fresh seafood and special experiences.
They are well known for their seafood, and off the coast of Naples, Florida, they run a fleet of no fewer than sixteen boats for crabbing. With this benefit, the crab arrives at your table fresh and within 24 hours after being captured.
Seven steaks and chops, each roasted or grilled to a degree of accuracy unrivaled by most steakhouses, are available to those looking for an alternative to seafood.
Did You Know?
One can't help but be lured to a sizable tank in the reception area of Truluck's that is filled with live crabs and lobsters as soon as one enters the restaurant. This Texas company is well known for its commitment to serving only the freshest seafood.
---
11. Top of the Market- San Diego
Meal Price: $50-75
Cuisine: Seafood
Location: 750 N Harbor Dr, San Diego, CA 92101
Owner: Jim Wendler
photo source: topofthemarketsd.com
With stunning views of the San Diego Bay from the Coronado Bridge to Point Loma, Top of the Market offers modern American seafood cuisine in a stylish setting. The restaurant's exhibition-style cuisine and excellent, attentive service add to its cozy and classy atmosphere.
They provide interior seats with wide bay view windows, an open-air North Deck, a glass-enclosed patio, and other sitting alternatives.
Did You Know?
The restaurant's long, wide windows that overlook the ocean are brightly lit. As a result, although some visitors may appreciate seeing their food being prepared in the spacious show kitchen, others are urged to enjoy their meal while soaking up the California sun on the covered patio.
---
10. Born & Raised
Meal Price: $50 and over
Cuisine: Steakhouse, Contemporary French / American, Seafood
Location: 1909 India St. San Diego, California, 92101
Owner: Jason McLeod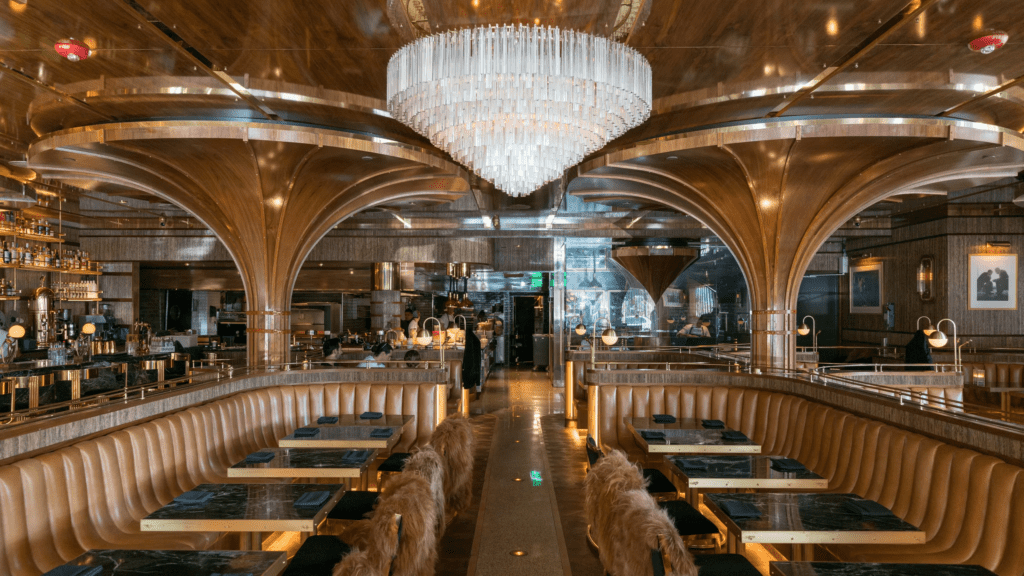 photo source: Conde Nast Traveler
The restaurant specializes in table-side cart service and delivers the finest quality modern steakhouse meals. ranging from hot and cold appetizers to dry-aged meats and delectable desserts.
Born & Raised is one of the most stunning places in town to enjoy dining and drinking, and it can be found in San Diego's Little Italy neighborhood.
The lavish interior, which measures 10,000 square feet and is filled with traditional grandeur, is followed closely by the rooftop's lantern lighting. The atmosphere is established with velvet seats, checkered booths, and a marble bar that looks out over Little Italy's roofs.
Did You Know?
Reservations are strongly advised for supper at Born & Raised because it is not on the inexpensive side. However, on weekdays from 3 to 5 p.m., you may visit the rooftop for happy hour, where seating is first come, first served.
---
9. Fleming's Prime Steakhouse & Wine Bar
Meal Price: $75
Cuisine: American, Steak
Location: 8970 University Center Ln. San Diego, CA 92122
Owner: Bloomin' Brands
photo source: Foursquare
The best place to enjoy a delicious prime steak, glass of wine, or handmade cocktail is Fleming's Prime Steakhouse & Wine Bar.
Customers may indulge their cravings with the finest preserved prime steak and discover new tastes with its award-winning wine list, which has 100 wines by the glass and an excellent Reserve List.
It has an opulent dining room centered around an open kitchen and a large bar. Private dining rooms that are close to the main dining area may easily fit small or big gatherings.
Did You Know?
The restaurant's dedication to steak and wine is evident in the excellent hand-cut steak menu, award-winning wine list, and seasonally changing menu selections that include chef dishes inspired by local ingredients and created by Chef Partner Matthew Cook.
---
8. Island Prime
Meal Price: $79.95
Cuisine: American, Seafood, Vegetarian Friendly, Vegan Options
Location: 880 Harbor Island Dr, San Diego, CA 92101
Owner: Cohn Restaurant Group, Inc.
photo source: Open Table
Island Prime's stilt-supported building extends out over the water and is situated on the edge of Harbor Island, just a short distance from the airport, giving customers the impression that they are floating along on a dinner cruise.
Metro steaks, seafood, and other delectably sumptuous meals are among the offerings on chef Deborah Scott's retro-chic but an affluent menu that will leave you speechless. You'll keep going back to Island Prime for more because of the delicious food from your youth and the breathtaking scenery.
Did You Know?
The illustrious Chef Deborah Scott, who founded Island Prime in 2005, had in mind a retro, nostalgic atmosphere, which she achieved via small elements like the orange highlights on wooden beams or the presentation of steaks on cast iron skillets.
---
7. Ruth's Chris Steak House
Meal Price: $40-90
Cuisine: American, Steakhouse
Location: 1355 N Harbor Dr, San Diego, CA 92101
Owner: Ruth's Hospitality Group
photo source: Urban Dining Guide
Meat is king at Ruth's Chris. The apparently little but incredibly tasty Filet made with USDA Prime corn-fed beef and the New York Strip made with USDA Prime beef are just a couple of the menu's highlights.
Its owner, Ruth Fertel, staked everything on a little steakhouse in New Orleans in 1965, a period when the majority of women couldn't even apply for a bank card without their husband's signature. Ruth, a single mother of two sons, learned how to run a restaurant on her own, overcame many obstacles, and during the process, reinvented hospitality.
To give customers the option to participate in a restaurant they already adored, Ruth's Chris made a risky move by conducting a public stock offering. The business continues to trade with the RUTH ticker on the Nasdaq Stock Market as a memorial to its founder.
Did You Know?
In addition to having facilities throughout the United States, Canada, and Mexico, they also have international branches in nations like Singapore and Taiwan. Now that Ruth's Chris Steak House has a local location in Manila, you may now include the Philippines on that list.
---
6. Fogo de Chao Brazilian Steakhouse
Meal Price: $15-125
Cuisine: South American, Steakhouse
Location: 668 6th Ave. San Diego, CA 92101
Owner: Rhône Group
photo source: Gaslamp Quarter
Since 1979, Fogo de Chao has been the premier restaurant in Brazil, specializing in fire-roasting premium meats using the churrasco cooking method, which has been used in Southern Brazil for generations. The Fogo de Chao founders were raised in the Serra Gaucha on a traditional Southern Brazilian farm.
They acquired the skills necessary to prepare food using the churrasco grilling method here, which would later form the basis of its narrative.
This original establishment was born out of an obsession with quality, investments in the city's art and culture, and a reverence for the founders' families' cultural history. It was made of wood and was tucked away in the Porto-Alegre countryside.
Did You Know?
The Bar Fogo concept debuted at the Fogo restaurants later in 2013, providing customers with fresh small meals inspired by Brazil, as well as award-winning wines and beverages.
---
5. Nobu San Diego
Meal Price: $135
Cuisine: Japanese
Location: 207 Fifth Ave, San Diego, CA 92101
Owner: Chef Nobu, Robert De Niro, and Meir Teper
photo source: Urban Dining Guide
Nobu continues to provide sophisticated customers with culinary adventures across the world. The Hard Rock Hotel San Diego, located in the center of the Gaslamp Quarter, is home to Nobu, the most popular Japanese restaurant in the world and known for its creative new style of Japanese cuisine.
One of the few chefs with training in Tokyo, Nobu Matsuhisa, is well-known enough to go by the moniker Nobu. He has drawn the culinary elite from New York to London, Melbourne to Milan for years with his traditional sushi bar fare and modern Japanese cuisine.
Around the world, A-Listers compete for power cables, and San Diego is no different.
Did You Know?
Kim Kardashian watched one of her daughters North West's basketball matches in Malibu, California, before going out to dinner at Nobu in July.
---
4. Fin+Lime
Meal Price: $30-200
Cuisine: Mexican Seafood
Location: 5664 Mission Center Rd Suite #402, San Diego CA 92108
Owner: Gaston Corbala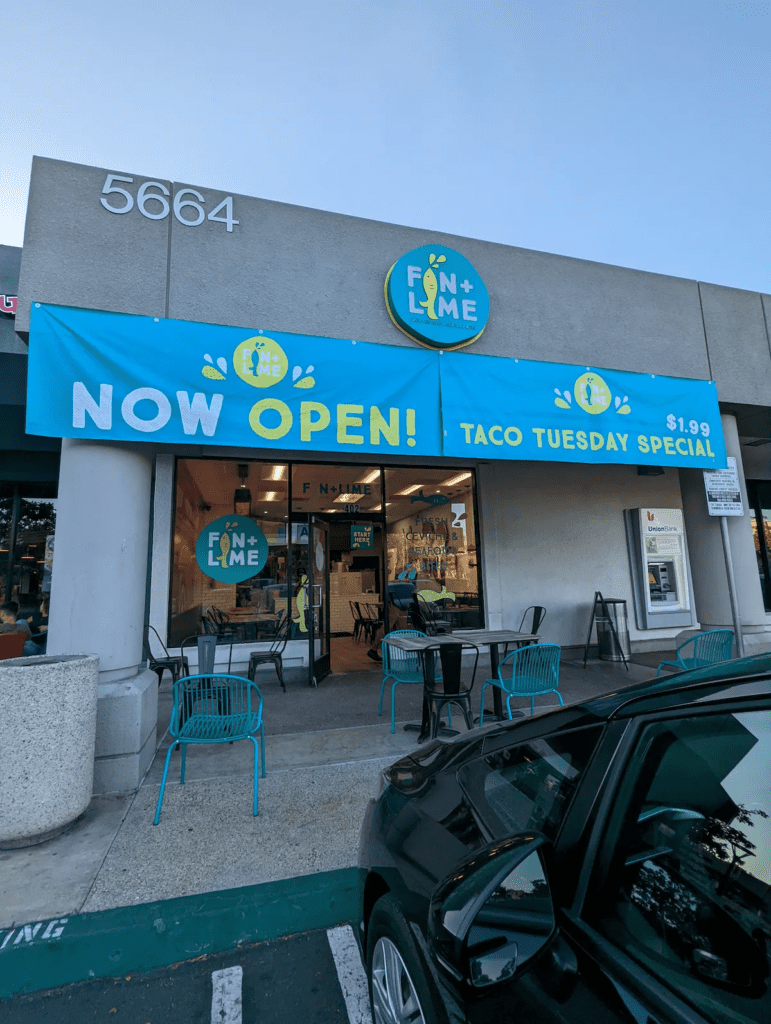 photo source: Checkle
At this fast-service restaurant, where ceviche and seafood snacks are purported to be specialties, fish is the star of the show.
The counter-service restaurant, created by the proprietors of Grater Grilled Cheese and Grater Greens, Fin + Lime has stations where customers may personalize a variety of seafood meals, primarily Mexican ones.
A tostada or chips, your choices of seafood, such as octopus, shrimp, and fish, or an alternative like hearts of palm, are the first steps in the build-your-own ceviche experience at the cold counter.
Did You Know?
Fin + Lime has a hot bar where customers can create their own burritos, bowls, and tacos with a variety of seafood preparations such as fish with red chile sauce, fish on the grill, or shrimp Gobernador with sautéed poblanos, onions, and tomatoes.
---
3. Eddie V's Prime Seafood
Meal Price: $30-250
Cuisine: Seafood, Steak
Location: 1270 Prospect St, La Jolla, CA 92037
Owner: Guenevere Cevasco, Darden Restaurants, Inc
photo source: Local Wally's Guide to San Diego
A network of steak and seafood restaurants in America is called Eddie V's Prime Seafood. Guy Villavaso and Larry Foles launched the first Eddie V's in Austin, Texas.
With an emphasis on top-of-the-catch prime seafood concoctions, USDA prime beef and chops, and fresh oyster bar options, Eddie V's Prime Fish offers an experience loaded with seafood, steaks, and rhythm.
The restaurant is decorated in a casually sophisticated setting with a sensuous earth-tone color scheme, complemented with artwork in bright colors and a variety of wood finishes that are sporadically interspersed.
Did You Know?
Every day at 4 o'clock, Eddie V's bar provides Happy Hour, during which time you may savor delicious seafood appetizers and distinctive beverages at discounted prices.
---
2. Mister A's
Meal Price: $89.50
Cuisine: American, French, Mediterranean
Location: 2550 Fifth Ave 12th floor, San Diego, CA 92103
Owner: Ryan Thorsen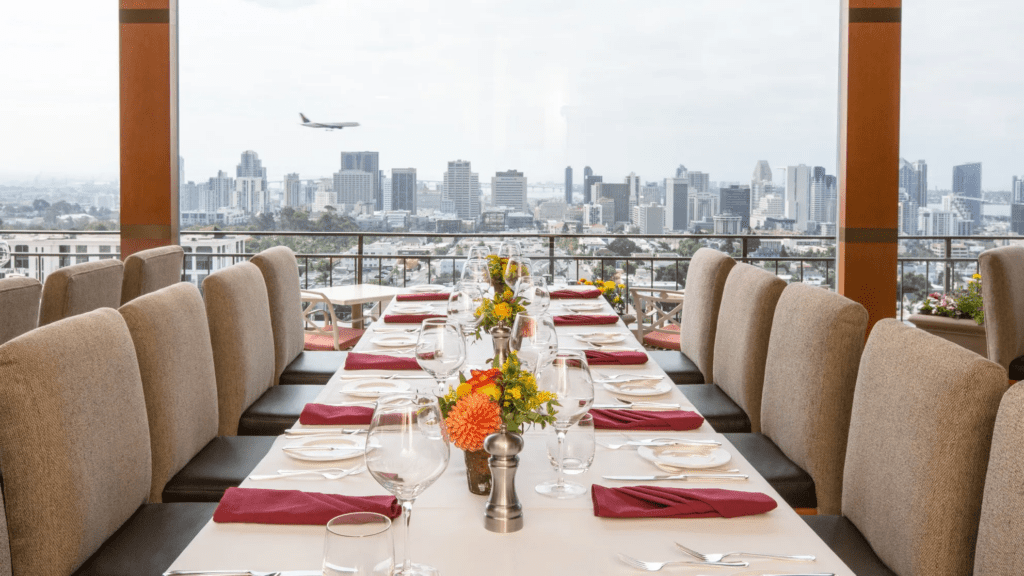 photo source: Conde Nast Traveler
The distance between Mister A's and the typical eating experience is only a few minutes from Downtown. You will always remember and cherish your dinner experience at Mister A's. Enjoy casual elegance with friends whenever you choose. Previously regarded to be a location for just exceptional events where coats were necessary.
Since it first opened in 1965, this renowned fine dining location, located atop the Manchester Building in the Bankers Hill district, has been a local landmark.
Did You Know?
Ryan Thorsen purchased Mister A's restaurant from Bertrand Hug after 22 years of ownership.
---
1. Addison Restaurant
Meal Price: $295
Cuisine: Contemporary French dishes
Location: 5200 Grand Del Mar Way, San Diego, CA 92130
Owner: William Bradley
photo source: Times of San Diego
The extraordinary accuracy and polish that are the chef's trademark in Addison's cooking continue to be a part of it even as it continuously changes. Five initial nibbles display carefully crafted flavors that are strong without being overwhelming. For the amount of $295 per person, Addison is definitely the most expensive restaurant in San Diego.
Since 2006, the restaurant and the San Diego culinary scene have gained notoriety on a global scale because of Addison's method's purity and accuracy.
In addition to being recognized by Michelin, La Liste, an international rating and guide, also recognizes Addison as one of just 80 stand-alone Relais & Châteaux restaurants globally.
Did You Know?
The only Forbes Five-Star restaurant in Southern California is Addison which is also the first two-star Michelin restaurant in San Diego.