Football transfers are the terms used to describe all transfers of players between football clubs. In modern-day football, professional players move around a great deal and can change clubs regularly. Football transfers are an opportunity to improve a club's fortunes, which can help sides move up the footballing ladder and attract better players in the future.
It is not only the most important part but also the most unpredictable. It is essentially involved with making expensive mistakes when manufacturing players, overpaying for players or signing the wrong player at a time when the market is flush with talent.
The world has seen an array of transfer activity over the past years, but this article will show you the most expensive transfers that have ever been made.
14. Gonzalo Higuain
Transfer Fee: €90 million
From Club: Napoli
To Club: Juventus
Year: 2016
photo source: The Athletic
The son of Argentine football player Jorge Higuain, who at the time was a member of Stade Brestois 29, Higuain was born on December 10, 1987, in Brest, France. He traces his Basque ancestry to his father.
While he does not speak French and left France when he was ten months old, he still has both his Argentine and French nationalities, which he officially petitioned for in January 2007.
After beginning his career at the junior level, Higuain earned his River Plate debut. Higuain was acquired by Spanish club Real Madrid from River Plate in December 2006 for a sum of €12 million. His Copa del Rey debut took place in Seville on January 11, 2007, against Real Betis.
Several prestigious teams, including Arsenal and Napoli, were eager to recruit Higuain in the 2013 summer transfer window due to his availability. Higuain was the subject of a lot of transfer rumors, with several publications reporting that he was interested in joining Premier League team Arsenal.
Napoli then announced the acquisition of Higuain on July 27, 2013. Years passed, and Gonzalo Higuain's three-year stay at Napoli has come to an end, as he has agreed to a €90 million transfer to Serie A champions Juventus.
Did You Know?
The Italian cover of FIFA 15 by EA Sports featured Higuain with international cover hero Lionel Messi.
---
13. Antony
Transfer Fee: €95 million
From Club: Ajax
To Club: Manchester United
Year: 2022
photo source: goal.com
A Brazilian football player by the name of Antony Matheus dos Santos, also known as Antony, now plays as a winger for Manchester United of the Premier League and the Brazil national team. After leaving Ajax, he signed a €95 million contract with United Manchester.
He is sought after because of his outstanding records as a player. At the 2020 Summer Olympics, Antony earned a gold medal with the Brazil under-23 squad. In October 2021, he then scored against Venezuela in his senior international debut.
The 2022–23 season was foreshadowed by a disagreement around Antony's intention to leave Ajax before he made his injury comeback against Fortuna Sittard on August 6.
Antony was left out of the games so far this season against Sparta Rotterdam and Utrecht after Ajax rejected Manchester United's interest in his services, which included an €85 million transfer offer. He also refused to show up for training.
Did You Know?
Early on, Antony started participating in football, and São Paulo quickly noticed him. In 2010, when he was 10 years old, they made him an offer, and he joined their young program.
---
12. Gareth Bale
Transfer Fee: €101 million
From Club: Tottenham
To Club: Real Madrid
Year: 2013
photo source: Real Madrid
Prior to joining Tottenham in 2007, Gareth Bale started his career at Southampton. He changed from a left-back to a left winger, and as a result, he rose to the top of the Premier League as one of the league's most feared players in his position.
In 2013, Bale joined Real Madrid for the then-reported world-record sum of €101 million. He contributed to five seasons in which the Bernabeu won the Champions League, and he experienced great success during that period.
In 27 La Liga games during the 2013–14 season, Bale recorded 15 goals and 13 assists. Real Madrid finished three points behind winner Atletico Madrid despite having scored 27 more goals than them, therefore despite an amazing inaugural season, they were unable to win La Liga.
Did You Know?
Bale holds the record for most goals scored as a member of the Welsh national team with 40 points.
---
11. Paul Pogba
Transfer Fee: €105 million
From Club: Juventus
To Club: Manchester United
Year: 2016
photo source: The Busby Babe
French professional footballer Paul Labile Pogba competes for both the France national team and the Serie A club Juventus. While his primary position is a center midfielder, he can also play on the left wing.
In 2007, Pogba joined the Le Havre junior squad until a drawn-out deal sent him to Manchester United two years later. In 2012, he joined Juventus on a free transfer after being forced to leave Manchester United two years after beginning his professional career there owing to a lack of playing time.
Because of his work at Juventus, Pogba returned to Manchester United in 2016 for a then-record €105 million transfer price. Up until 2021, the fee was the most paid by an English team.
Did You Know?
In terms of his international accomplishments, Pogba led France to victory in the 2013 FIFA U-20 World Cup, winning the Best Player title for his efforts there.
---
10. Romelu Lukaku
Transfer Fee: €115 million
From Club: Inter
To Club: Chelsea
Year: 2021
photo source: Sky Sports
Belgium's national football team and Serie A club Inter Milan both use striker Romelu Lukaku Bolingoli, a Belgian who now plays for Premier League club Chelsea on loan.
Lukaku started his professional club career at Anderlecht, where he was the league's leading scorer and won the Belgian Pro League. He moved to Chelsea in 2011 for a €12 million transfer fee.
Due to a lack of playing time, Lukaku was loaned to West Bromwich Albion and Everton. In 2014, he signed for Everton in a then-club-record €32 million trade. Following his transfer to Manchester United, which cost €88 million, Lukaku left the club in 2019 in an €80 million club record deal for Inter Milan, where he won the Serie A title and the Serie A Most Valuable Player award.
A club record deal of €115 million brought Lukaku back to Chelsea in 2021, making him one of the most expensive players in history and the most expensive player from Belgium.
Did You Know?
On September 5, 2021, Lukaku scored his 67th goal while making his 100th appearance for Belgium against the Czech Republic.
---
9. Eden Hazard
Transfer Fee: €115 million
From Club: Chelsea
To Club: Real Madrid
Year: 2019
photo source: Sky Sports
Hazard started his career in Belgium playing for regional junior clubs. He is the son of two former football players. He relocated to France in 2005, when he signed with Lille of Ligue 1 to start his senior career. After spending two years in the club's youth, Hazard made his professional debut in November 2007 at the age of 16. Under manager Rudi Garcia, he was an essential member of the Lille team.
Hazard joined the English club Chelsea in June 2012 after spending more than 190 appearances and 50 goals with Lille.
Hazard made a name for himself at Chelsea as one of the top players in the world. Real Madrid of La Liga made the announcement that Hazard will be joining them for the 2019–20 season on their website on June 7, 2019.
He agreed to a deal that would last through June 30, 2024, for a reported sum of €100 million; however, extra payments might bring the total to €146.1 million. After Gareth Bale, Hazard became the most expensive player at Real Madrid.
Did You Know?
Hazard has been featured in advertisements for Lotus Bakeries, a Belgian company, since March 2016 to support their Biscoff cookie line.
---
8. Cristiano Ronaldo
Transfer Fee: €117 million
From Club: Real Madrid
To Club: Juventus
Year: 2018
photo source: Twitter
Before joining Manchester United in 2003 at the age of 18, Ronaldo started his professional career as a senior player with Sporting CP. That season, he won the FA Cup. At the age of 23, he won his first Ballon d'Or.
He would then go on to win the Champions League, the FIFA Club World Cup, and three straight Premier League championships.
Ronaldo completed a €117 million transfer to Italian club Juventus on July 10, 2018, after months of negotiations to negotiate a new Real Madrid deal. The move represented the largest sum ever paid to a player above the age of 30 by an Italian team.
Ronaldo first cited his desire for a fresh challenge as the reason behind his decision to leave Real Madrid, but he then blamed the club's president, Florentino Pérez, for his perceived lack of support.
Did You Know?
With almost 190 caps under his belt, Ronaldo is Portugal's most-captured player. He made his international debut for Portugal in 2003 at the age of 18.
---
7. Jack Grealish
Transfer Fee: €117.5 million
From Club: Aston Villa
To Club: Manchester City
Year: 2021
photo source: BBC
Grealish was born in England and has Irish heritage, therefore he is qualified to play for either England or the Republic of Ireland on the international stage. Grealish was capped by the Republic of Ireland up to the under-21 level before announcing in April 2016 that he would be playing for England.
In May 2016, he participated in the 2016 Toulon Tournament for the first time as an England under-21 player.
He scored his first goal in his professional career on December 7, 2014, beating three defenders to score the winning goal in a 3-1 victory against Gillingham at Meadow Lane.
Grealish was signed by Manchester City on 5 August 2021 on a six-year deal that would last until 2027. Numerous media sites stated that Aston Villa received a transfer price of over £100 million, making it the most expensive sale of an English player and the largest cost ever paid by a British club.
Did You Know?
England was known to be interested in him while he was playing for Irish young teams; they even invited him to join their under-17 squad in 2011 when he was 15 years old, but he turned them down.
---
6. Antoine Griezmann
Transfer Fee: €120 million
From Club: Atletico Madrid
To Club: Barcelona
Year: 2019
photo source: Everything Barca
Griezmann is a versatile player who has experience playing as an offensive midfielder, a winger, and a striker. He is renowned for his attacking, passing, and supporting defense. Real Sociedad, where Griezmann started his senior club career, won the Segunda División in his inaugural year.
After triggering his €120 million buy-out, Barcelona announced on July 12th that it had signed Griezmann to a five-year contract.
Later that day, however, Atlético Madrid challenged Barcelona's acquisition of the player, claiming that the money paid was €80 million less than what was needed to fulfill his release clause.
Did You Know?
Griezmann established Grizi Esport, an esports organization, in January 2020.
---
5. Joao Felix
Transfer Fee: €126 million
From Club: Benfica
To Club: Atletico Madrid
Year: 2019
photo source: SportsMax
Before joining rivals Benfica in 2015, Félix first received his training in Porto's junior divisions. A year later, he joined the latter's reserve squad, and in 2018, he was promoted to the main team, making his professional debut at the age of 17.
In his first and only season at Benfica, he went on to score a ton of goals and lead his team to the league title.
For his efforts, he has been given the Golden Boy and Best Young Player of the Year awards in the Primeira Liga.
Atlético Madrid, a Spanish club, and Félix agreed to a seven-year deal on July 3, 2019, in exchange for a €126 million transfer fee.
Additionally, this was the largest move for Benfica, the most costly acquisition for Atlético, and the second-highest sum ever spent for a teenager.
Did You Know?
During the COVID-19 epidemic in April 2020, Félix contributed equipment to a crowdfunding effort for a hospital in his hometown of Viseu.
---
4. Philippe Coutinho
Transfer Fee: €135 million
From Club: Liverpool
To Club: Barcelona
Year: 2018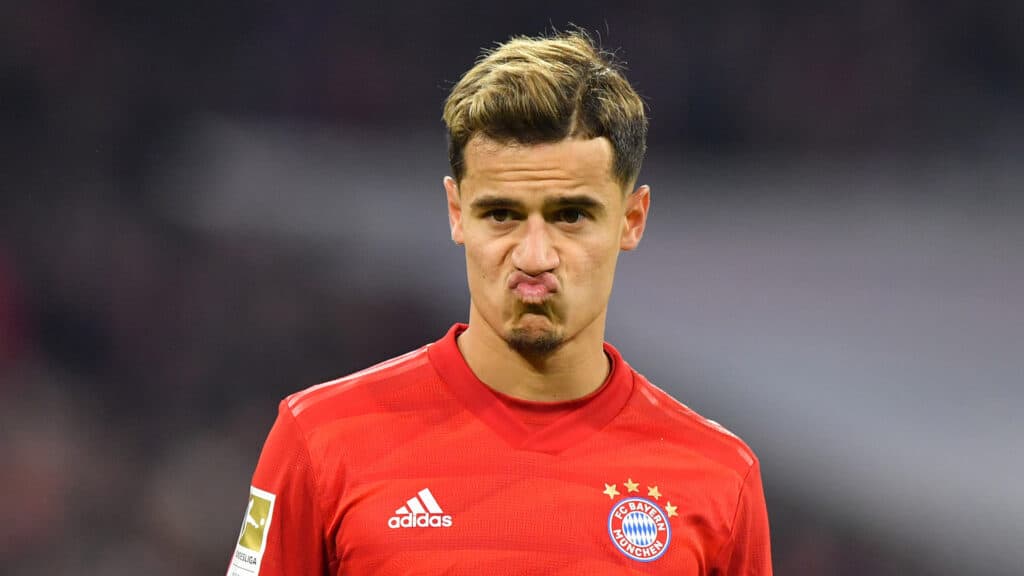 photo source: Goal.com
In the Vasco da Gama youth program, Coutinho, who was born and reared in Rio de Janeiro, displayed extraordinary potential. He was paid €4 million to join the Italian club Inter Milan in 2008, and after being loaned back to Vasco, he was an important member of the team.
He made his Inter Milan debut in 2010, and in 2012, he was loaned to the La Liga team Espanyol.
2010 was Coutinho's senior international debut. He competed for Brazil in both the Copa América Centenario in 2016 and the Copa América in 2015. During the 2018 FIFA World Cup, he completed his World Cup debut and scored two goals, earning a spot on the FIFA World Cup Dream Team.
Liverpool officially announced on January 6th, 2018, that they have completed a transfer agreement for Coutinho with La Liga team Barcelona.
According to reports, the initial £105 million transfer price for him would increase to £142 million if certain conditions were satisfied.
Did You Know?
His arms are covered in tattoos that pay homage to his wife and family.
---
3. Ousmane Dembele
Transfer Fee: €140 million
From Club: Borussia Dortmund
To Club: Barcelona
Year: 2017
photo source: Barca Blaugranes
Dembélé, who was born in Vernon, started his professional career with Rennes before signing with Dortmund in 2016. A year later, he joined fellow countryman Paul Pogba as the joint-second most expensive player in history when he moved to Barcelona for an initial cost of €105 million.
Dembélé made his senior international debut for France in 2016 after amassing 20 caps and five goals at the junior level. Barcelona of La Liga confirmed in August 2017 that they had secured a deal to recruit Dembélé for 140 million euros.
In 150 appearances with the Spanish team, he amassed 32 goals and 34 assists, winning two La Liga championships.
Did You Know?
Dembele is a devout Muslim. Since December 2019, he and a Moroccan woman have been wed there in a customary ceremony.
---
2. Kylian Mbappe
Transfer Fee: €180 million
From Club: Monaco
To Club: PSG
Year: 2017
photo source: Marca
In 2017, Mbappé, being 18 years old, made his senior international debut for France. After Pelé, Mbappé became the second young player to score in a World Cup Final in the 2018 FIFA World Cup.
Paris Saint-Germain confirmed the loan acquisition of Mbappé from Monaco on August 31, 2017. Unai Emery, the head coach of Paris at the time, gave a persuasive speech at the Mbappés' house in the summer when Zidane was not securing the young player a starting position at Real Madrid.
Mbappe transferred from AS Monaco to PSG in 2017, with the club ultimately spending a then-record €180 million for a youngster.
Did You Know?
Mbappé had a sponsorship agreement with Nike. When he was 18 years old, thanks to his remarkable potential, Nike released the Kylian Mbappé Nike Hypervenom 3 football footwear.
---
1. Neymar
Transfer Fee: €222 million
From Club: Barcelona
To Club: PSG
Year: 2017
photo source: Forbes
The all-time biggest transfer price in soccer history was the 222 million euro purchase of Brazilian footballer Neymar from Barcelona to Paris Saint-Germain (PSG) in August 2017.
Neymar's legal team. paid the organization a sum corresponding to his contract's release clause of €222 million on August 3, 2017, according to a statement released by Barcelona. This move cost the highest money ever.
The release clause in Spain must be initiated by the football player personally, according to the BBC. The fact that the sum was paid straight to the club after La Liga rejected it made the case exceptional.
In order to release a player from his contract, the buyout clause is often placed with La Liga, and the league subsequently distributes the funds to the selling club. La Liga, on the other hand, rejected the payment, claiming that PSG had broken the Financial Fair Play (FFP) rules since they are funded by money from the Gulf state of Qatar.
Did You Know?
As the first Brazilian athlete to do so, Neymar made an appearance on the Time magazine cover in February 2013.