Fifth wheels are popular because they provide the perfect balance between space and comfort. The main benefits of fifth wheels are that they can be used for a number of different purposes, including camping, off-road travel, and for recreational activities like fishing or hunting.
There are many different types of fifth wheels available today: from small pop-up campers that sleep two people up to massive RVs with sleeping spaces for more people.
Some models even have kitchenettes and full bathroom amenities so that you can cook while on the road. All models come with standard features like air conditioning, heat pumps, satellite TV, refrigerator/freezer combo units, etc., but each also has its own unique features that make them stand out from other models on the market.
So, whether you are an on-the-go camper or just a nature-loving traveler looking for the perfect fifth wheel to choose from, this article is just right for you! Listed below are the most expensive fifth wheels and their amazing features.
8. Keystone Avalanche 395BH
Price: $91,999
Manufacturer/ Brand: Keystone
Dimensions: 41.5 ft x 8.33 ft x 13.33 ft
Key Feature: In-floor heating ducts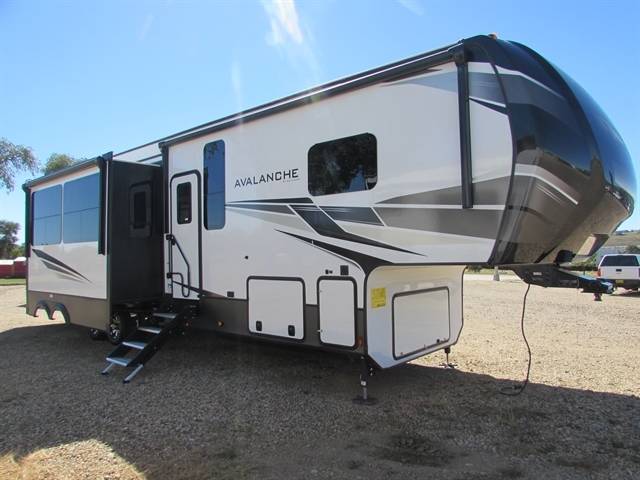 photo source: RVT.com
The Master Suite with its King-size Bed and Private Bathroom Entrance, the Private Bunkhouse with its Own Back Access in the Linked Second Full Bathroom, and the Loft are just a few of the outstanding facilities that the Keystone Avalanche 395BH is filled with.
Numerous campers may congregate in the spacious kitchen and living space, play games at the fold-down table and couch, and chat around the kitchen counter while eating meals and reminiscing about the day's activities.
All Keystone luxury full-profile Avalanche fifth wheels feature wide-body construction with the Polar Pack All Season Protection, which includes a heated and enclosed underbelly, 12 Volt electric heat pads on all tanks, and an Astro foil reflective layer on the roof, front, and rear walls. This allows you to stretch out and stay for a while in any period.
Did You Know?
The interior has polished natural stone solid surface counters and grained soft gray wood throughout, as well as your choice of contemporary interior decor.
---
7. 2021 Crossroads Redwood RV
Price: $101,900
Manufacturer/ Brand: Thor Industries
Dimensions: 42.17 ft. x 8 ft. x 13.5 ft.
Key Feature: Theater Seats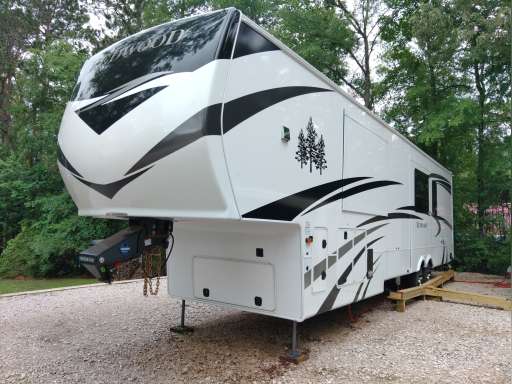 photo source: RV Trader
The front kitchen of the 2021 Crossroads Redwood RV has two opposing slides that together create a spacious area for cooking all of your dishes while you are far from home. A king-bed slide-out is also present in the master bedroom, and there are two opposing slides in the central living space.
From top to bottom, Redwood's fifth wheels are opulently furnished. You can quickly turn a Redwood fifth wheel into your home with the Full-Time Living Package included. This option includes an insulated slam lock luggage door, a FIT 2.0 chassis, and maximum linoleum throughout.
Did You Know?
Inside the Redwood, RV is an iN-Command global automation system.
---
6. Vanleigh Beacon
Price: $115,000
Manufacturer/ Brand: Tiffin MotorHomes Inc
Dimensions: 42.4 ft x 8.5 ft x 12.11 ft
Key Feature: Cargo under Living Area
photo source: Vanleigh RV
Weekend getaways or year-round living are both ideals for this Beacon fifth wheel. Make yourself at home in the back living space, which features a 55″ TV, a 40″ fireplace, two tri-fold couches, a theater sofa, and an entertainment center. You and your spouse will love having the front private bedroom to yourselves while this section may also serve as your visitors' bedroom at night.
You can hang your clothes neatly in the spacious front closet, and the slide-out king bed will provide you with a restful night's sleep.
Your comfort is a priority in the construction of every VanLeigh RV Beacon fifth wheel. It's simple to locate luxurious elements everywhere, from the superb Franklin furniture, created in the U.S.A., to the Cool Gel Memory Foam mattress. Each model has a window in the galley so you can see the outside while you clean.
Did You Know?
To keep the party going day or night, the Beacon's exterior has an LED lighting system and twin outside speakers.
---
5. SpaceCraft Mfg Fifth Wheels
Price: $145,000
Manufacturer/ Brand: Space Craft Manufacturing
Dimensions: 39 ft x 8.5 ft x 13.2 ft
Key Feature: Insulated four-season basement

photo source: SpaceCraft MFG
Building slide-in truck campers and smaller travel trailers were where SpaceCraft began its more than a 45-year-long career in business. Fifth-wheels, bunkhouses, and travel trailers are currently included in its diverse product mix, along with specialty units and semi-custom-built semi-trailers.
Beyond offering limitless options, Space Craft's custom-built method also provides RV owners with a number of basic features that set their vehicles apart from mass-produced ones and, in the company's view, provide superior quality, more utility, and comfort for the owners.
For instance, molded fiberglass ceilings provide owners with various advantages, such as in-ceiling air vents that facilitate simpler cleaning in the regions above the range, in the bathroom, and next to the cold-air return.
Did You Know?
After the custom trailer is finished, Space Craft employees provide clients with individualized service that includes a hands-on, two to three-hour walk-through during which they discuss all the features, functions, and maintenance with them. SpaceCraft also enables the client to set up the RV and stay for a few days to ensure they are comfortable with the unit.
---
4. Heartland Cyclone 4006 Toy Hauler
Price: $168,399
Manufacturer/ Brand: Heartland
Dimensions: 45.3 ft x 8.5 ft x 13.3 ft
Key Feature: Outside Refrigerator
photo source: Heartland RV
Heartland Cyclone 4006 boasts two theater seating slides that are opposite each other and a third theater seating slide that is across from the 50″ LCD HDTV, so everyone will have a comfortable place to sit. You can either step outdoors to prepare on the outdoor Grill N Chill three burner griddle combination or there is plenty of countertop room in the kitchen to produce your best home-cooked meals.
You can pack more camping essentials since full-height shaker cabinets offer 25% extra storage capacity. A half bath, a loft, and an electric queen bed with a split bench seat/bed below are all there, even the preparation for wash day for the washer and dryer.
Did You Know?
Fresh water tanks on the Heartland Cyclone 4006 hold 150 gallons.
---
3. DRV Mobile Suites
Price: $175,810
Manufacturer/ Brand: DRV
Dimensions: 36.9 ft x 8.5 ft x 8 ft
Key Feature: Residential Theater Seating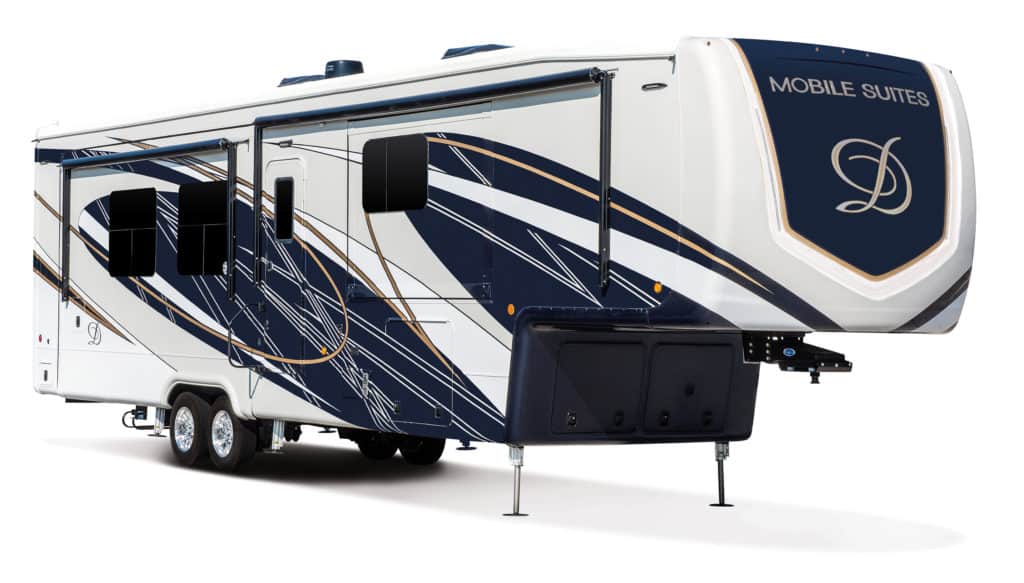 photo source: DRV Luxury Suites
The Mobile Suites serves as the base for one of the most expensive fifth wheels you can ever buy. It provides all the ease of a residential kitchen, all the comforts of home, and the assurance that you've picked the greatest property present in the market.
Its foundation must be durable, dependable, and powerful enough to withstand the test of time. The biggest, most robust fifth wheel frame in the business, the 15″ triple box tube frame from DRV is 101″ wide and was specially designed for the company.
The RV-C interface, security cameras, temperature settings, an AI-enabled voice assistant, and other functions are all controlled by spoken commands that are recognized by an AI assistant. You may use its voice commands both online and offline, and it integrates with Amazon Alexa.
Did You Know?
The new 270-degree surveillance system by ASA Electronics, which is included with DRV, helps to safeguard your RV from hazards you can't always see.
---
2. Luxe Elite Fifth Wheel
Price: $235,000
Manufacturer/ Brand: Luxe
Dimensions: 13.6 ft x 43.2 ft
Key Feature: Skylight above the shower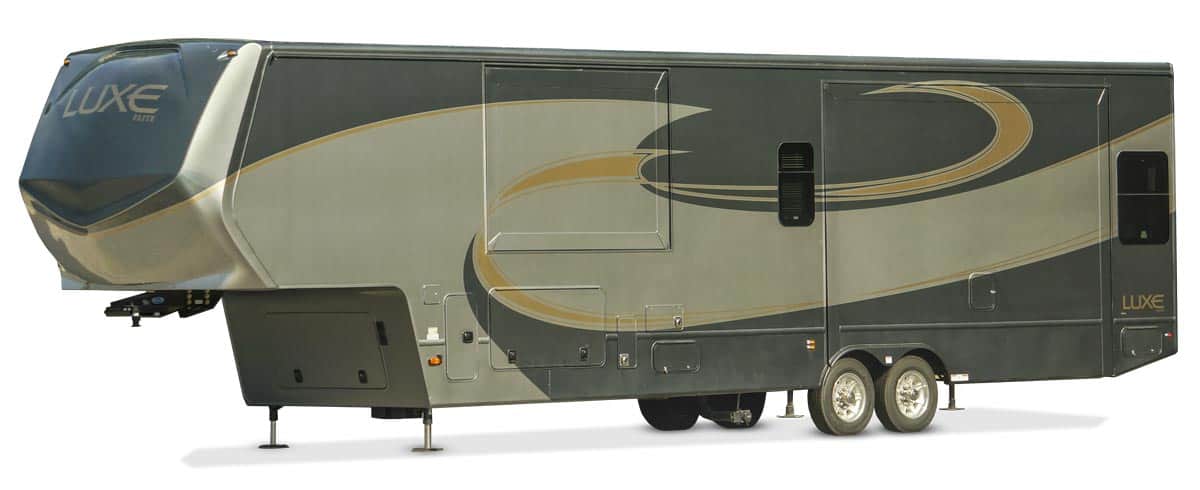 photo source: Luxe Fifth Wheel
A living room is located over the trailer's kingpin at the front of the 44FL Luxe Elite Fifth Wheel front-dwelling model. Being up there gives you the opportunity to see the people in the lower portion, which includes the kitchen and the bedroom farther back, from a higher vantage point, almost like an overlord.
A wonderful living room space may be created with this type of floor design, and that is especially true if there are two opposing slides in the upper part, each of which contains a jackknife sofa. Theater chairs with all the customary reclining and massaging features are located at the back of the living room.
Did You Know?
The exterior paintings of this model can be customized with regard to shade and designs.
---
1. New Horizons Majestic
Price: $293,278
Manufacturer/ Brand: New Horizons RV
Dimensions: 48 ft x 8.6 ft x 13.3 ft
Key Feature: 2-year hitch-to-bumper warranty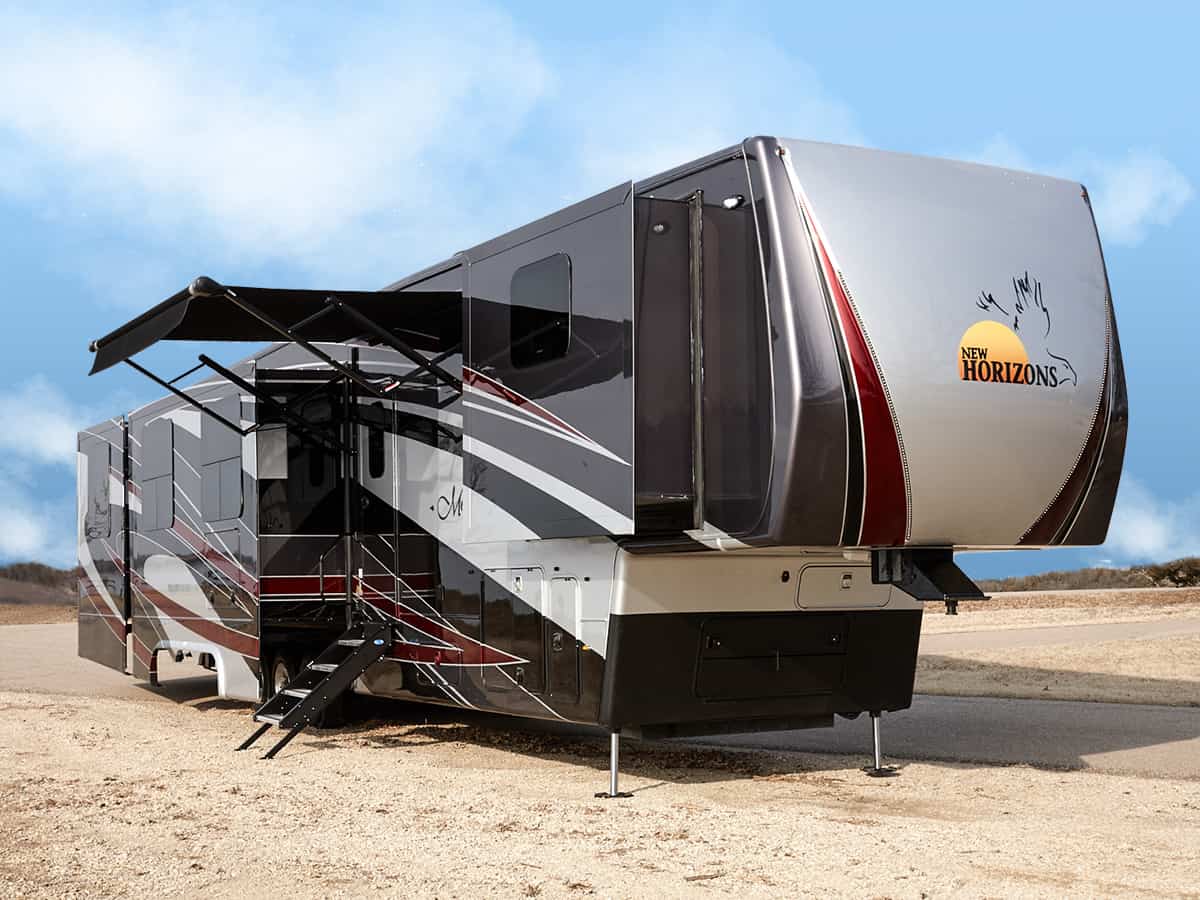 photo source: New Horizons RV
The Majestic is something that you would refer to as "semi-custom," meaning that New Horizons offers a variety of floorplans with basic amenities, and clients may select from a wide range of alternatives to furnish the trailer precisely how they desire. With its price and features, the Majestic is known to be the most expensive fifth wheel in the world.
Even so, the Majestic is filled to the brim ready and made to be used 365 days a year in temperatures ranging from below zero to over 100 degrees. This is true even if there are no further functions added to the list of basic capabilities.
Everything in the Majestic is 100% real, unlike many other industries where what look to be high-end features are frequently sophisticated fakes made to save weight, money, or both. Fixtures feature well-known brands like Moen and Kohler.
Did You Know?
An Apple iPad Mini on a magnetic charging base is located inside the test unit's entry door and can be used to operate practically all of the trailer's features, such as the blinds and lights.