One of the most popular distribution methods for virtual goods on Steam is trading cards. Every Steam user can collect them and use them to play various games or exchange them for other games.
Trading cards are earned by completing various objectives. You will receive a set of trading cards when purchasing certain packs from Steam Store, playing some games, or earning achievements related to those particular games.
It's very possible you have some free time and want to earn as much money as possible in order to purchase some more games you like, the trading card market is the most appropriate place for that.
Read on and take a closer look at the seven most expensive Steam trading cards today.
7. Sumo Bot
Price: $1,867
Game: Pierhead Arcade 2
Release Date of the Game: 5 August 2021
photo source: Steam Community
Sumo Bot originates from Pierhead Arcade 2, a well-known independent Virtual Reality arcade simulator. This game has a wide variety of arcade games, but collecting the trade cards that are the basis for the $1,867 asking price may be difficult if you don't own a VR system.
Since Sumo Bot has no past purchases, prospective new customers may find it challenging to estimate its worth. The lone bid is at $0.13, thus investing over $1,000 might not be the best decision overall.
---
6. Stela
Price: $1,873
Game: Gunvolt Chronicles: Luminous Avenger iX
Release Date of the Game: September 26, 2019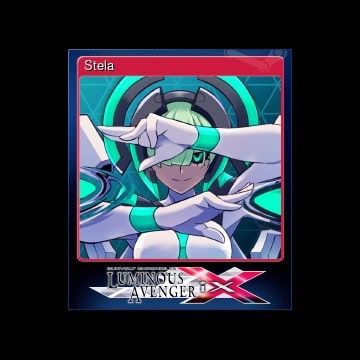 photo source: Steam Community
Stela, who first appeared in Gunvolt Chronicles: Luminous Avenger iX, has one of the most regular Steam Community Market purchase histories of any trading card. The card frequently sells for more than $25, which is a significant sum for a trading card.
However, purchasers are few, and just one Stela transaction occurs every four to five months. With Copen tearing through foes in his new "Break-Shift" form, Luminous Avenger iX elevates the series' initial swift and attractive 2D action gameplay. The fast-paced action is more enjoyable than ever thanks to his new destructive skills!
---
5. The Crystal Caverns
Price: $1,882
Game: Will of the Gods
Release Date of the Game: October 14, 2015
photo source: Steam Community
Playing the entertaining and original video game Will of the Gods will get you access to the Crystal Caverns. Players get to square off against each other in a one-vs-one concept while attempting to represent the deity who seeks to lead the most devotees.
According to the card's description: "To the far North, there lies an enormous battlefield, where sometimes, something occurs," its previous purchases have been rather pricey. A copy of The Crystal Caverns sold at auction for $69 during the summer of 2021, which is practically unheard of for a trading card.
In comparison to other cards for sale, the listing for $1,882 could have a shot in this case provided the stars align.
---
4. The Goats
Price: $1,882
Game: Goat Simulator
Release Date of the Game: April 1, 2017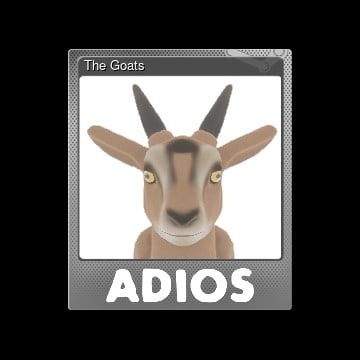 photo source: Steam Community
There are still a lot of purchase requests for this card at an average price of just $0.25, however, it has previously sold for between $6 and $7. Strangely, there are presently three of them available, each for over $1,700, which is not bad for a 2021 walking simulator game.
It appears that what it lacks in gaming excitement, it makes up for with a fierce commercial presence. In the free-form third-person game Goat Simulator, the player takes control of a goat named Pilgor. As a goat, the player is free to leap, run, smash, and lick items as they are in the game's suburban environment.
---
3. Fast Destroyer
Price: $1,906
Game: Infinite Tanks
Release Date of the Game: March 25, 2017
photo source: Steam Community
When it comes to the exorbitantly expensive foil trading cards available on Steam, this is another common suspect. Infinite Tanks, a game with tanks as its core, has connections to Fast Destroyer. An incredible amount of detail has gone into the game, and aficionados of tanks may find the fighting system to their liking.
Because it will be challenging to complete tasks in busy situations like those found in Infinite Tanks, the cost of this trade card is only somewhat justified. In the past, I've made a few purchases with best-case dollar price tags. The last time this card was sold, despite its high price, it was for just $1; it was most definitely not sold for $1,605.
---
2. Red Trigger
Price: $1,931.38
Game: Red Trigger
Release Date of the Game: July 8, 2016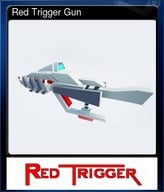 photo source: Steam Community
Although it has not yet been able to ascertain why there is a lock at this price, $1,921.38 is a stunning price for digital cards like this Red Trigger Gun card, which is typically valued at less than one penny. The intriguing thing about this card is that although it may be obtained from a game's free version, it still has significant monetary worth.
Given the work spent on acquisition, this is unquestionably a premium pricing.
---
1. Lorelai
Price: $1,950.18
Game: The New Queen
Release Date of the Game: Unspecified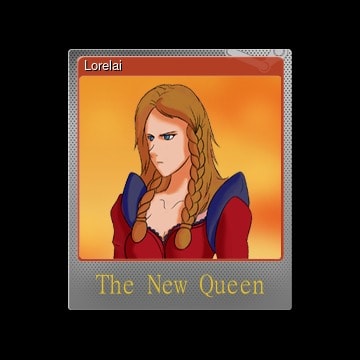 photo source: Steam Community
This product is a commodity, meaning that each unique unit is essentially the same. Lorelai card is valued at $1,950.18, making it the most expensive trading card on Steam. You cannot view individual listings; however, you may place buy orders with a particular price, and the lowest-priced offering will be matched with the largest buy order.
The only card on the list that isn't the same price is this one. Lorelai, the game's queen, is shown on this trading card. She is perhaps the most well-known character in the game, which makes her trade card the most sought-after and also the most challenging to obtain.