BMX bikes are among the most popular and sought-after of all BMX riding styles. There are many different types of BMX bicycles to choose from, but not all BMX bikes offer similar performance. Some bikes are designed for specific purposes such as downhill racing, flatland freestyle, or jumping.
Others just look cool although they may be impractical in everyday life because of their bulky design or lack of modern amenities like disc brakes.
This can make it difficult for new riders to know where to start looking for entry-level BMXs or the highest-quality products for intermediate and advanced riders. It's really fascinating to know why people like some bikes more than others.
Well, read on and take a closer look at the six most expensive BMX Bikes in the market now.
6. Sunday Street Sweeper Bicycle
Price: $866
Weight: 11.32 kg
Top Tube Length: 20.75″
Frame: Street Sweeper Aftermarket Frame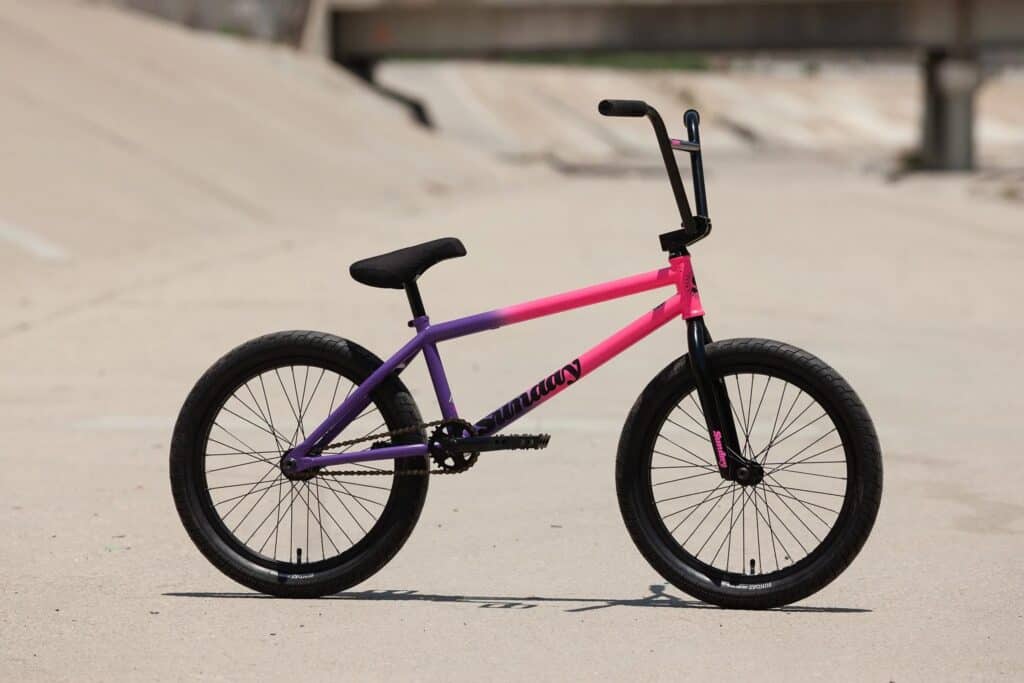 photo source: Sunday Bikes
Serious street riders were considered when designing the Street Sweeper. With a 75.25° head tube angle, a very short chain stay, and a taller bottom bracket, Jake Seeley's brand-new Chromoly aftermarket trademark frame was created to exactly complement Jake's technical riding style.
This is a pro-level bike with its 4-piece bars, 160mm cranks, sealed Odyssey Clutch free coaster, and Sunday Street Sweeper tires.
One of its characteristics is a Sunday Street Sweeper aftermarket frame. It also includes Sunday Seeley Signature Grips, 100%, Chromoly Forks, and 4-Piece Bars Right or left-hand drive, Sunday Street Sweeper 2.4″ Tires, Sunday Camo Sweep Seat, Pivotal, Odyssey Clutch v2 Free coaster, Odyssey Quadrant Rims, and FSA Conical Headset.
---
5. Subrosa x Shadow BMX 2022 Bike
Price: $1,220
Weight: 12.17 kg
Top Tube Length: 21″
Frame: Subrosa x Shadow 100% Chromoly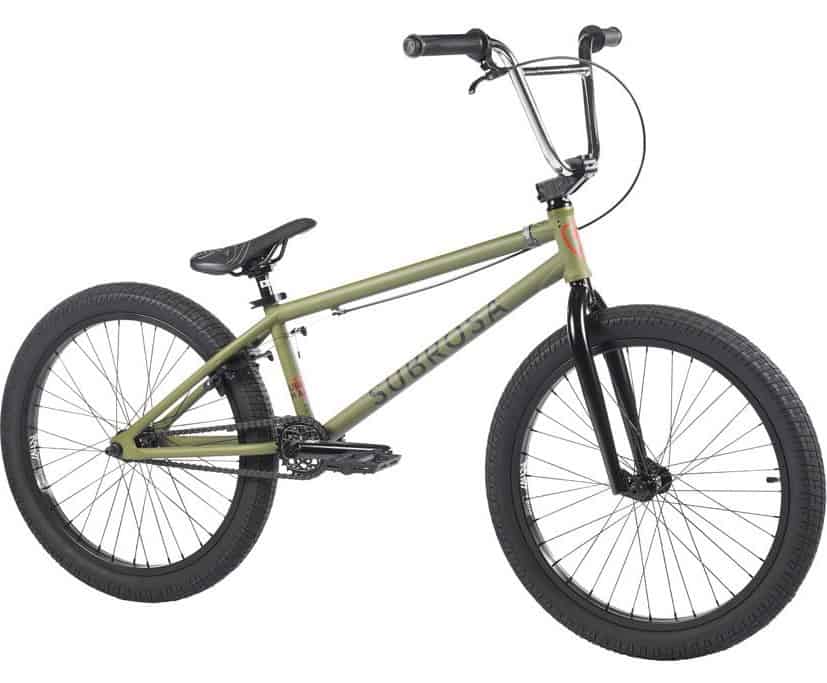 photo source: Planet BMX
Shadow and Subrosa are two names that would undoubtedly be in high demand if any two bike manufacturers worked together to create a full BMX for professional riders. It's a perfect combination, with Shadow focusing mostly on selling the finest caliber BMX parts and Subrosa focusing on overall bikes and frames.
In 2006, Ron Bonner and Ryan Sher started working on Subrosa. Initially, Ron founded the bike brands Shadow Conspiracy and UGP. Therefore, it is not surprising that a BMX love child was born from these two companies.
This bike will be designed and manufactured much more easily and smoothly, in my opinion, if someone who is familiar with both firms is working on it.
---
4. Sunday Soundwave Special BMX Bike
Price: $1,431
Weight: 10.61 kg
Top Tube Length: 21″
Frame: Sunday Soundwave V3 Aftermarket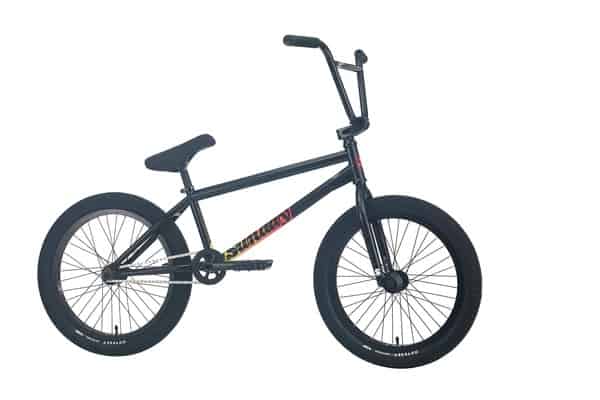 photo source: Sunday Bikes
There are not many bikes that can compare to the Sunday Soundwave BMX. a Sunday frameset that is well known for being of exceptional quality and for which only the best are suitable.
The bike is then covered in additional high-profile components, like Odyssey.
One of the greatest in the business is the well-known rider, Gary Young. Young began riding dirt in San Diego and has since developed the abilities necessary to master other BMX disciplines. the incredible strength, stunning tabletop, and powerful pedaling.
Over the past few years, Gary has continued to use his iconic Soundwave Special BMX, which is consistently among the most costly ready-to-ride bikes on the market.
---
3. WeThePeople Battleship Freecoaster BMX
Price: $1,432
Weight: 12.63 kg
Top Tube Length: 20.75″
Frame: WeThePeople Battleship Frame
photo source: Wethepeople BMX
WeThePeople produces the Battleship, another Elite Series bicycle. Contrary to popular belief, this bike and the Envy are not interchangeable only because they belong to the same WTP class.
Both of the designs were carefully crafted for various sorts of riders, and they are the ideal fit for that style.
For BMX street riders who enjoy building their own bikes, the Envy frame is a particularly well-liked product. WTP has chosen to forgo the requirement that a rider purchases pricey components and assemble the bike themselves this year. A complete aftermarket pro components package has been installed on the bike.
Even the toughest professional riders can push this bike to its maximum and it will still ride beautifully and exhibit no issues because of the bike's free coaster, the strength of the SaltPlus Warlock chain, and the chain protection surrounding the sprocket.
---
2. WeThePeople Revolver 2022 Bike
Price: $1,432
Weight: 11.64 kg
Top Tube Length: 20.75″
Frame: WeThePeople Battleship Frame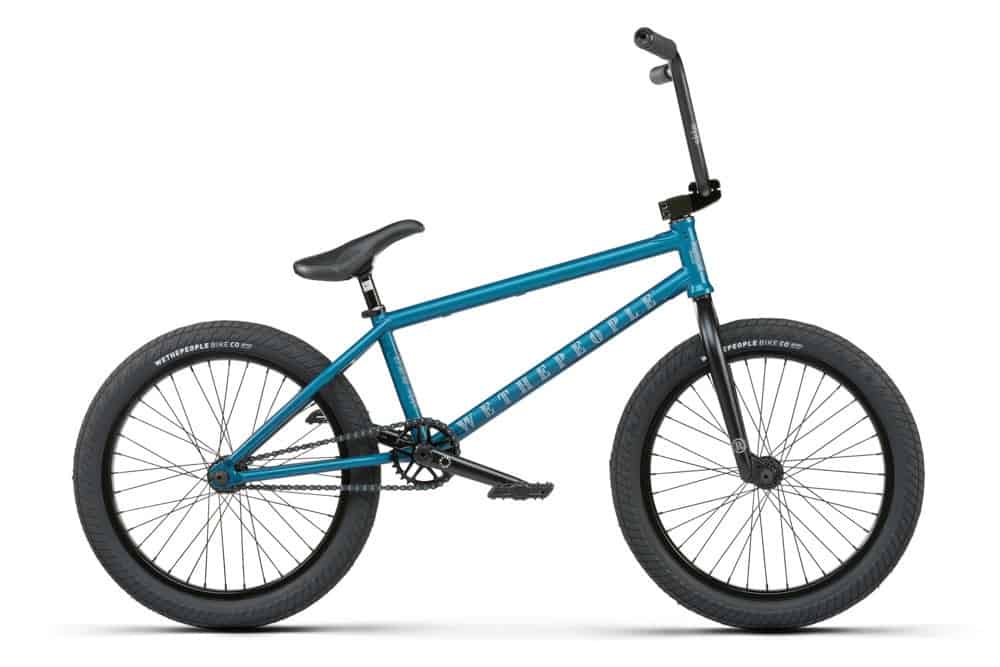 photo source: Wethepeople BMX
The Revolver is built to handle everything you throw at it, whether it's flatland or dirt, unlike the other two motorcycles, which are primarily intended for street riders.
It can be used for every kind of riding because of the part selection and geometry, and the parts' high quality makes it possible for the top riders to shred on it.
WeThePeople's frame has been fitted with a top-of-the-line parts package, similar to those of their other premium bikes, that is mostly composed of Éclat components, even going so far as to include Éclat forks.
With the specially created WTP Revolver bars and frame, Éclat Pulse hubs, Overbite tires, a WTP compact headset, and my all-time favorite stem, the CNC-machined Patrol stem that looks amazing on any bike, are combined.
---
1. WeThePeople Envy BMX Bike 2022
Price: $1,542
Weight: 11.66 kg
Top Tube Length: 20.5″, 21″
Frame: WTP Envy, 4130 full Sanko, 7.5mm dropouts
photo source: Wethepeople BMX
When you want a BMX bike that is perfect, the WTP Envy 2022 BMX is what you are presented with. Priced at $1,542, WTP Envy 2022 BMX is considered the most expensive BMX bike in today's market.
Essentially a fully customized BMX bike, with the best components from Wethepeople and Eclat rather than simply cheap aftermarket components.
There are even a few custom-on-custom components, such as the Eclat Bios seat with its high-tech materials for grip and appearance.
In addition to having some of the lightest components in the BMX industry, the WTP Envy XLT frame and Eclat Storm XLT fork are among the lightest on the market and come with lifetime warranties.