Traditionally golf has been known as an elite sport, with its roots firmly planted in the upper echelons of society. While in recent years, it has become more accessible thanks to public golf courses and affordable gear, the sport still symbolizes high status.
You can get a golf cart well within a budget of $10K, and it does a good job. However, those with deep pockets love to ride flashy luxurious golf carts to exhibit their wealth. These high-tech carts featuring state-of-the-art technology and exclusive designs exude sophistication and prestige.
This article lists 8 of the most expensive golf carts ever made. These carts are often customizable and limited-edition models with unique features. Please note that all the carts in this list are available in the market anymore. Also, the prices mentioned here indicate the price it was sold when released.
8. Cadillac Escalade
Price: $13,995+
Release Year: 1999
Top Speed: 25 mph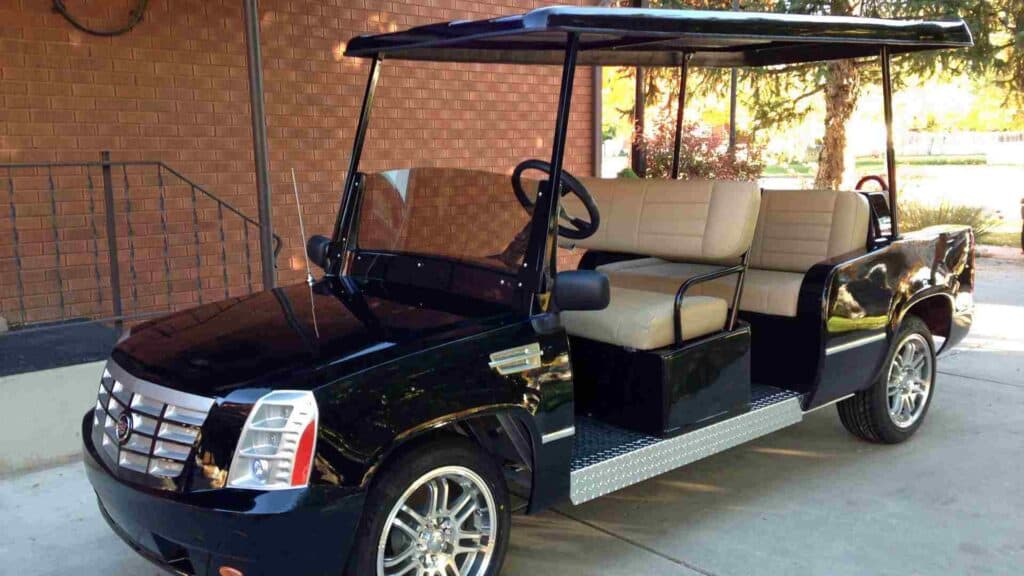 Image source: www.toysforbigboys.com
The Cadillac Escalade golf cart was designed by the automobile company Cadillac in collaboration with American Custom Golf Cars (ACG). The design is inspired by the iconic Cadillac Escalade SUV, which is known for its sleek lines and bold design. This golf cart features a similar design, with a striking front grille, large headlights, and a spacious cabin.
The cart features a hand-laid fiberglass body and a sturdy and durable aluminum I-beam frame. It comes in various custom paint options, including black, white, and silver, to meet individual preferences.
It is powered by a 48-volt electric motor that delivers excellent acceleration and a top speed of 20 mph. The golf cart also has a robust suspension system that provides a smooth ride, even on rough terrain.
Did you know?
The golf cart is an American invention. Still, American golfers use golf carts six times more than their British counterparts.
---
7. Pennwick Brooklyn
Price: $18,999+
Release Year: 2011
Top Speed: 20mph
Image source: assets3.thrillist.com
This six-seater luxury golf cart crafted by Pennwick was once a celebrity favorite. It is modeled after the iconic Bentley and is equipped with twin headlights and a matrix grill that resemble the classic British-style luxury automobile.
It is built on ClubCar chassis and features everything you expect from a luxury golf cart, including a fiberglass body, leather seats, stereos, and 15-inch rims. Several customization options, including a hard top, rear golf bag holder, and a custom pearl paint job, are also available for an extra cost.
Did you know?
The fastest golf cart on record is the "Bandit" from Plum Quick Motors, which can reach up to 118 miles per hour.
---
6. Hummer 6 Pack Limo H3
Price: $22,600+
Release Year: 2017
Top Speed: NA
Image source: golfsquawk.net
The Hummer 6 Pack Limo H3 golf cart features a distinctive and muscular design inspired by the iconic Hummer H3 SUV. This model is an upgraded version of the standard H3 Hummer Limo golf cart.
The interior of the Hummer 6 Pack Limo H3 golf cart is designed to provide golfers with the utmost comfort and convenience. The spacious cabin can comfortably seat six passengers, perfect for group outings or entertaining clients. The cart also features a range of convenient amenities, such as a high-end sound system and mobile video system.
Did you know?
The first electric golf cart was introduced in 1951 by the Marketeer Company. The founder of the company Merle William invented battery-run carts inspired by the electric vehicles produced during WWII that required gasoline rationing.
---
5. Ferrari F5
Price: $23,800+
Release Year: 2011
Top Speed: 24 mph
Image source: cdn.thisiswhyimbroke.com
The Ferrari F5 golf cart is a high-performance electric golf cart that combines the iconic styling and racing heritage of Ferrari with the practicality and convenience of a golf cart.
The cart features a sleek and aerodynamic design inspired by the Ferrari Formula 1 racing cars. It features the Ferrari's signature red paint. The cart's body is made of lightweight and durable materials, such as carbon fiber and aluminum, which ensure both speed and strength.
The cart features a spacious and well-appointed cabin with plush seats and plenty of storage space for golf bags and other equipment. The cart's dashboard is fitted with a high-resolution digital display, which provides real-time information on the cart's performance and battery status.
Did you know?
In some countries, such as Japan and Thailand, golf carts are used as taxis in small towns and villages.
---
4. Royal Limo- Rolls-Royce Phantom
Price: $30,600+
Release Year: 2010
Top Speed: 28 mph
Image source: www.gtspiritmedia.com
The Rolls-Royce Phantom golf cart is a unique and luxurious vehicle that combines the opulence and grandeur of a Rolls-Royce with the practicality and convenience of a golf cart.
The Rolls-Royce Phantom golf cart features a classic and elegant design inspired by the iconic Rolls-Royce Phantom sedan. The cart is available in various luxurious colors, such as black, white, and silver. It is adorned with elegant and tasteful detailing, such as the iconic Rolls-Royce grille, Spirit of Ecstasy hood ornament, and polished chrome accents.
The motor is powered by a high-capacity lithium-ion battery that provides ample range for a full day of golfing. The cart also features a sophisticated onboard charging system ensuring the battery is always fully charged and ready to go.
Did you know?
In some states, driving a golf cart on public roads is legal if it is properly equipped with safety features such as seat belts, turn signals, and headlights.
---
3. Garia Edition Soleil De Minuit
Price: $52,000+
Release Year: 2010
Top Speed: 35 mph
Image source: www.cnet.com
When launched in 20120, the Garia Edition Soleil De Minuit was touted as the most expensive golf cart ever made by a manufacturer. The company itself broke the record later; however, at the time of its release, this golf cart was truly one of a kind.
The car features a carbon roof, unique custom paint, Alcantara roof lining, bi-color hand-stitched luxury seats, and other hand-crafted details. Moreover, the cart features Formula 1a double-wishbone front suspension that is commonly found in sports cars and inspired by Formula 1 cars.
The base price for this limited-edition cart was set at $17,499. Luxury upgrades offered by Garia included a built-in refrigerator and an option to paint the car with any color.
The car was unveiled at the Top Marques Monaco 2010 show on April 15.
Did you know?
Garia Edition Soleil De Minuit was made at the Valmet Automotive factory. The same factory made some of the most luxurious cars, such as the Porsche Cayman and the Porsche Boxster.
---
2. Garia Mansory Currus
Price: $62,500+
Release Year: 2013
Top Speed: 37 mph
Image source: assets.newatlas.com
Garia Mansory Currus is a true masterpiece created by Garia in collaboration with Germany-based luxury automotive customization company Mansory. It features a sleek and sporty design, with a carbon fiber rear body, custom seats, and a leather dashboard.
The cart measures 92 x 48 x 47.5 inches, excluding the mirrors. It has two seats and holds two bags. You can adjust the top speed and acceleration by switching between the three available driving modes, golf, street, and race. It was a street-legal car in Europe. The cart is powered by a lithium-ion battery, which allows it to travel up to 50 miles on a single charge.
This exclusive cart debuted at Geneva Motor Show, and only 7 units were produced.
Did you know?
Although primarily made for golf courses, golf carts are widely used for transportation in retirement communities, college campuses, airports, and other locations.
---
1. Garia Mercedes-Benz Style
Price: $73,000+
Release Year: 2018
Top Speed: 43 mph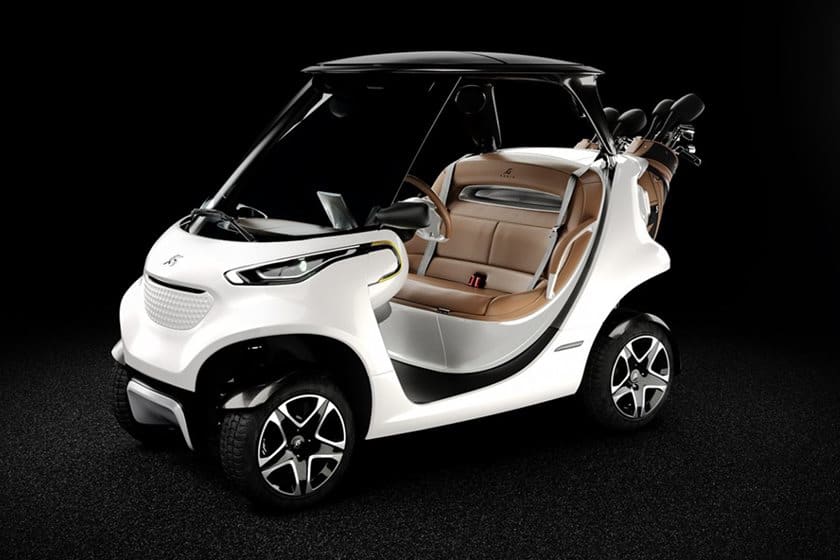 Image source: cdn.carbuzz.com
Garia Mercedes-Benz Style golf car is the most expensive golf cart ever made. Garia teamed up with Mercedes to make this exclusive super-fancy golf cart. The cart was unveiled at the 88th International 2018 Geneva Motor Show.
The cart features a sleek and aerodynamic design inspired by the styling of Mercedes-Benz vehicles. It has distinctively aggressive and thin LED headlights, an advanced carbon fiber roof, and a waterproof single-piece bench seat made with premium leather.
It also has a built-in refrigerator under the seat and two fancy cup holders by the A-Pillars. Besides, the cart features a 10.1-inch screen that lets you view the scoreboard. You can also connect the speaker to your phone using Bluetooth.
Did you know?
The world's largest golf cart parade occurred in The Villages, Florida, in 2019. 3,321 golf carts participated in the parade, breaking the previous record of 2,000 carts.