Beautiful beaches, warm weather, and vibrant nightlife– no doubt Florida is one of the most alluring places to settle. The Sunshine State doesn't rank among the top 10 wealthiest states in the US; however, some of the most prosperous communities in the country are located in this state.
From the dazzling shores of Golden Beach to the prestigious beachfront properties of Fisher Island, the Sunshine State is home to some of the world's most affluent neighborhoods, each offering a lifestyle of opulence and grandeur.
This article lists the 8 richest neighborhoods in Florida, where mansions are measured in acres, and every amenity is crafted to perfection. We'll explore the lifestyle of Florida elites and the communities they live.
8. Bellaire Shore
Median Household Income: $ 170,938
Population: 76
Area: 0.23 sq. mi
County: Pinellas
Image source: growthzonesitesprod.azureedge.net
Bellaire Shore is one of the tiniest and richest neighborhoods in Florida. It is a charming coastal community of private homes located on the eastern shore of the Gulf of Mexico.
The city was incorporated in 1955 to promote health, safety, and general welfare.
Sec. 46-101 of the town ordinances states the vision of its founding fathers as, "For the purpose of promoting health, safety, and general welfare; to secure safety from fire, panic, and other dangers; to provide adequate light and air; to prevent the overcrowding of land and avoidance of undue concentration of population in the town; and to enhance the appearance and beauty of the community; the corporate limits and areas of the town are declared to constitute the single-family zoning district with regulations and restrictions for such district as set forth in this article to embrace the entire territory now or hereafter constituting the town."
The town boasts several miles of pristine white sand beaches, picturesque waterfront properties, and a relaxed atmosphere. The residents of Bellaire Shore enjoy an uninterrupted vista of the western horizon from their homes. The city has easy access to many entertainment, dining, and medical facilities.
Did you know?
Bellaire Shore was established with 57 properties between Gulf Boulevard and the Gulf of Mexico.
---
7. Parkland
Median Household Income: $ 174,219
Population: 35,265
Area: 14.35 sq. mi
County: Broward
Image source: cchomes.com
The city of Parkland is a serene neighborhood located in Broward County. Nestled in a wooded environment, Parkland is a beautiful place to live, especially for those who look for a peaceful and relaxed neighborhood with lush greenery, beautiful parks, and a friendly atmosphere.
The city was incorporated in 1963, and its zoning law was designed to preserve its park-like character. It had no traffic lights or stores until the mid-1990s. Parkland has many parks, including Pine Trails Park and Terramar Park.
The public schools in Parland are operated by the Broward County Public Schools system, one of the top school districts in the state. The schools in Parkland offer rigorous academic programs run by highly-qualified and dedicated staff members. It is one of the main causes that attract families with children to settle in this city.
Did you know?
On February 14, 2018, the city's Majority Stoneman Douglas High School saw a mass shooting that killed 17 people, including students, teachers, and other staff members.
---
6. Manalapan
Median Household Income: $ 193,125
Population: 418
Area: 10.52 sq. mi
County: Palm Beach
Image source: www.manalapan.org
Manalapan is a small, quiet town on a narrow strip of land between the Atlantic Ocean and the Intracoastal Waterway. The town is known for its unparalleled beauty and quality of life.
The neighborhood has an interesting geographical configuration where two separate areas of the town are connected only by water.
The land where the town is now located was granted to H.K. Carter as a homestead. Later in 1931, the town was incorporated by Harold Stirling Vanderbilt. The town was named after the New Jersey township with the same name, as most of the first settlers came from that region.
Manalapan offers a high-end lifestyle in a small-town setting with its pristine beaches, crystal clear water, beachfront properties, and luxurious estates.
Did you know?
In 2022, a 22-acre property in Manalapan was sold for $173 million. It is the most expensive home sale in the history of Florida.
---
5. Sea Ranch Lakes
Median Household Income: $ 219,250
Population: 536
Area: 0.19 sq. mi
County: Broward
Image source: ap.rdcpix.com
Sea Ranch Lakes is an affluent village located north of Fort Lauderdale. It borders the Atlantic Ocean to the east and the Intracoastal Waterway to the west.
It is a tiny village covering only a 0.19 sq. mile area. Most of the village belongs to a gated community, and a public shopping plaza and private beach club occupy the rest.
The gated community's residents feared losing their autonomy and that the area would be annexed by Lauderdale-by-the-Sea, Fort Lauderdale, or Pompano Beach. Thus, they incorporated the village as a municipality within Broward County on October 6, 1959.
The village was named the Sea Ranch Hotel, built in the 1950s. The hotel was located across from North Ocean Drive, the neighborhood's main road. As two artificial lakes are there within the boundary of the village, the 'Lakes' was added to the name.
Did you know?
The village has no public property, and the Sea Ranch Beach Club owns all the roads, parks, and lakes.
---
4. Golden Beach
Median Household Income: $ 246,250
Population: 945
Area: 0.42 sq. mi
County: Miami-Dade
Image source: assets.site-static.com
Golden Beach is a wealthy town between the Intercoastal Waterway and the Atlantic Ocean. Golden Beach offers an upscale lifestyle with world-class architecture against stunning natural beauty.
It is a town of single-family houses, with strict zoning laws prohibiting commercial and high-rise development. During the late 1990s and early 2000s, Golden Beach saw a dramatic rise in property values due to the population boom.
This tranquil town is known for its soft-golden sand, private beaches, and turquoise water. The town has many multimillion-dollar houses that feature state-of-art architecture and amenities. Many celebrities, including Bill Gates, Eric Clapton, and Paul Newman, own luxurious properties in Golden Beach.
Did you know?
Since 1981, except one, all the roads that go into the town from A1A Highway remained to be closed. The decision to close the roads was taken to prevent "criminals, curious tourists from nearby hotels, joggers, and Haitian refugees" from entering the town.
---
3. Golf
Median Household Income: $ 248,125
Population: 258
Area: 0.83 sq. mi
County: Palm Beach
Image source: www.villageofgolf.org
The Village of Golf is an exclusive community in Palm Beach County's heart. Carleton Blunt and Robert Harris planned and envisioned the village as a community on a golf course.
The Village of Golf is renowned for its stately homes and majestic estates, each a veritable masterpiece of architectural grandeur and timeless elegance. These exclusive properties are set amidst sprawling golf courses, with the verdant fairways and manicured greens providing a lush backdrop to the opulent abodes.
The village preserves a traditional flavor to offer a true taste of Florida. The village shows an exceptional sense of camaraderie that is built on the foundation of its residents' pride in their heritage and tradition.
Did you know?
Village of Golf is one of the very few municipalities in Palm Beach County where 100% of the population speaks English as their mother tongue.
---
2. Gulf Stream
Median Household Income: $ 250,001
Population: 953
Area: 0.90 sq. mi
County: Palm Beach
Image source: www.gulf-stream.org
Gulf Stream is a serene coastal town in Palm Beach County. It is an exclusive community that boasts a pristine shoreline, lush foliage, and luxurious estates.
The town was founded as a planned community surrounding Gulf Stream Country Club. In the early 1920s, Bessemer Properties, a real estate venture, began to acquire lands in this area for future development. The company's owner Henry Phipps, Jr, and his business associates considered it an ideal location for a golf course and polo fields with surrounding seasonal houses.
The Gulf Steam Golf Club was founded in 1924, and the developer company began to sell residential plots along the oceanfront. The town was incorporated in 1925. Initially, the town was planned to be named Phipps Beach, but later, it was named after Gulf Stream, a warm Atlantic Ocean current.
Phipps wanted the town to be designed in a way so that it reflected understated elegance. Many of those houses are still there with minor to no changes in appearance.
Did you know?
In 1916, the State of Florida planted Australian pines along both sides of State Road A1 to prevent high winds. Today, the Town of Gulf Stream remains the only stretch where the Pine canopy still exists.
---
1. Fisher Island
Median Household Income: $250,001+
Population: 561
Area: 0.27 sq. mi
County: Miami-Dade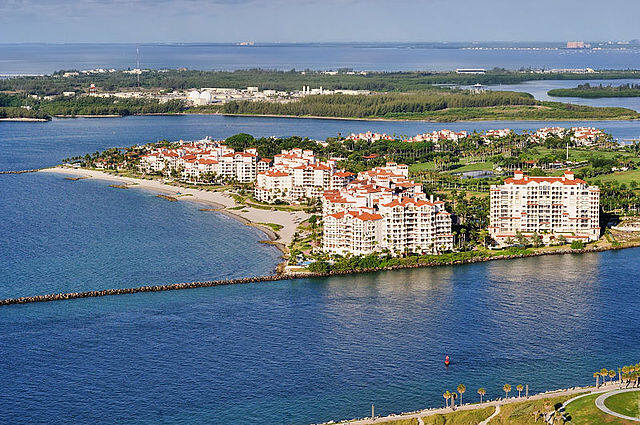 Image source: wikipedia.org
Fisher Island is the richest neighborhood in Florida, with an annual median household income of over $250,001 and a 0% poverty rate. It also has the highest per capita income of any place in the US.
This luxury private island community is located three miles off the shore of mainland South Florida. The island is only accessible by private boat, ferry, or helicopter, which adds to its exclusivity and privacy.
Residents and guests can enjoy world-class amenities, including a private beach club, an 18-hole championship golf course, tennis courts, spas, and fitness centers. The island also has several upscale restaurants, cafes, and shops and a marina for yacht owners.
Did you know?
The island is named after Carl Fisher, a prominent entrepreneur who purchased it from Dana A. Dorsey in 1919. Later, in 1925, Fisher handed over the island to the Vanderbilt family in exchange for a luxury yacht.