Fashion is the way we express ourselves. It is an art form that can be applied to any subject, from painting to music to design. Fashion is also used to express one's personality and individuality.
One way to do so is through T-shirts. T-shirts are a great way to show off your style and stand out from the crowd.
There are so many different types of t-shirts out there, from plain to graphic tees with an array of colors and designs.
They are one of the most popular clothing items because they are easy to wear and can be washed without damage. But before you spend money on one of these high-end garments, you want to get the reason behind their tag. This article has woven the details just for you!
Below are the most expensive t-shirts ever sold and some interesting facts about them.
8. Grateful Dead T-Shirt
Price: $17,640
Brand: Grateful Dead Merch
Year Released: 1967
Designed by: Allan Terk, Hells Angel
photo source: GQ
Given that this shirt is from the collection of Dan Healy, a sound engineer who frequently collaborated with The Dead, its origin is exceptional. With a clean 1960s Russell Southern Co. tag, the garment appears in fantastic shape.
Despite the description not explicitly claiming that it is the band's debut t-shirt, it seems to be the tee all Dead fans are searching for.
The collector Bo Bushnell is the bidder that paid the sum and won the auction. The exorbitantly priced T-shirt is currently included in Bushnell's massive collection of 1960s memorabilia from motorcycle clubs. He showcases his purchases on his Outlaw Archive Instagram account, including the T-shirt.
Did You Know?
In the end, after deducting taxes and the buyer's premium, Bushnell paid Sotheby's a total of $19,315.80.
---
7. The Beatles Butcher Cover Album T-Shirt
Price: $20,000
Brand: Beatles Merch
Year Released: 1966
Designed by: Album Cover photographed by Robert Whitaker
photo source: Paul Fraser Collectibles
The Fab Four were shown on the front cover of the iconic LP's original artwork, which provoked uproar when it was first released in 1966. They were costumed as butchers, holding chunks of flesh and baby dolls.
Soon after, the contentious CDs were taken off retail stores and changed with a group shot that was more in line with The Beatles' youth brand.
The garment, which allegedly dates to 1966, shows the divisive original artwork for the LP. A prime example is this plain antique off-white shirt auctioned for $20,000 on eBay.
Did You Know?
This t-shirt, which allegedly goes back to the album's debut, has this cover image. It's a unique item since, in 1966 and 1967, all shirts with the divisive cover image were swiftly disposed of.
---
6. Supreme Donald Trump T-shirt
Price: $23,000
Brand: Supreme
Year Released: 2003
Designed by: Molodkin, Supreme
photo source: TRENDS.fr
Donald Trump's visage is shown in a graffiti-style print in gray on the red shirt. It was the sole Supreme shirt ever made with that particular design. Supreme initially charged less than $100 for the shirt. However, the t-shirt hasn't been widely seen till now. It was first produced in 2003 as a part of the Supreme x Andrei Molodkin partnership.
However, following Trump's victory in the 2016 presidential election, the shirt earned its place on this list after selling for thousands of dollars in an online auction.
Did You Know?
It first appeared on sale on Grailed for a price of $1500.
---
5. Olympics Hanes/UNICEF
Price: $42,000
Brand: Supreme
Year Released: 1996
Designed by: Hanes, UNICEF
photo source: TheRichest
UNICEF and Hanes collaborated on a fundraising initiative unveiled at the 1996 Summer Olympics in Atlanta. There was no lettering on the black t-shirts with the white lines on either side. The highest bidder for this item offered $42,000 and won it. The t-shirt is simple and has no graphics, but it is of excellent quality and 100% cotton.
During the 1996 Summer Olympics, it generated profits of more than $1 million a day for several days. The highest price, which was $42,000 on the last day of the auction, put the garment on the list of the most expensive t-shirts ever.
Did You Know?
This T-shirt was created as a fundraising initiative to aid underprivileged children worldwide.
---
4. 1980 Beatles Revolution T-Shirt
Price: $50,000
Brand: Nike, Beatles
Year Released:
Designed by: Nike, Beatles
photo source: eBay
This gray patterned t-shirt might not appear like much at first sight. Admittedly, it resembles a lot of the inexpensive t-shirts that are being sold in chain department shops. But it isn't easy to find the 1980 Beatles Revolution T-shirt. The iconic British band, The Beatles, is depicted on this antique item of clothing as actual bugs, making it unique among vintage apparel.
Despite Michael Jackson's ownership of the rights at the time, the group's three surviving members objected to using their music in ads. Nike nonetheless canceled the advertisement.
Did You Know?
This vintage shirt is still up for sale on eBay for fifty grand.
---
3.Hermès Noir Crocodile T-Shirt
Price: $91,500
Brand: Hermès
Year Released: 2013
Designed by: Hermès
photo source: Glamour
Hermès is a French luxury company known for making many of the priciest purses in the world. They've also developed some of the most expensive t-shirts, such as this one made of crocodile leather.
The Hermès Noir Crocodile T-Shirt, which cost $91,500 when first introduced in 2013, is probably not as breathable as a typical cotton t-shirt. However, it is fashioned of crocodile skin, which is among the most expensive animal skins. It is not surprising that this T-Shirt would demand so much given its material and the label's reputation.
As a part of Hermes' Spring/Summer 2013 menswear collection, the crocodile t-shirt had its runway premiere last fall. The shirt is a part of the brand's airy "crocodile chiffon" range, even though some people may find leather in the humid summertime perplexing.
Did You Know?
The sum might be perilously near six figures if the taxes on the sale of the garment alone totaled $8,000.
---
2. UNICEF Cargo Flight Anti-Famine T-Shirt
Price: $300,000
Brand: Threadless
Year Released: 2011
Designed by: Christine Santora, Justin Gignac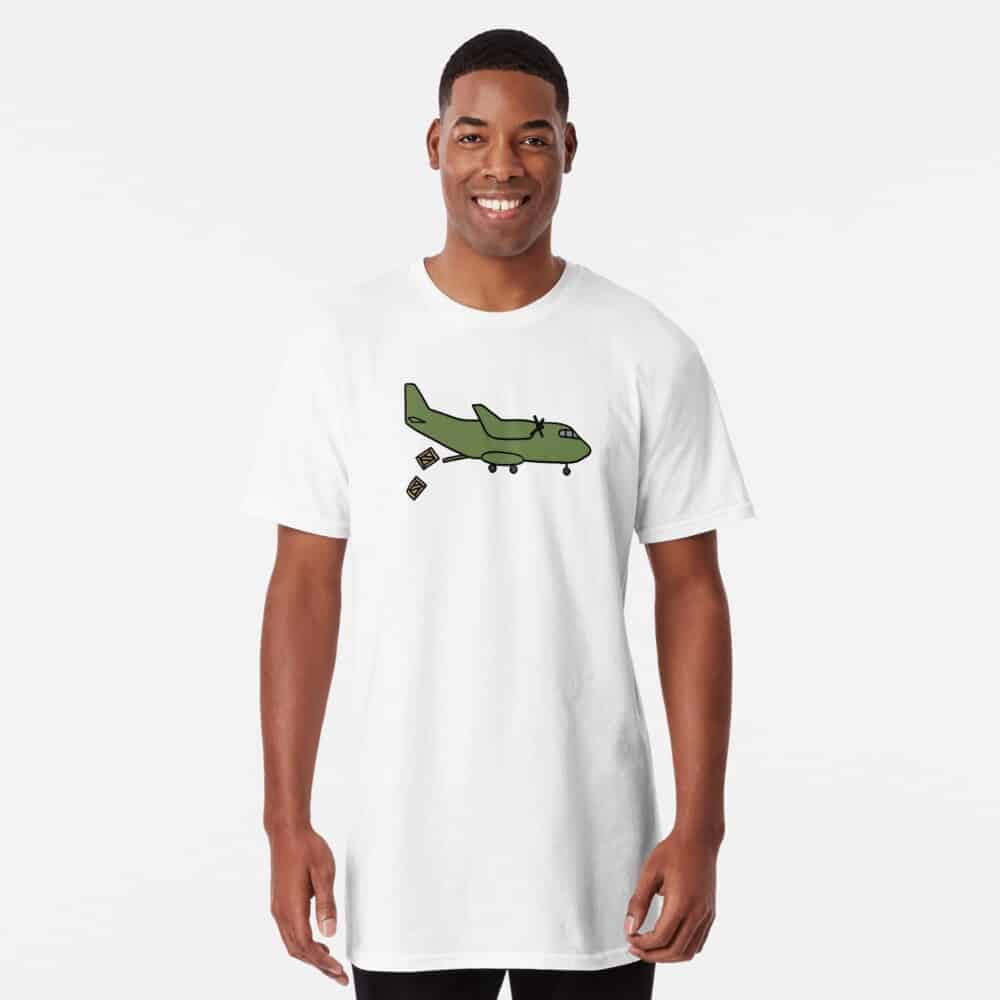 photo source: Redbubble
Children worldwide receive assistance from the International Children's Emergency Fund of the United Nations. They periodically provide products, such as t-shirts, for sale to generate money for charitable efforts. For example, UNICEF collaborated with a few artists in New York to create some T-shirts to help those affected by hunger in nations in the Horn of Africa.
Several T-shirts with prices ranging from $18.75 to $300,000 were arranged in a line. The most expensive from the line is the Cargo Flight Tee, priced at a whopping $300,000.
Did You Know?
The price for buying a T-shirt that has a corresponding design would be equivalent to goods. So, for example, a shirt with a mosquito design would contribute to buying insecticide-treated mosquito nets, which cost $18.57 for three nets and offer protection against malaria transmitted by mosquitoes.
---
1. Superlative Luxury
Price: $400,000
Brand: Superlative Company
Year Released: 2012
Designed by: Superlative Company
photo source: LUXUO
With a $400,000 price tag, Superlative Luxury is regarded as the most expensive t-shirt ever produced. The easiest way to justify the most costly T-shirt is for it to be set with diamonds. Sixteen diamonds with certifications are placed into each t-shirt.
The remaining diamonds are improved black diamonds above 1 carat apiece, except eight confirmed 1-carat Plus white diamonds. The process used to make the garment is what's most intriguing.
Unlike the typical factory approach, the maker created this using environmentally friendly methods, such as solar and wind power for electricity. The price is so high partly because diamonds are used, and the production process is unique and environmentally friendly.
Did You Know?
It takes four weeks to produce a garment since the firm prefers environmentally friendly production. Due to this, 12-month insurance is offered on the t-shirts.
---