The Jeep Wrangler is an adventure vehicle that has been around for decades, offering customers a wide range of customization options and a thrilling off-road experience. The Wrangler Jeep is the perfect choice for someone who wants to enjoy their passion for driving in the open air and on the trails.
This vehicle can be customized to suit your needs, with multiple models available to choose from.
It is often associated with adventure, which is why many people buy them as second cars or even as their first vehicles. But even if you don't plan to go off-roading all that often, there are still some things to know about this capable SUV. That's why this article will give you the list of the most expensive Jeep Wranglers that have ever been produced.
6. Jeep Wrangler Unlimited Custom SUV "Doomsday"
Car Value: $176,000
Year Made: 2021
Transmission: 8-speed automatic
Engine Type: Twin-turbo 3.0-liter V6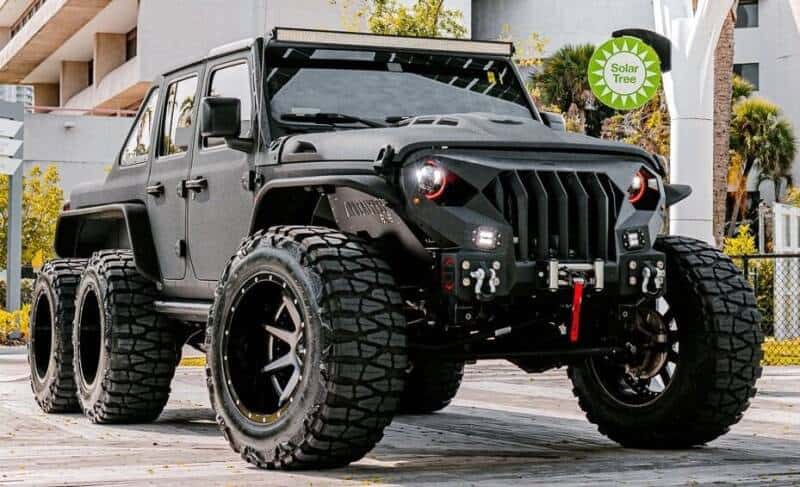 photo source: The Arsenale
Maximum handling and articulation are made possible with the dynamic suspension of the Jeep Wrangler Doomsday. This unique 6×6 is equipped with a one-piece body with a 4-foot truck bed, a 1/4-inch-thick complete steel-faced front bumper with an internal 9,500-pound winch, high-output LED headlamps with a color-changing halo ring, and a fiberglass molded hood.
A 3-part Kevlar protective covering, a 1/4-inch-thick full steel windshield armor, door-activated motorized running boards, a 6-switch high-output LED light control cluster, and the T-top and doors are all totally detachable. Its rear bumper and hitch, both made of solid steel and measuring 1/4 inch thick, can pull up to 12,000 pounds.
Did You Know?
The driver may choose between 4-wheel and 6-wheel drive using the patented powertrain, which also gives power to all six wheels.
---
5. Jeep Wrangler Unlimited Custom SUV
Car Value: $181,500
Year Made: 2022
Transmission: 8-speed automatic
Engine Type: 6.2-liter HEMI Demon crate engine
photo source: Engine Swap Depot
This 2022 Jeep Wrangler Unlimited Rubicon in Hydro Blue has been customized by America's Most Wanted. It is driven by a Mopar 6.2-liter HEMI Demon crate engine that has been supercharged, and it boasts a ZF 8HP95 intense 8-speed Trackhawk automatic transmission with 99 actual miles.
AMW 8LUG 60/80 axle components are combined with Maxxis Razr 40-inch tires, which are mounted on forged 17-inch Beadlock wheels.
Comfort and stability are provided by the HEMI-tuned long-arm suspension kit, which can handle the powerful power and additional mass the powerplant adds overall. 1.5-ton linkages that give handling are included in cylinder assist steering. Massive 8-piston modified brake calipers are used for deceleration.
Did You Know?
When it was sold, this modified Jeep was practically unopened packaging. It is costly just for that characteristic. But the reason this car sold for so much money was because of its astounding performance and spacious cabin.
---
4. Jeep Wrangler 75th Anniversary Custom 6×6
Car Value: $198,000
Year Made: 2016
Transmission: 5-speed automatic
Engine Type: 707-horsepower Hellcat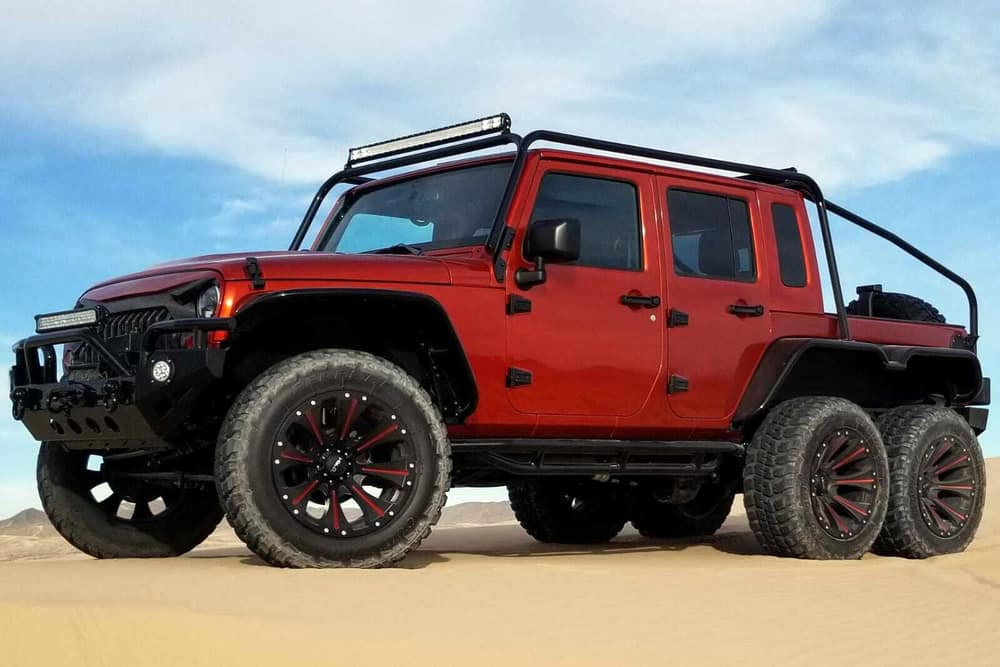 photo source: Barrett-Jackson
The first 4×4 Jeep was unveiled in 1940. The Jeep company decided to create limited-edition 75th Anniversary versions of some of its most well-liked models to mark the anniversary of this release. One of the vehicles is the Inferno model of the 2016 Jeep Wrangler.
A roll cage bar and four rear and two front wheels are on this five-seat monster for increased safety. When traveling to off-road locations, the extended back cab is perfect for towing heavy objects or holding a tent.
It's hardly unexpected that this Jeep sold for $198,00, considering its numerous desirable features and rarity.
Did You Know?
It operates best when used for off-road excursions, although being sporty enough on normal roads. It is a desirable commodity because of these qualities.
---
3. Jeep Wrangler Unlimited Commando Tactical Edition
Car Value: $225,000
Year Made: 2015
Transmission: 5-speed automatic
Engine Type: 3.6L V6
photo source: Barrett-Jackson
Following the recent Barrett-Jackson Collector Car Palm Beach Auction, when the first Commando Tactical Edition Jeep Wrangler ever constructed was sold for "no reserve," a $225,000 gift is being given to the Patriot Foundation in Southern Pines.
The Commando Tactical Edition Jeep is designed for enthusiasts with its aggressive shape, unique styling, and versatile up-fit technologies. Its exterior is painted in an identical replica of the real Commando Tan hue.
Hendrick Dynamics and Transamerican Auto Parts Subsidiaries DSI and 4 Wheel Parts collaborated to design and create this distinctive Jeep, which had its public premiere during the 2015 Easter Jeep Safari in Moab, Utah. The original tactical military vehicle of the Hendrick Commando served as its model.
Did You Know?
Hendrick Dynamics and Transamerican Auto Parts gave the Commando Tactical Edition Jeep to the Patriot Foundation, which included a unique patriotic hood design painted by Kristian Baena of Zac Brown Customs.
---
2. Jeep Gladiator Custom 6×6 "Apocalypse Hellfire"
Car Value: $236,500
Year Made: 2022
Transmission: 8-speed automatic
Engine Type: Hellcat V8
photo source: Carscoops
The name of the tough-looking Jeep, Apocalypse Hellfire, seems oddly appropriate given its extraordinary longevity. It includes opulent interior fixtures and a roomy rear storage bed. Being less than 200 miles old when it was sold for $236,500, it is also quite fresh.
This massive Jeep has a 717-horsepower Hellcat V8 engine, which is aptly called and has incredible power and can haul six tons. This car is the perfect survivalist vehicle because of its large all-terrain tires, which can easily traverse difficult terrain because of the six-wheel drive mode.
Did You Know?
The Apocalypse Hellfire, however, differs from other simple Jeeps in that it is furnished with several high-tech features, such as an infotainment system, Bluetooth functionality, and Apple Play connectivity.
---
1. Jeep Wrangler Unlimited Custom 6×6
Car Value: $250,000
Year Made: 2012
Transmission: 6-speed automatic
Engine Type: 6.4 V8 crate
photo source: Motor1.com
Andruw Jones, a retired outfielder who played for the Atlanta Braves, commissioned the most expensive Jeep, a 2012 Jeep Wrangler Unlimited Custom 6×6. At the Palm Beach 2022 auction, this jeep was modified and sold for $250,000.
This Jeep 6×6 model has an extended tail with other Jeep 6×6 cars. However, in contrast to regular models, this bespoke Jeep has a four-wheel wheelbase big enough to fit a four-person tent and resembles a cross between a Jeep Wrangler and a pickup truck.
There are several distinctive interior elements, such as a push-button gear shift mechanism, a special steering wheel with a baseball pattern, and huge headrest TV displays for the passengers.
Did You Know?
Jones utilized the well-known vehicle, which has barely traveled 12,000 miles since it was finished in 2017, to go to the stadium for games, spring training, and other functions.