Jet skis are an invention that brings joy and excitement to many people. However, they are not cheap. In fact, some may seem a bit ridiculous in price. Many of the most expensive jet skis take into account a variety of factors when putting together our list of the most extravagant and expensive jet skis on the market.
There are so many aspects why these watercraft are so expensive, and these include their engine size and performance, overall build quality, color scheme, features, extras included with purchase versus optional add-ons, manufacturer's reputation, and history of reliability, among others.
If you're interested in these kinds of things, read on and take a closer look at the nine most expensive jet skis in the world.
9. Taiga Orca Electric PWC
Price: $17,490
Made By: Taiga Motors
Motor: Electric
Top Speed: 65 mph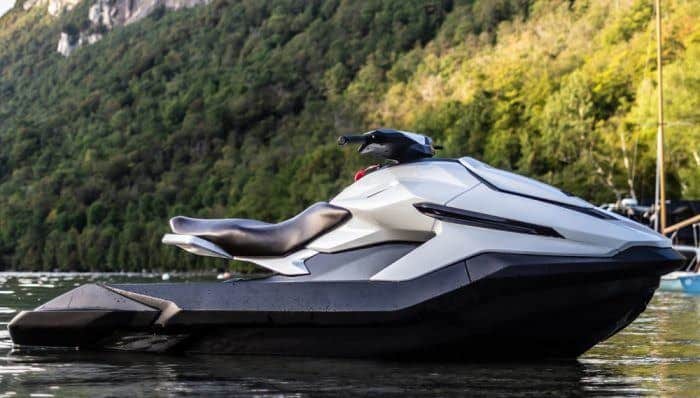 photo source: Personal Watercraft
The Orca, an electric jet ski, was developed by Canadian startup business Taiga Motors in response to the need for environmentally friendly vehicles.
The individual can ride on it for two hours straight because of its hefty battery. A peak speed of 64 mph is also provided by the battery, which also produces 180 horsepower. The waterproof digital display on this jet ski is another highlight.
In addition, they can make use of Bluetooth, Wi-Fi, LTE, and GPS. This display allows you to monitor the condition of the boat.
---
8. Belassi B3R Sport
Price: $30,000
Made By: Benelli
Motor: Gas Engine
Top Speed: 74 mph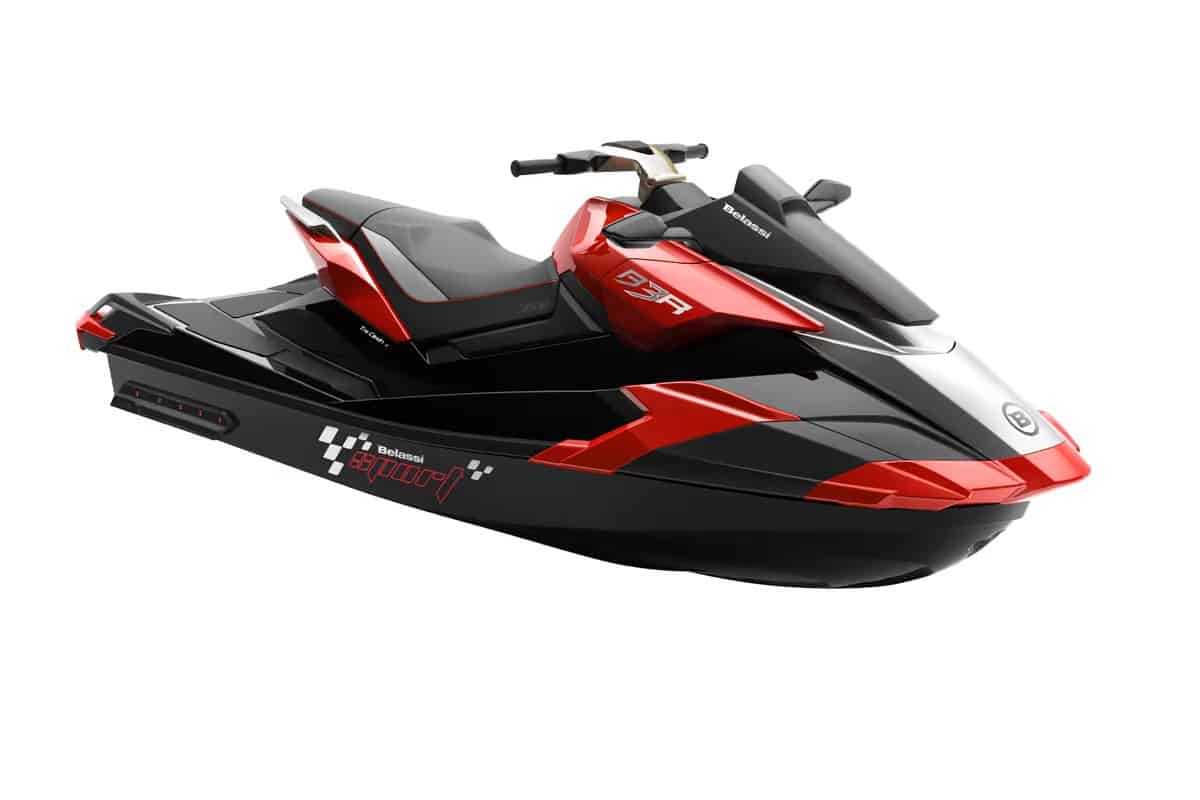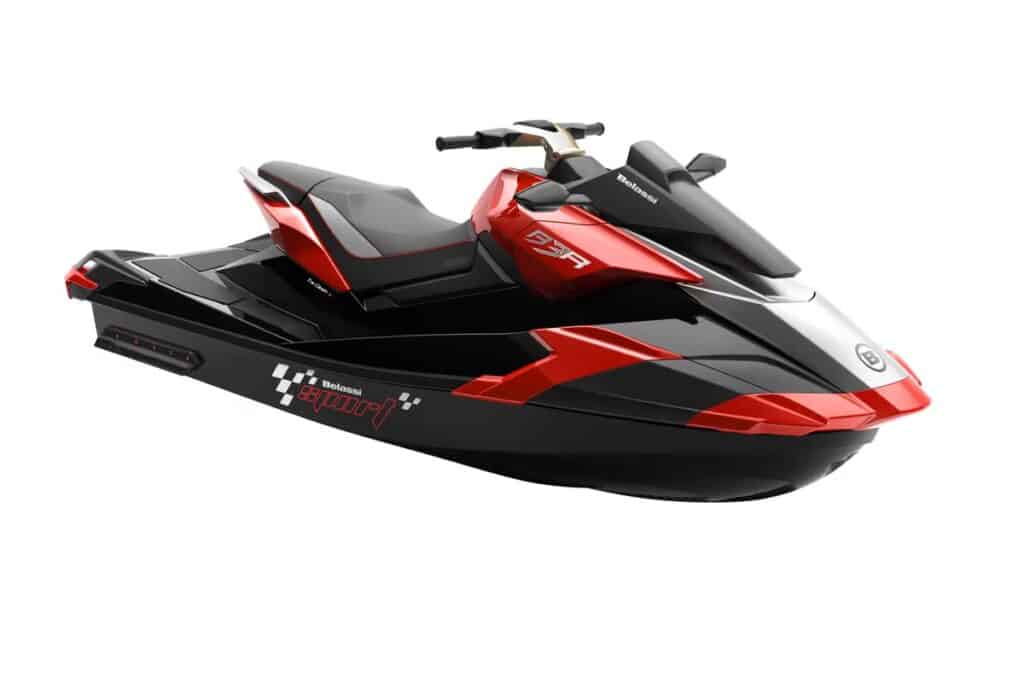 photo source: News Atlas
The Belassi B3R Sport's 320 horsepower turbocharged engine is also designed to make surfing fun. Its dynamic braking technology instantly slows down and stops the car. An engine with an intercooler and three cylinders with turbocharging is installed in this watercraft.
The engine produces 315 horsepower in maximum form. This jet ski also has a cutting-edge braking mechanism, which is another distinctive feature. You can brake, for example, without losing control. Therefore, this would be the boat to purchase if you wanted to take part in a racing competition.
---
7. Kawasaki Jet Ski Ultra 310
Price: $30,298
Made By: Kawasaki
Motor: Gas Engine
Top Speed: 67 mph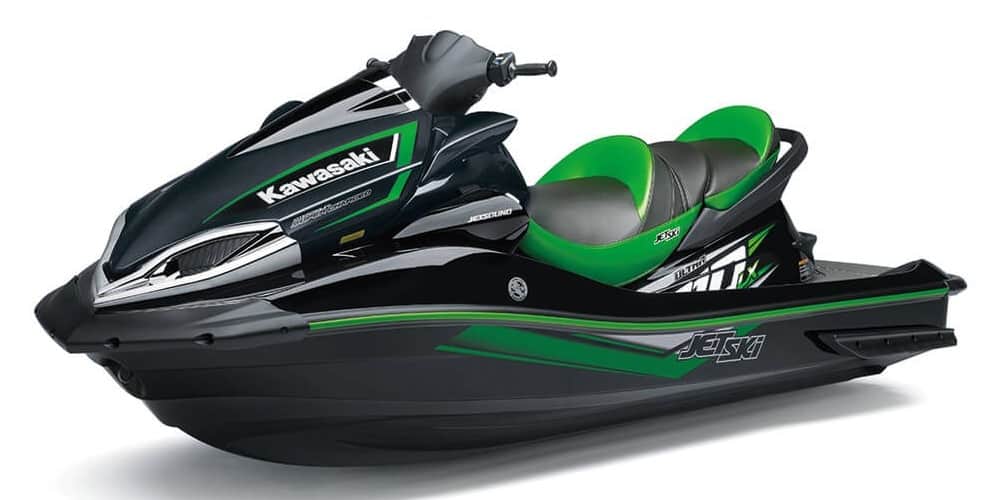 photo source: Jacksonville Powersports
Your need for speed will increase thanks to this strong jet ski. One of the most potent watercraft on the market, it sports a 1498cc 4-cylinder engine with a supercharger and intercooler.
All of that power is contained within the Eaton Twin Vortices supercharger's small frame.
This watercraft incorporates an Electric Trim Control (ETC), which enables the driver to alter how the watercraft responds to your riding style or the conditions of the surroundings. Because of the Kawasaki Smart Steering monitors that help you, you will also experience improved handling.
There are many settings that may be used to either improve fuel efficiency or assist novice riders.
---
6. Narke GT95 Electrojet
Price: $47,000
Made By: NARKE
Motor: Electric
Top Speed: 43 mph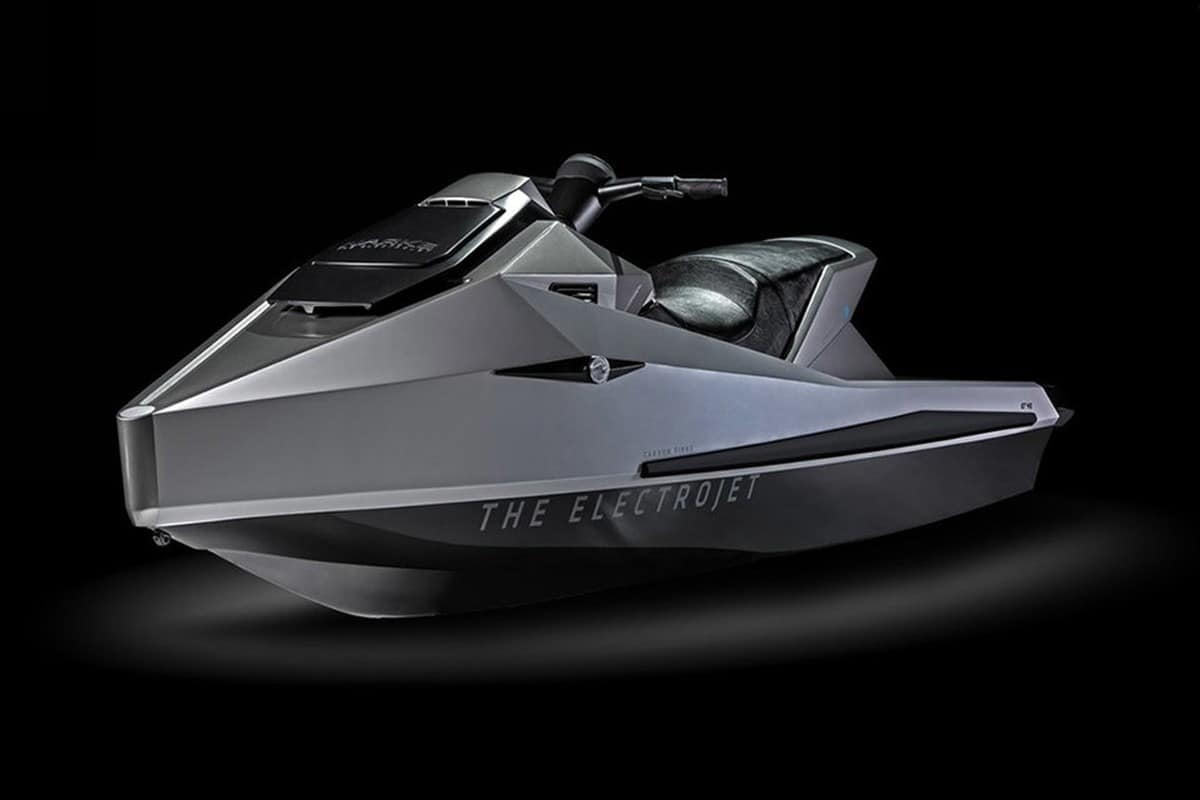 photo source: Hypebeast
The Narke Electrojet exudes elegance at every turn. In addition to removing the customary curves and replacing them with rather industrial and contemporary-looking angles, it uses electricity rather than gasoline to provide its owners enjoyment and amusement.
In terms of appearance, this watercraft succeeds. Jet skis frequently employ curves. Narke made the decision to swap out the curves with sharp, contemporary angles.
The fact that this vessel runs on electricity rather than gasoline is another noteworthy aspect. It goes without saying that this is a high-end, luxurious model designed to satisfy even the pickiest person. The first of its type, to be precise. As an electric car with no emissions, there is no noise from the engine. It's possible to enjoy yourself while still protecting the environment.
---
5. Strand Craft V8 Wet Rod
Price: $49,000
Made By: Kurt Strand
Motor: Gas Engine
Top Speed: 65 mph
photo source: TechEBlog
Strand Craft took 5 years to build this jet ski. As things stand right now, it appears to be one that will rank among the PWC globe innovators in history. Given the variety of features it offers inside, it seems sensible that it is being billed as the luxury yacht of boats.
Yachts are a representation of wealth and flair, thus the Wet Rod designers are determined to make it a classic. It has a powerful Aluminum V8 6.2L Supercharged engine, which is one of its characteristics.
Additionally, it includes an LED touchscreen interface with music and engine monitoring capabilities. The jet ski features a sports coupe-like, aerodynamic shape. The enormous craft is 17 feet long and 5 feet broad. With a peak speed of 65 mph, the V8 engine can produce 300 horsepower.
Under the seat, the jet ski contains a temperature control and music system for your pleasure. For this particular model, extra options include a bespoke trailer, a carbon fiber body, and wood inlays.
---
4. Mansory Black Marlin 550
Price: $62,000
Made By: Kourosh Mansory
Motor: Gas Engine
Top Speed: 123.2 mph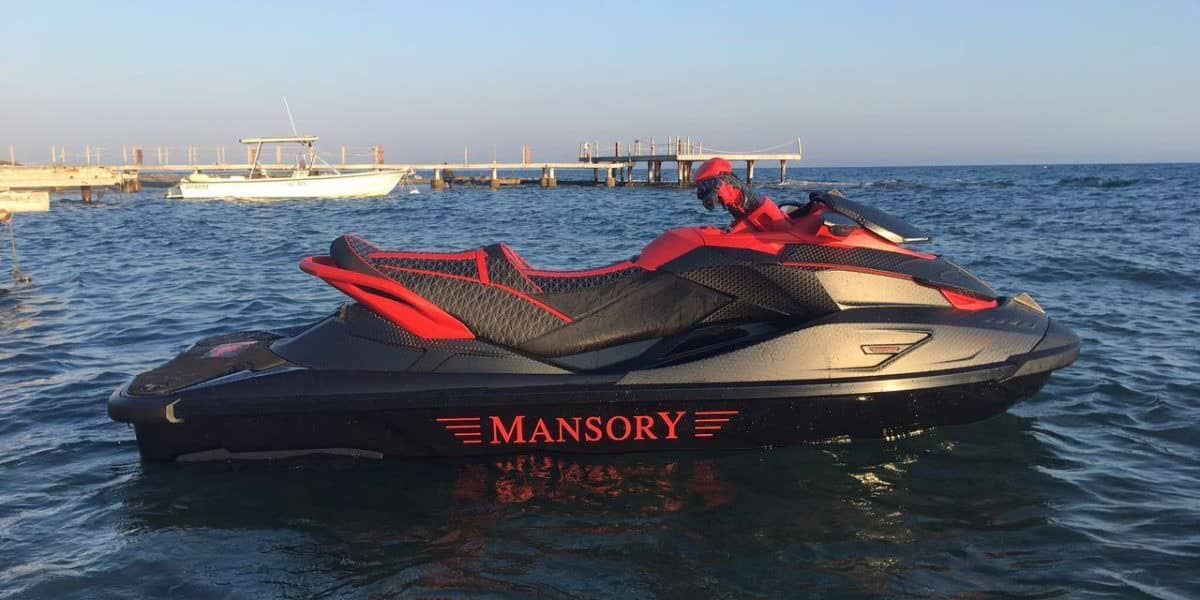 photo source: Supermarine
From Brang, Germany, comes Mansory, a leader in luxury automotive customization. Founded by Kourosh Mansory, the business debuted in 1989. Since then, they have changed the course of numerous engine-powered vehicles that needed to be customized to meet the needs and tastes of their owners.
A marine jet racer is currently in front of us as they work on luxury SUVs, bespoke bikes, and other things as well.
Mansory utilized all of its prior expertise with carbon fiber throughout the time spent reinventing the jet ski with eye-catching items and decades of success. As you might already know or be able to picture, the material is remarkably light yet extremely strong.
In terms of weight savings, this translates to 10 kg less while maintaining the dynamic and aggressive aspect of the design they wished to achieve.
---
3. Quadrofoil Q2S Electric Limited Edition
Price: $65,000
Made By: Quadrofoil
Motor: Electric
Top Speed: 24.8 mph
photo source: TheArsenale
The futuristic styling of this jet ski has a certain allure. Its construction combines a system of aluminum hydro-stabilizers with a high-strength plastic structure in the hull. Because the hull features an airtight top module, it also serves the practical purpose of keeping you dry.
Two lithium-ion batteries that are used widely in the industry power this watercraft. Its batteries may be charged using a typical 110V or 220V outlet.
When traveling at an astounding 24.8 mph, the Q2S Electric Limited Edition will undoubtedly draw attention thanks to its stunning visual package.
It has a variety of extra features, including a unique aft platform, a pull-out string ladder, and an integrated electrical system for raising and lowering hydrofoils, providing the user the chance to see the Quadrofoil Q2 in its best light.
---
2. Nikola Wav Electric Watercraft
Price: $80,000
Made By: Nikola Motors
Motor: Electric
Top Speed: 60 mph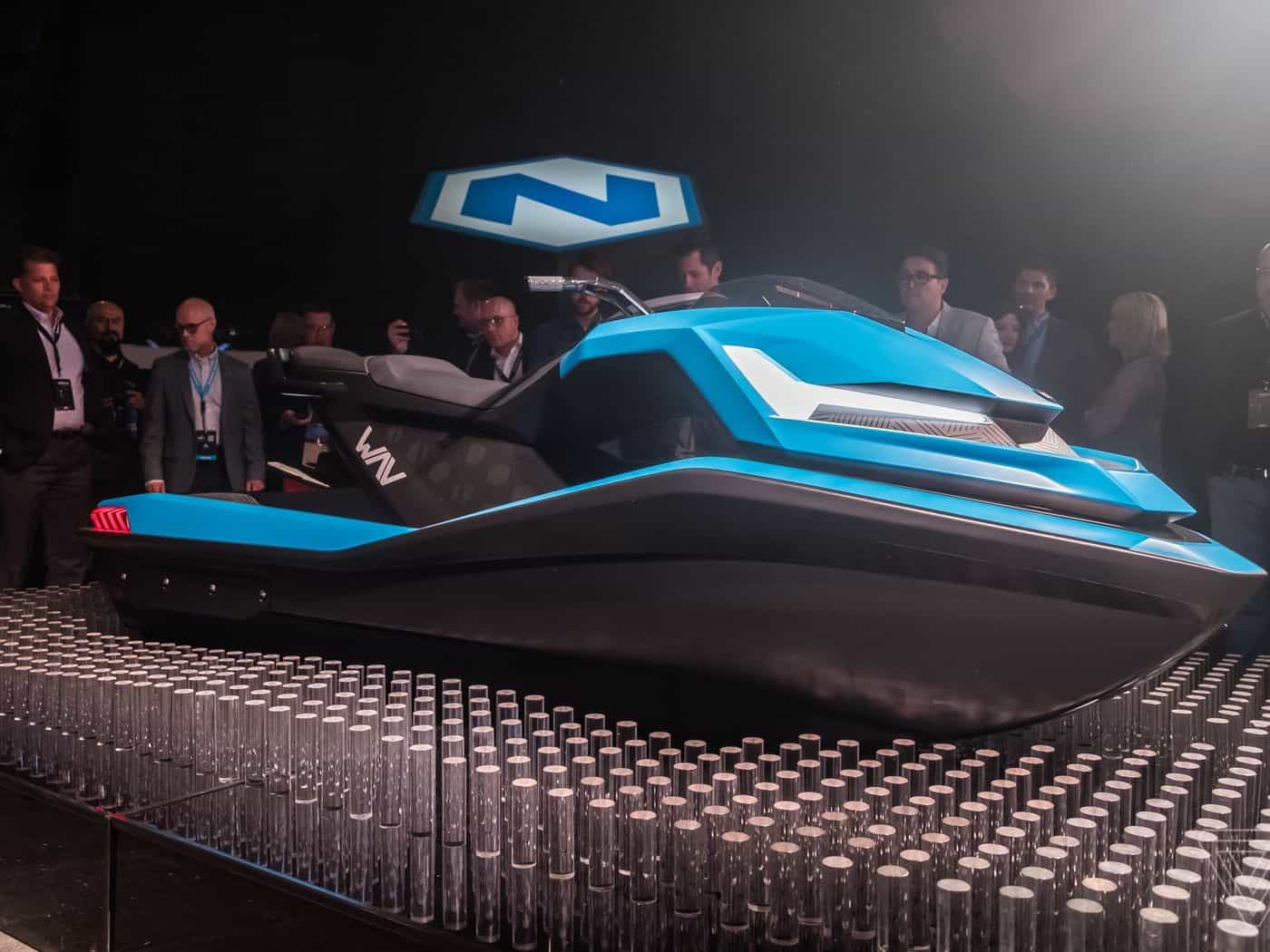 photo source: The Verge
Nikola Motor introduced its all-electric expertise to the Wav after producing an ATV and semi-vehicle. This personal watercraft features a body that is inspired by superbikes and resembles a jet ski, as well as a bow-to-stern storage tunnel, LED head and tail lights, and a large, waterproof multimedia display.
Because superbikes served as inspiration, their design may look familiar. The 12-inch 4K display's simplicity in keeping you informed of all the technical aspects of your jet ski is something you can enjoy while you go over the lake.
A cruise control capability is available on this ship. You may use the function to choose the pace you want, and then you can lock it in by pressing a button.
---
1. Supermarine MM01
Price: $900,000
Made By: Bouvet Marine
Motor: Electric
Top Speed: 74.5 mph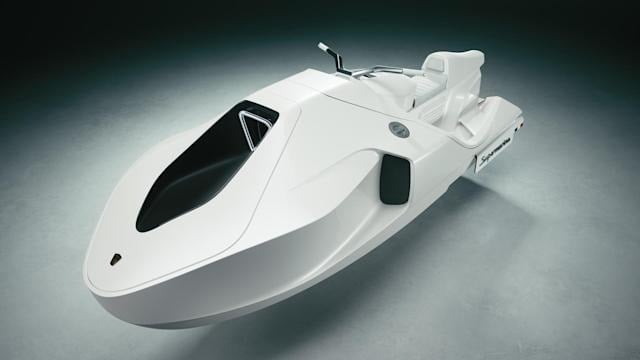 photo source: Super Car Blondie
The Supermarine MM01 is regarded as the most expensive jet ski in existence right now. This all-electric boat costs a stunning $900,000 and is manufactured by the French firm Bouvet Marine.
The MM01 distinguishes itself from the typical jet ski with its blend of performance and design, having been inspired by such exotic supercars and hypercars.
It has a sophisticated, almost elegantly simple design. A total of 30 will be produced, with 15 in all-black and 15 in all-white color schemes. Being the most expensive jet ski in the world, it is extremely powerful, with a maximum output of 300HP (220kW).
It's powered by an electric motor that runs for two hours on a lithium-ion battery. The business states that the batteries also employ liquid cooling that is suitable for Formula E.