The average cost of a dishwasher is about USD400. However, there are some high-end models available for more than double the average price. How do you know if you need a premium model or not? Here's how to find out. If your kitchen has modern appliances or you're planning to remodel it, then getting a premium dishwasher might be a good idea.
You get what you pay for; the most expensive units usually come with additional features that the least expensive ones don't have. If you want something like this, check out our list of the seven most expensive dishwashers you can buy above USD1000. These are the machines that will make your dishes sparkle and smell great every time, but they aren't cheap!
7. Siemens iQ300 14 Place Setting Built-In Dishwasher
Price: $1,271
Height: 33.27 inches
Racks: 3 levels
Net Weight: 83.78 lbs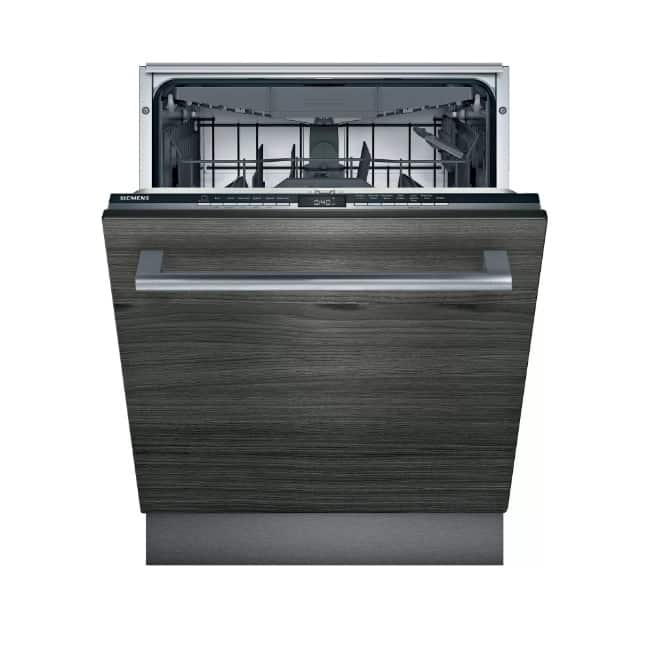 photo source: Joyces
With its cutting-edge engineering, you get dishes that are spotlessly clean and grease-free using the Siemens iQ300 14 Place Setting Built-In Dishwasher. It features a cutting-edge style that is enhanced by a pleasing color scheme. Additionally, it has a sophisticated finish that enhances its attractiveness.
Additionally, it has an ergonomic design that makes using it simply for you. Your monthly electricity expenses will go down because of the technology's lower power consumption. To ensure you obtain the best results, it has six different washing programs kinds.
Did You Know?
It has an inside tub made of stainless steel, giving it a powerful and sturdy appearance.
---
6. Thermador Emerald DWHD650WFP
Price: $1,399
Height: 33.875 inches
Racks: 3 levels
Net Weight: 87.52 lbs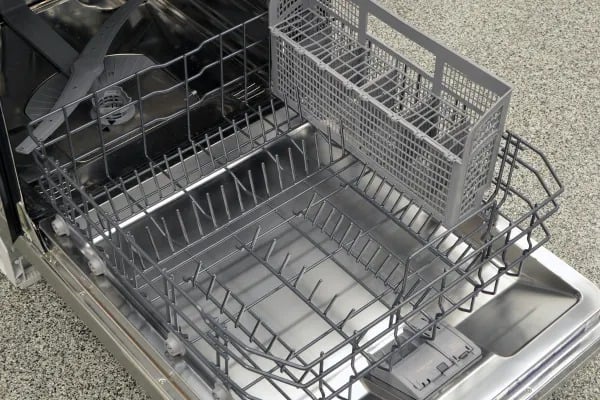 photo source: Reviewed
With 15 plate settings for your dinner parties, this Thermador DWHD650WFP 24″ Emerald Series Built-in Dishwasher has 16 place settings, 6 wash cycles, and 5 distinct choices. It also has 48 dBA, a Sens-A-Wash function, a dry option, adjustable racks, a chef tool drawer, and stainless steel tub.
Furthermore, there are 6 cycles available for selection: Auto, Hand Wash, Normal, Pots & Pans, Quick, and Rinse. When paired with the Thermador Connected Experience by Home Connect, it also offers a smart function that allows you to Remote Start the appliance from your smart device and receives suggestions for dishware cycles.
Did You Know?
To provide a quiet kitchen environment, it works at only 48 dBA.
---
5. Viking VDWU324SS Top Control Built-In Dishwasher
Price: $1,579.00
Height: 33.90 inches
Racks: 2 levels
Net Weight: 102 lbs
photo source: Appliances TV Outlet
To guarantee complete cleaning, an integrated turbidity sensor tracks dirt levels, and a multilayer washing system, the Viking Top Control Buil-In Dishwasher has the strength to handle even the messiest spills. A number of cycle settings for different types of dishes and filth levels are available on this Viking dishwasher, which features an LCD display for simple operation.
Since it includes touchpad controls and an LCD display, it provides relatively simple setting navigation.
There is room for cups and utensils on its adjustable stemware shelf as well. The dishwasher may also be scheduled to start while you are working, sleeping, or doing errands thanks to its 24-hour delay-start feature. The big internal room allows for more clean dishes and fewer loads. It can also fit up to 14 place settings.
Did You Know?
Although it is not included, the dishwasher hookup equipment is available for purchase separately. You cannot complete your installation without a connector kit.
---
4. Jenn-Air Rise JDPSS246LL
Price: $2,199
Height: 34.50 inches
Racks: 3 levels
Net Weight: 89 lbs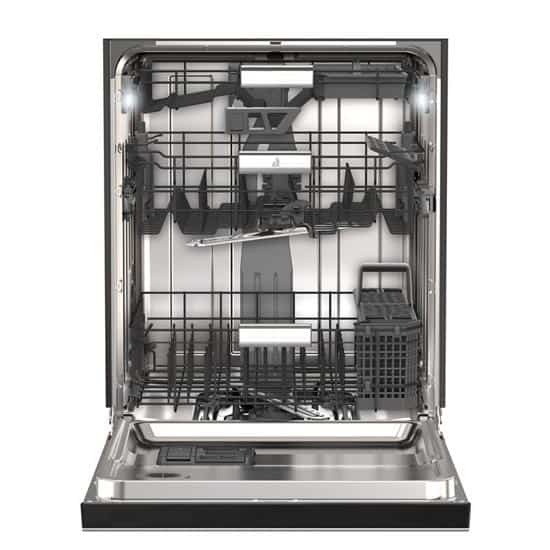 photo source: Rosner's Appliance
A sturdy third-level rack that glides well even when fully laden is the Jenn-Air Rise JDPSS246LL. It boasts an improved cinematic lighting system with 18 LED lights that ramp up to maximum intensity to chase away shadows. It has a Rapid Wash Cycle that cleans dishes in roughly an hour and is perfect for any get-together, diversion, or a cozy night in.
The 38 dBA Tranquility System in JENN-AIR dishwashers allows for silent operation without losing performance. It is known for its Daring Obsidian Racks, which are exclusive to the industry and feature a dramatic black surface that contrasts clean dishes in a striking way. This finish was inspired by the beauty of volcanic glass.
Additionally, it has a 3-stage filtration system with a coarse filter, large filter screen, and bottomless fine filter cup to keep large and fine food particles out of the pump and away from dishware.
Did You Know?
The lower racks and middle tines are adjustable, allowing you to change the layout of the space to accommodate unusual cookware for special occasions or adjust to daily use.
---
3. Thermador DWHD770WFM
Price: $2,299
Height: 33.875 inches
Racks: 3 levels
Net Weight: 104 lbs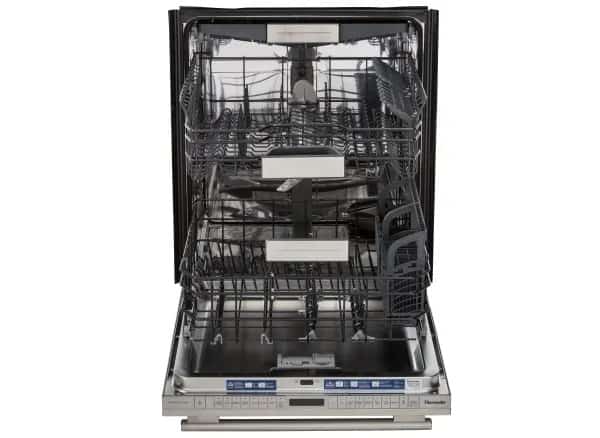 photo source: Consumer Reports
Thermador's DWHD770WFM Sapphire Series Built-In Dishwasher offers your house an opulent dishwashing and drying option. There are 16 place settings, 42 dBA, and Home Connect on the dishwasher. Additionally, this dishwasher qualifies for Energy Star and has StarDry, Sapphire Glow illumination, and an adjustable Chef's Tool Drawer.
You may introduce unique dish features that keep you connected by using this really powerful dishwasher. It has a versatile third rack that increases loading capacity and can be adjusted to fit larger goods, broader ends, and utensil handles.
Additionally, it has foldable tines that are flexible enough to hold things that are twice as big as conventional versions and far wider than rivals. This allows it to hold larger pots, pans, and plates. Even for plastic plates, the extra dry option's greater drying outcomes are produced by a higher drying temperature and a longer drying period that cleans 99.9% of bacteria.
Did You Know?
To get the best heavy-duty cleaning, you may also raise the temperature and pressure in the lowest rack.
---
2. Bosch Benchmark SHX89PW75N
Price: $2,299
Height: 34.06 inches
Racks: 3 levels
Net Weight: 128 lbs
photo source: Best Buy
With this Bosch Benchmark 24-inch dishwasher, you can rapidly clean your dishes. Telescopic rails facilitate simple loading and unloading, and the robust construction guarantees durability even under heavy usage. This Bosch Benchmark 24-inch dishwasher has a white inside light for illumination, a self-latching door design for safety, and a compact design for simplicity of placement.
Its straightforward configuration navigation features electronic controls and a digital display for user-friendliness. You can configure the dishwasher's 24-hour delay-start feature to begin operating while you are working, sleeping, or running errands. Furthermore, it has a large interior space that allows for up to 15 place settings, which results in fewer loads of dirty dishes.
Did You Know?
You can reduce your water use because it only requires less than 2.9 gallons per cycle.
---
1. Miele G7316SCUSS 7000 Series Dishwasher
Price: From $1,699 up to $3,499
Height: 33.68 to 36.25 inches
Racks: 3 levels
Net Weight: 90 to 110 lbs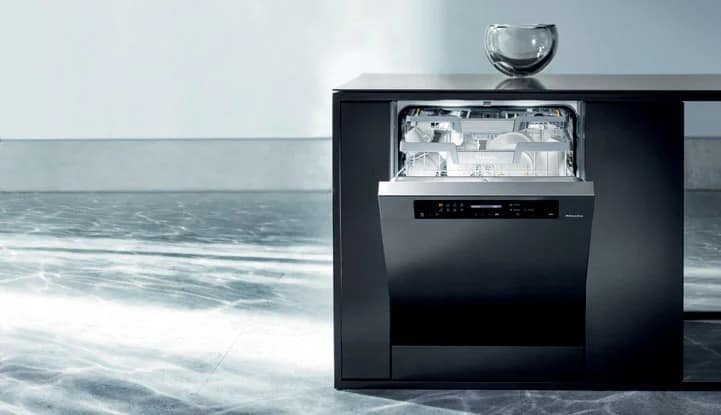 photo source: Yale Appliance Blog
The best high-end dishwashers are made by Miele without a doubt and are considered the most expensive. To provide the highest cleaning performance, the company makes no compromises. All Miele dishwashers come equipped with characteristics that other manufacturers find to be limited to cleaning performance.
The Miele dishwasher, for instance, counts the amount of water consumed rather than just timing it. Why is this crucial? Yes, the water pressure changes during the day (think: family members taking showers; multi-unit high rises; inefficient or old pipes; city water pressure).
Miele makes sure that there is the ideal amount of water for the mess at hand by measuring the water volume. The commercial-grade pump system from Miele guarantees quiet operation and, more significantly, the capacity to boost water pressure for tackling difficult soiling. Amazing sanitization results are achieved by the Miele G7316SCUSS (a major concern for young families).
Did You Know?
The brand can properly distribute water to every area at 167 F, so it doesn't need to use gimmicks like bottle wash sprays or odd wash arm designs.