If you're trying to cut back on calories, an air fryer is a perfect solution because it allows you to cook your food without adding any extra calories from fat or oil. Air Fryers are useful because they allow you to cook food without the hassle of a stove, and they're easy to clean. You don't have to worry about spills or dirty pans, and since it's a sealed unit, you can toss all the food in at once and then walk away for a few minutes.
Just when you think about buying a new air fryer, it is hard to make the decision on what you should buy. There are many different types of air fryers on the market and they come in different sizes and shapes so it makes finding the best one that much harder. This list will save you from the trouble of picking the right one just for you.
Below is a list of the most expensive air fryers you can buy.
7. Ninja AF101
Price: $119.99
Manufacturer: SharkNinja
Capacity: 3.78 liters
Item Weight: 2.22 kgs
photo source: Digital Weekly
You can savor your meals guilt-free now. Air frying can reduce fat by up to 75% compared to conventional cooking techniques. If you're looking for one of these little kitchen gadgets, the Ninja AF101 Air Fryer could be a fantastic option. This appliance comes with a crisper plate that can handle up to 2 pounds of french fries in addition to an air fryer basket. It can go in the dishwasher and weighs 10 pounds.
Every time, it guarantees a uniform distribution of hot air around your food for consistently fast, crispy, and golden finishes. You can prepare and crisp your favorite meals, like 2 lbs fries, thanks to the clever processor's ability to produce a broad temperature range while driving a fan that dynamically adjusts speeds dependent on your cooking function.
It is now your new go-to gadget for any meal or snack because of the wide temperature range that allows you to roast, bake, air fry, reheat, or dehydrate anything.
Did You Know?
Ninja AF101 only has four settings and functionalities and cannot broil.
---
6. Cuisinart Air Fryer Toaster Oven TOA-601
Price: $149.99
Manufacturer: Cuisinart
Capacity: 17 liters
Item Weight: 9.5 kg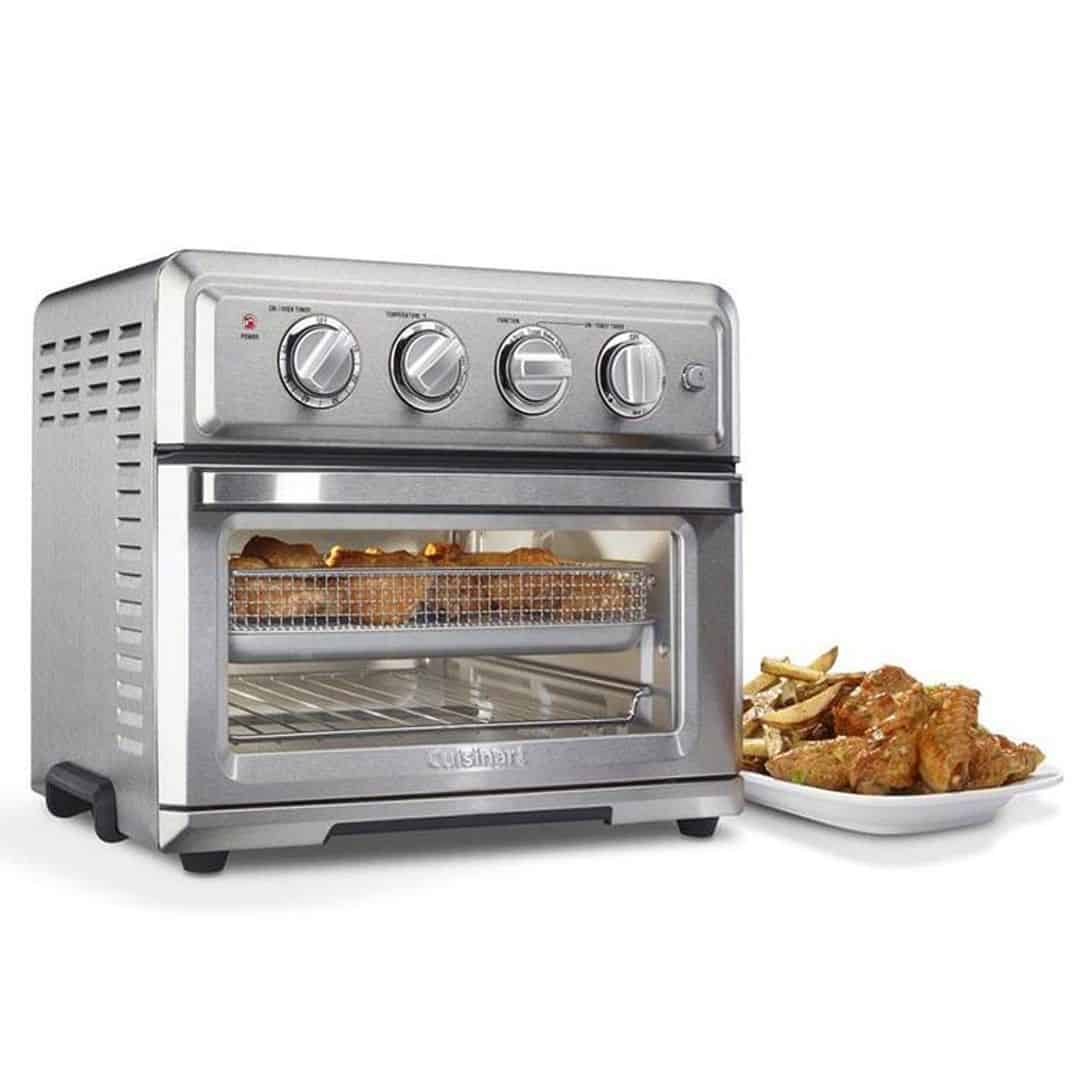 photo source: Pinterest
Your Cuisinart AirFryer Toaster Oven with Grill now has the ability to produce even more delectable meals in addition to AirFrying fries, baking cookies, and warming up leftovers. With the innovative dual-sided grill and griddle plate, you can griddle the ideal breakfast on one side while searing steaks and veggies on the other.
To guarantee that your meals are cooked to perfection, this AirFryer has a toast shade picker, a 60-minute timer/auto-shutoff, and adjustable temperature control.
Did You Know?
This high-end 1800-watt toaster oven and AirFryer can make a 12-inch pizza, roast a 4-pound chicken, air-fried three pounds of chicken wings, and toast six pieces of bread.
---
5. Kalorik Air Fryer Toaster Oven, MAXX AFO 47804 BK
Price: $179.99
Manufacturer: Kalorik
Capacity: 15 liters
Item Weight: 6.28 kg
photo source: Amazon
A deliciously golden, crispy surface and a moist, soft inside are consistently produced by supercharged hot airflow with little to no oil required. Therefore, using the Kalorik Air Fryer for cooking results in fewer calories and fat, as well as no extra grease.
Its 9-in-1 capability includes air frying, baking, toasting, roasting, grilling, braising, searing, broiling, and dehydrating. This multipurpose oven can bake delectable pastries, prove homemade dough, produce crisp-crust personal pizzas, and make your own beef jerky or dry fruit, among many other things.
Did You Know?
For beautiful caramelization on your meat, fish, vegetables, and more, the MAXX Touch can sear at temperatures of up to 500°F.
---
4. Philips Premium Airfryer Digital Twin TurboStar Airfryer XXL
Price: $229.99
Manufacturer: Philips
Capacity: 7.3 liters
Item Weight: 8.5 kg
photo source: ubuy
Making tasty fried meals with up to 90% less fat is possible with the Philips XXL Airfryer. We all enjoy the crunchy flavor of fried food when we cook it at home, but we don't want the added fat! Additionally, to use less oil to cook meals, this new model's innovative Twin TurboStar technology allows it to extract and collect extra fat. As a result, the fried food is delicious and healthy, with a crunchy outside and soft within.
This air fryer has a full-size capacity that makes cooking a big, tasty dinner simple. You may prepare an entire chicken or even up to 1.4 kg of fries. The huge 7.3L capacity pan can accommodate up to six meals.
Did You Know?
The same as its younger brothers, this ingeniously created device employs a patented starfish shape for the best heat distribution, swiftly cooking food to the optimum crisp, golden-brown doneness with little to no oil.
---
3. Ninja Air Fryer DZ401 Foodi 10 Quart 6-in-1 DualZone XL
Price: $229.99
Manufacturer: SharkNinja
Capacity: 5.2 liters
Item Weight: 9 kg
photo source: Mr.Gadget.com
It has Dualzone Technology, which gives you the option of using either the Smart Finish function, which enables simultaneous cooking of two different items or the Match Cook feature, which makes it simple to copy settings between areas for a full 10-qt. serving-size food. Its 5.2 liter XL volume allows you to prepare rapid family dinners by fitting the main course and sides at the same time.
The Ninja Air Fryer Max XL is a great option if you're searching for a decent, basic air fryer. It is simple to use, produces excellent results, and is dishwasher safe for quick cleanup because of its ceramic-coated basket. Its compact size is also a plus because it frees up counter space.
Did You Know?
To check the internal temperature of meat, the product comes with a smart meat thermometer.
---
2. Instant Omni Plus 10-in-1 Air Fryer Oven Toaster Combo
Price: $249.99
Manufacturer: Instant
Capacity: 18 liters
Item Weight: 11 kg
photo source: amazon.com
Your family may quickly enjoy nutritious home-cooked food with the big capacity, high-performance Instant Omni Plus toaster oven and air fryer.
Growing families will love it because it can cook up to four pieces of food. The Omni Plus's 10 culinary capabilities enable you to make brisk, delectable, and nutritious domestic meals. It features a rotisserie feature, EvenCrisp innovation for results that are golden and crispy, and more. With the Omni Plus, Instant continues to provide the same level of excellence, practicality, and adaptability.
Did You Know?
All dishes are quickly and uniformly cooked because of Instant's utilization of the Golden Quartz Technology, which employs numerous heating components.
---
1. Ninja Foodi 11-In-1 SmartLid
Price: $349.99
Manufacturer: SharkNinja
Capacity: 6 liters
Item Weight: 10.7 kg
photo source: Ninja
Despite the price, there is a lot to admire about this place. Ninja Foodi 11-In-1 SmartLid is priced at $349.99 and is the most expensive air fryer to date. A really multifunctional cooking tool, Ninja Foodi 11-in-1 SmartLid Multi Cooker is one of the new Ninja multi-cooker models to get a fashionable aesthetic update, making it easier to store and more deserving of a permanent home on your countertop.
This model, as its name might imply, offers 11 various culinary capabilities that let you prepare a wide range of dishes. These include slow cooking, dehydrating food, air frying, air steaming, grilling, baking, sauteing, and pressure cooking
Did You Know?
It includes two brand-new "combi steam" settings that combine light steaming with conventional baking and air frying to create fluffier cakes and more succulent meats.