The modern world is full of amazing gadgets. From phones to laptops and tablets, we have a lot of devices in our pockets to get things done. But one thing that has always been missing from this is music. Bluetooth speakers are a great way to get the party started. With this technology, you can connect your speakers to any device that supports Bluetooth, including your phone, laptop, or tablet.
Bluetooth speakers are a rapidly growing market and for good reason. They're an easy way to add music to your life, and they're available in a wide range of prices, styles, and features. There are a lot of things to consider when looking at wireless speakers — price range, speaker size, brand name, and durability.
Read on as we compiled our list of the most expensive Bluetooth speakers you can buy in today's market.
12. Harman/Kardon Aura Studio 3
Price: $299.95
Manufacturer: Samsung Electronics
Year Made: 2020
Portable: No
photo source: Decoded Magazine
Harman Kardon's Aura Studio 3 blends aesthetics and sound performance with its distinctive appearance and 360-degree acoustic architecture.
You may play your preferred songs from a mobile device using the Bluetooth 4.2 wireless technology built into the Aura Studio 3. By including an undulating ambient light, Harman/Kardon also considers the enjoyment of your eyes in addition to your hearing. The end effect is a perfect fusion of light and sound for a more pleasurable experience.
An expansive and realistic audio is produced by its 360-degree architecture, which has excellent directivity. It can also become rather loud, however, the maximum level does include some compression, which might reduce the quality of your audio at higher volumes. Sadly, it has trouble reproducing low bass, so you can't experience the deep thump and rumble in bass-heavy songs.
Did You Know?
You can't alter the sound to your preferences using any sound modification capabilities in the Aura Studio 3 model.
---
11. Marshall Stanmore II
Price: $316.34
Manufacturer: Marshall Amplification
Year Made: 2018
Portable: No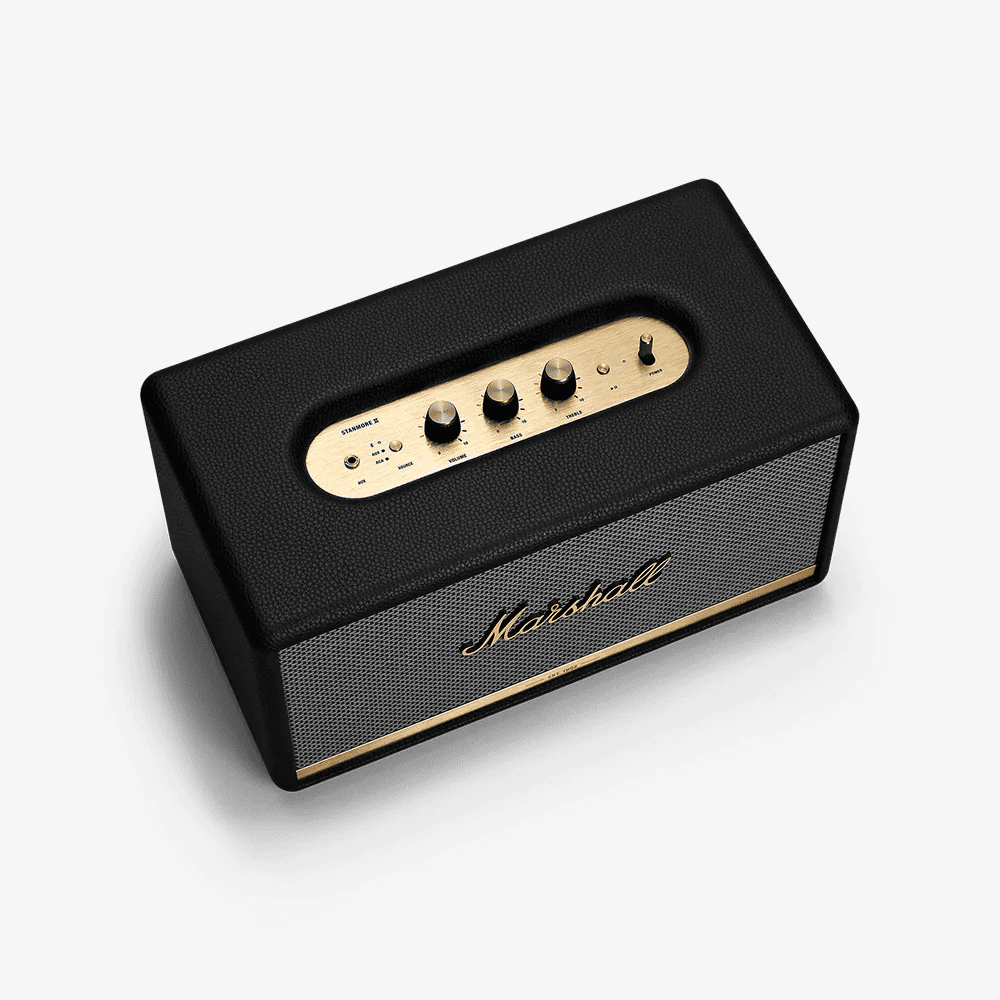 photo source: Digital Walker
This speaker delivers powerful sound while maintaining a traditional aesthetic by fusing modern technology with historic Marshall design. The robust hardwood frame of Stanmore II is adorned with vintage Marshall elements including a textured vinyl coating, salt and pepper fret, and the distinctive script logo.
The brass plate is proudly stamped with the establishment date of 1962 – a subtle reference to the brand's legacy and 60 years of history.
Stanmore II generates clear and accurate sound, even at the loudest volumes, thanks to its cutting-edge components, which include two 15-watt class D amplifiers for its tweeters and a 50-watt class D amplifier for its powerful subwoofer. With Qualcomm aptX technology, you may play your music wirelessly and in gorgeous stereo sound.
Did You Know?
Using its 5.25″ woofer and two 0.75″ tweeters, it can provide up to 80W of combined power.
---
10. Bose SoundLink Revolve+ Series II
Price: $329
Manufacturer: Bose
Year Made: 2017
Portable: Yes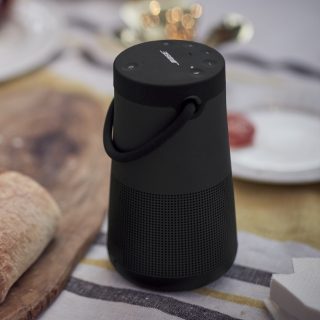 photo source: Bose
True 360° sound is delivered via the SoundLink Revolve+ II for steady, even coverage. To ensure that everyone has the same experience, put it in the middle of the space. If you place it close to a wall, the sound will bounce off the wall and reverberate throughout the space, giving you the same immersive experience you had at your favorite event.
This Bluetooth speaker is convenient to carry around due to its tapering cylindrical shape and flexible fabric grip. Its sturdy aluminum design gives worry-free protection, and its water- and dust-resistant design (IP55 certification) enables you to continue the fun even if it is smeared by the pool.
Did You Know?
For a full day of listening, the rechargeable lithium-ion battery may last up to 17 hours.
---
9. Audioengine A5+ Plus Wireless Speaker
Price: $499
Manufacturer: Audioengine
Year Made: 2018
Portable: No
photo source: TechSpot
In 2006, Audioengine introduced its first product under the A5 brand and established its professional audio firm. It can be argued that Audioengine's speakers and other audio equipment were quite well-liked in both Europe and the US during this time. The reputable publication "What HI-FI" has also given several of its goods, including the Audioengine A5+ wireless desktop speakers, five stars.
The success of Audioengine is built on its years of technological development in the HiFi audio industry and its expertise in supporting audio technology for Apple and Harman Kardon. The A5+ from Audioengine is regarded as the most emblematic of the company's home HiFi speakers and the most affordable option among 5-inch speakers.
Did You Know?
The A5+ includes 3/4″ silk dome tweeters and 5″ Kevlar woofers. Kevlar is a strong material that is utilized in high-end speakers because it keeps its form when pushed at loud levels.
---
8. JBL Boombox 3
Price: $499.95
Manufacturer: JBL
Year Made: 2022
Portable: Yes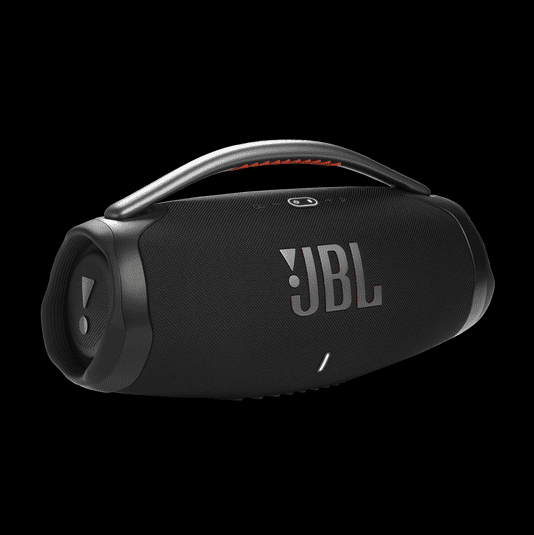 photo source: JBL
The Boombox 3 is another excellent Bluetooth speaker from JBL, which creates some of our favorite models. It has the same built-in handle and outdoor-ready design as its predecessor and is just as attractive and strong. However, it also comes with several noteworthy improvements, such as a subwoofer that produces considerably improved low-end sound quality and a companion app with an adjustable EQ.
A strong waterproof grille and a status LED strip are both included on the front of the speaker, along with a large JBL branding. On top is a horizontal row of simple-to-use controls. The buttons for PartyBoost are located in the control bar from left to right.
Did You Know?
The speaker's battery life is estimated by JBL to be around 24 hours, although depending on your volume settings, your experience may differ.
---
7. Bang & Olufsen Beolit 20
Price: $500
Manufacturer: Bang & Olufsen
Year Made: 2020
Portable: Yes
photo source: Bang & Olufsen Support
The Bang & Olufsen Beolit 20 is composed of high-quality leather and lacks LEDs, is not waterproof, and has a built-in handle. Don't be fooled by the sleek appearance and opulent materials, though; despite its small size, this speaker can go loud and provides deep, rich bass. It has a broad, rich sound and a lot of high-frequency detail.
The Beolit 20 is yet another appealing entry to the Beolit family of Bluetooth speakers, and it is offered in black-and-blue and gray-and-gold variations. At 5.9 pounds and 5.3 by 9.1 by 7.5 inches (HWD), it appears to be a pretty elegant lunchbox.
It features a strong leather strap, but in a creative design move, the strap attaches diagonally to the top corners rather than parallel to the speaker's outer borders.
Did You Know?
You may charge your phone while using the Qi-certified charging surface in the center area.
---
6. Bose Sound Bar 700
Price: $799
Manufacturer: Bose Corporation
Year Made: 2019
Portable: No
photo source: Consumer Reports
Unmatched in its ability to combine elegant appearance and great audio is the Bose Soundbar 700. A tempered glass top, a wraparound aluminum grille, and sleek lines are just a few of the elements that make it look as amazing as it sounds.
With the stroke of a button, you can control all of your entertainment with the Bose Soundbar 700 Universal Remote, which is included with the purchase of your soundbar. Six presets make it even simpler to locate your favorites because only the buttons you now require are illuminated.
Did You Know?
The soundbar features eight microphones arranged in an array along the front and back to make sure Alexa can hear you above your media; a light bar will show whether Alexa is hearing, processing, or talking.
---
5. Devialet Phantom II 98 dB
Price: $1500
Manufacturer: Devialet
Year Made: 2021
Portable: No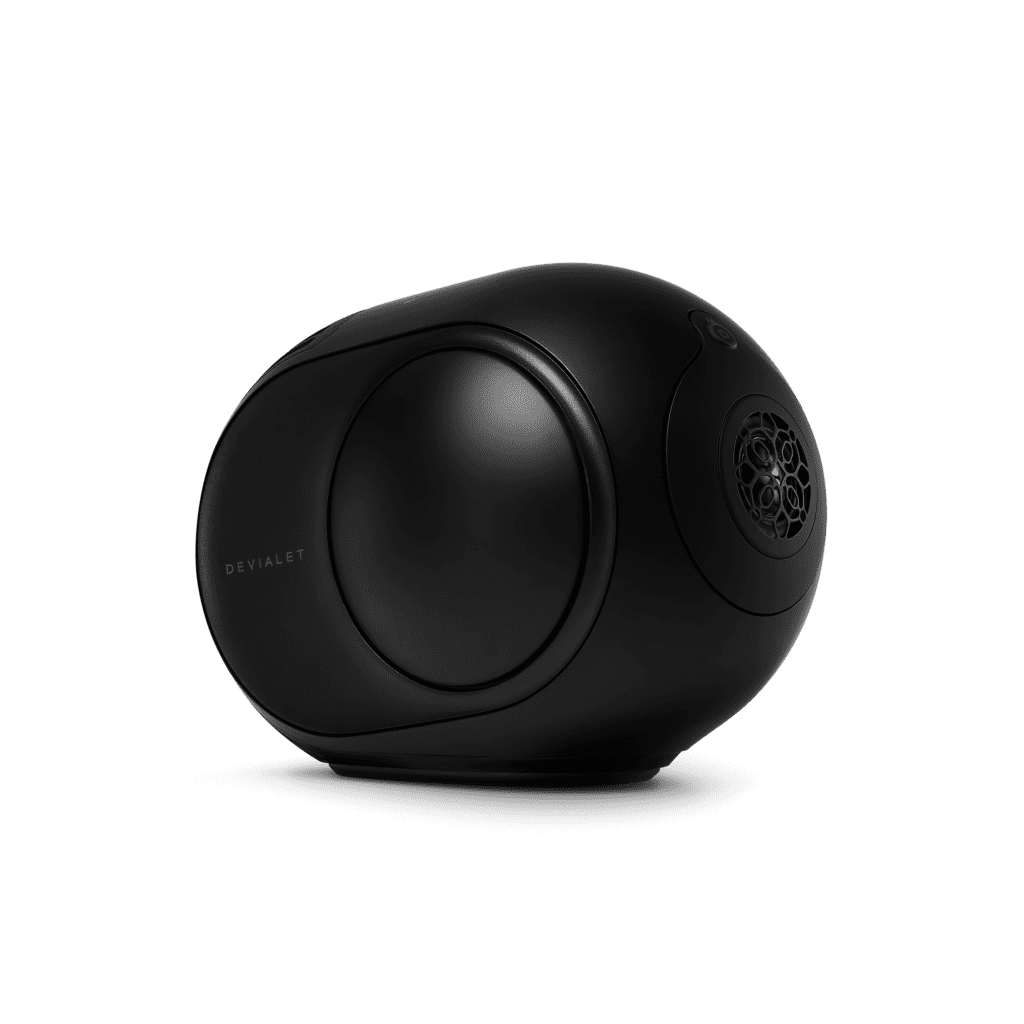 photo source: devialet.com
Phantom II 98 dB speaker, which produces unreasonably powerful sound, is a technical marvel. With only one touch, Phantom II is completely under your control. Phantom is equipped with its potent Devialet Intelligent Processor, which aids in delivering superior sound quality.
To provide the best of both worlds, analog-digital hybrid (ADH) technology is created to supply the subtleties of Class-A analog amplifiers as well as the strength and portability of Class-D digital amplifiers.
The Phantom II is offered in 95dB or 98dB trim and may be purchased singly or as a stereo pair. A Phantom II 98dB that has been crafted in a priceless palladium/gold alloy that Devialet refers to as "Moon Gold" is available in the Opera de Paris edition for those seeking something even more luxurious.
Did You Know?
For even more powerful sounds, you can link two Phantom II speakers together in duo mode.
---
4. Airpulse A300PRO
Price: $2299
Manufacturer: Airpulse Audio
Year Made: 2020
Portable: No
photo source: Airpulse
With a conservatively attractive walnut wood veneer, the A300Pro's cabinet is completed. It sounds similar to the A300's 6.5-inch aluminum cone, and low-distortion woofer, but with the same horn-loaded aluminum ribbon tweeter.
The A300Pro's left and right speakers have identical power supplies and amplifiers. A high-efficiency, low-ripple switching power supply rated at 150W is built into each speaker.
No matter where the listener is located, Airpulse's meticulously calculated horn-shaped tweeter guarantees that the high-frequency dispersion is constant. The Qualcomm QCC3031 Bluetooth V5.0 chipset with AptX HD high-fidelity codec powers the A300 Pro's internal Bluetooth audio receiver.
Did You Know?
To achieve the highest level of signal transmission accuracy, the A300 PRO comes with a transparent speaker cable, i.e., a US-made cable for internal connections.
---
3. Phantom I 108 dB
Price: $3300
Manufacturer: Devialet
Year Made: 2014
Portable: No
photo source: devialet.com
The specific Phantom I remote control that comes in the package may be used to control your audio. Control is easy with a built-in battery that provides 2.5 months of autonomy and Bluetooth 5.0 connection for a range of up to 20m. Playback controls on a contemporary LED matrix display include play/pause, skip, and skip prior, and volume is controlled by a stylish scroll wheel at the periphery.
You can easily manage your playback with the Devialet App, and it keeps you informed of the most recent upgrades. By modifying the bass for Night Mode, turning on Standby Mode, or altering latency for A/V, you may personalize your Phantom speakers.
Did You Know?
You may arrange many Phantom speakers throughout your house and have the same audio playing throughout with Multi-Zone Play in Phantom I.
---
2. Bang & Olufsen Beoplay A9 Wireless Speaker
Price: $3799
Manufacturer: Bang & Olufsen
Year Made: 2013
Portable: No
photo source: Bang & Olufsen
The recognizable appearance of the Beoplay A9 is meant to be seen. It appears to be a minimalist work of art from a distance. The sturdy natural wood legs of A9 support it while Kvadrat wool enhances the sound of your music. It creates an unending channel of technology and art, encircled by precisely milled aluminum and supported by premium plastics.
Use speakers to enjoy loud, high-quality sound around your house. Play the same music on several speakers across your home by quickly and effortlessly connecting speakers over Wi-Fi. You may design a speaker configuration that suits your home entertainment tastes, whether it is in the same room or not.
Did You Know?
The system may be muted and unmuted by placing your palm in the center of the device for two seconds.
---
1. Devialet Phantom I 108 dB Opéra de Paris
Price: $3900
Manufacturer: Devialet
Year Made: 2016
Portable: No
photo source: hificorner.co.uk
Not only is Phantom I Opéra de Paris | Devialet an outstanding example of sound design, but it is one of the finest techs in the world, and it is also a tribute to it. Considered to be the most expensive Bluetooth speaker ever, Phantom I Opera costs $3900.
By destroying the conventional bounds of size and space, The Phantom permanently altered the expectations of a single, powered speaker. It is distinctive and revolutionary and contains ground-breaking technology to create a powerful listening experience that you can feel in your bones and spirit.
The expert gilders at Ateliers Gohard used Moon Gold, a priceless and durable palladium-yellow gold alloy, to complete the Opéra de Paris edition. With the use of time-tested techniques, each leaf is manually placed, giving rise to a distinctive patina.
Did You Know?
HBI, or Heart Bass Implosion, was created especially for the Phantom and allows you to hear infra-bass frequencies down to 14 Hz.