The 1974 quarter is part of the Washington Quarter series that started to go public in 1932. As an old coin, you might be thinking of getting one of these and adding it to your collection.
Before you do, read through this guide and learn more about the value, composition, and historical significance of the 1974 quarter.
What Is the 1974 Washington Quarter Made Of?
The 1974 Washington quarter is made of 75% copper and 25% quarter. It has a mass of 5.67 grams and a diameter of 24.3 millimeters. It has a reeded edge that makes it an ideal coin for vending machines.
The cupronickel composition of the Washington Quarter has been used from 1965 to the present. From 1932 to 1964, the Washington Quarter was made of 90% silver and 10% copper.
The Washington Quarter was born out of the US Congress's zeal to honor the 200th birth anniversary of George Washington, the country's first president. Originally, Congress planned to replace the half-dollar coin but later decided to use the quarter coin instead.
Image source: USA Coin Book
What's more interesting is that the Washington Quarter was meant to only serve as a commemorative coin in 1932. However, due to the extensive acceptance of the public, the US Mint decided to regularly mint the Washington Quarter starting in 1934 up to this day.
John Flanagan made the design after controversially winning the design competition held in 1932. On the obverse, the image of George Washington is found. On the reverse, you'll find an image of an eagle, a bundle of arrows, and an olive branch.
1974 Washington Quarter Varieties
The 1974 Washington quarter has three varieties, and these include the following:
| | | |
| --- | --- | --- |
| Variety | Mint Location | Mintage |
| 1974 P Washington Quarter | Philadelphia | 801,456,000 |
| 1974 D Washington Quarter | Denver | 353,160,300 |
| 1974 S Proof Washington Quarter | San Francisco | 2,612,568 |
| Total | | 1,157,228,868 |
The last time the mintage figure for the Washington quarter reached more than a billion was in 1967. After several years, the US Mint once again crossed the one billion mark in 1974 and will continue to do so until 1976 before it will again drop down below one billion.
The San Francisco Mint produced proof coins, while the remaining mint centers produced regular coins.
Here's a deeper look at each of the 1974 Washington Quarter varieties:
1974 P Washington Quarter
Type: Jefferson Nickel
Year of minting: 1974
Mint Mark: none
Place of minting: Philadelphia
Quantity produced: 801,456,000
Face Value: $0.25 (twenty-five cents)
Price: $0.30 and $0.85 (circulated condition)
Mass: 5.67 grams
Diameter: 24.30 mm
Edge: Reeded
Designer: John Flanagan
Composition: 75% Copper, 25% Nickel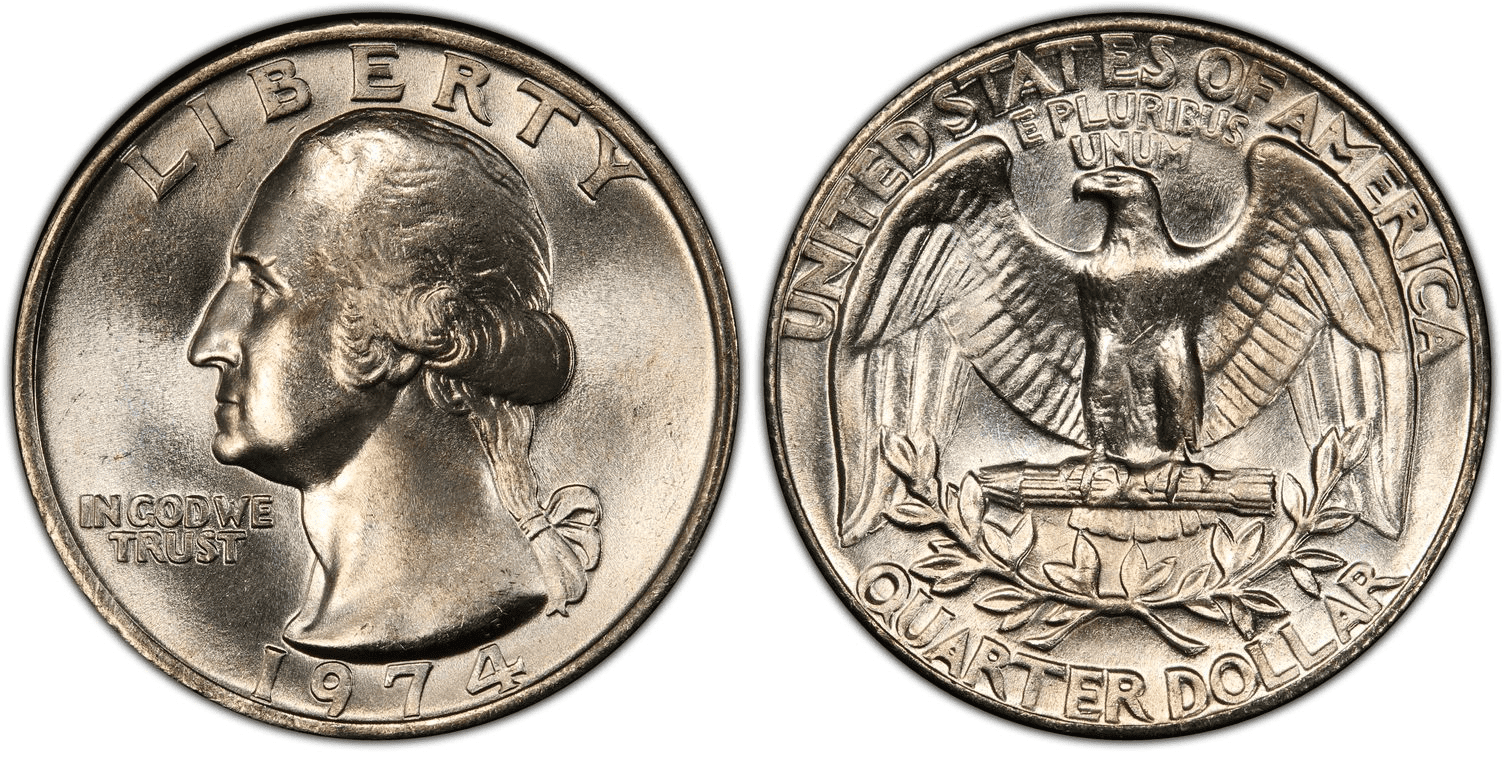 Image Source: PCGS
The Philadelphia Mint produced more than 800 million quarters in 1974, which made the 1974-P quarter the most abundant variety of the same year. This greatly exceeds the mintage figure of the Philadelphia Mint for the quarter in 1973, which is only about 346 million.
---
1974 D Washington Quarter
Type: Jefferson Nickel
Year of minting: 1974
Mint Mark: D
Place of minting: Denver
Quantity produced: 353,160,300
Face Value: $0.25 (twenty-five cents)
Price: $0.30 and $0.85 (circulated condition)
Mass: 5.67 grams
Diameter: 24.30 mm
Edge: Reeded
Designer: John Flanagan
Composition: 75% Copper, 25% Nickel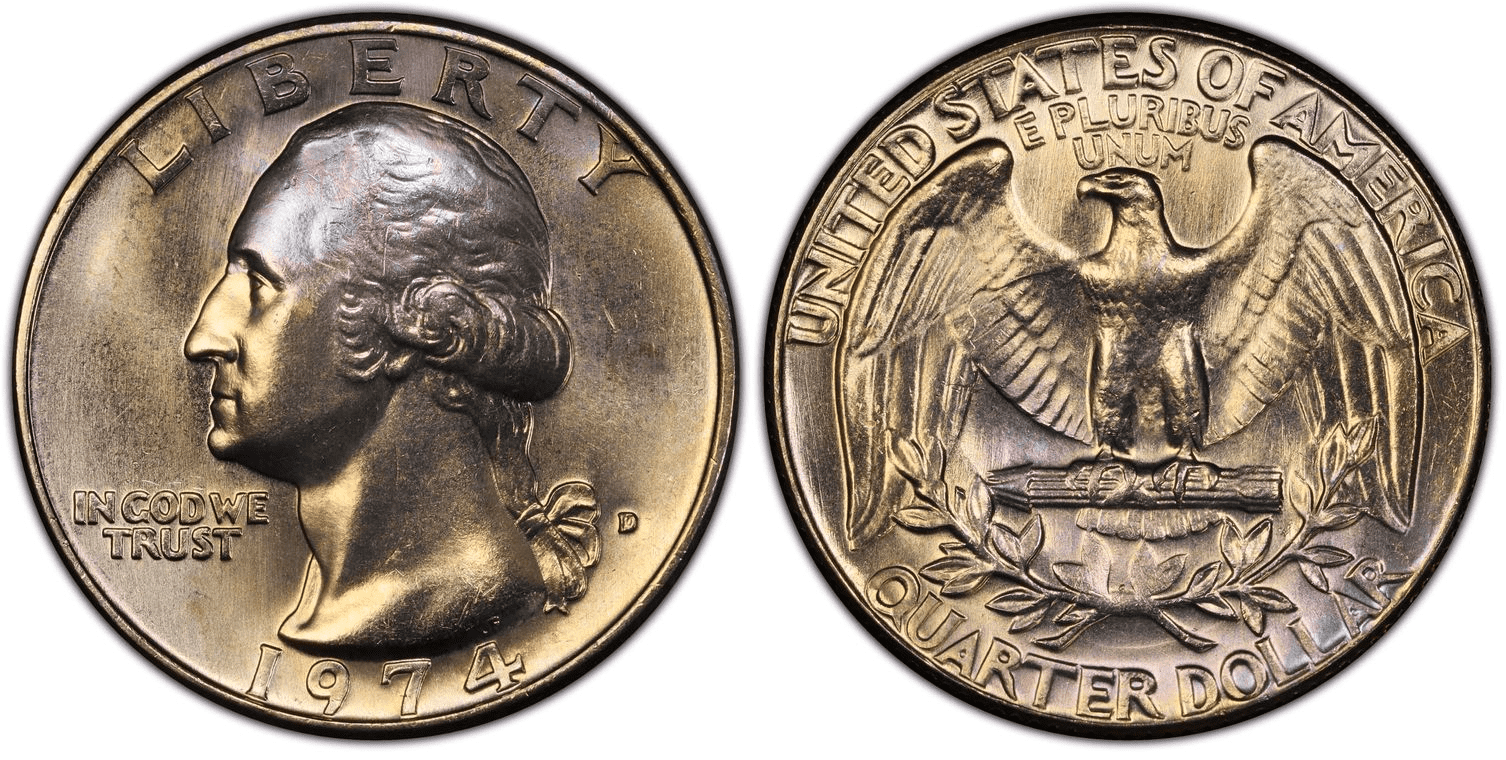 Image Source: PCGS
The Denver Mint produced more than 353 million quarter coins in 1974, a higher mintage than the previous year. Because of the huge mintage of the 1974-D quarter, you should easily find one in circulation and even in top grades up to MS66. However, MS67 and above grades can be harder to obtain.
---
1974 S Proof Washington Quarter
Type: Jefferson Nickel
Year of minting: 1974
Mint Mark: S
Place of minting: San Francisco
Quantity produced: 2,612,568
Face Value: $0.25 (twenty-five cents)
Price: $11 or more (uncirculated condition)
Mass: 5.67 grams
Diameter: 24.30 mm
Edge: Reeded
Designer: John Flanagan
Composition: 75% Copper, 25% Nickel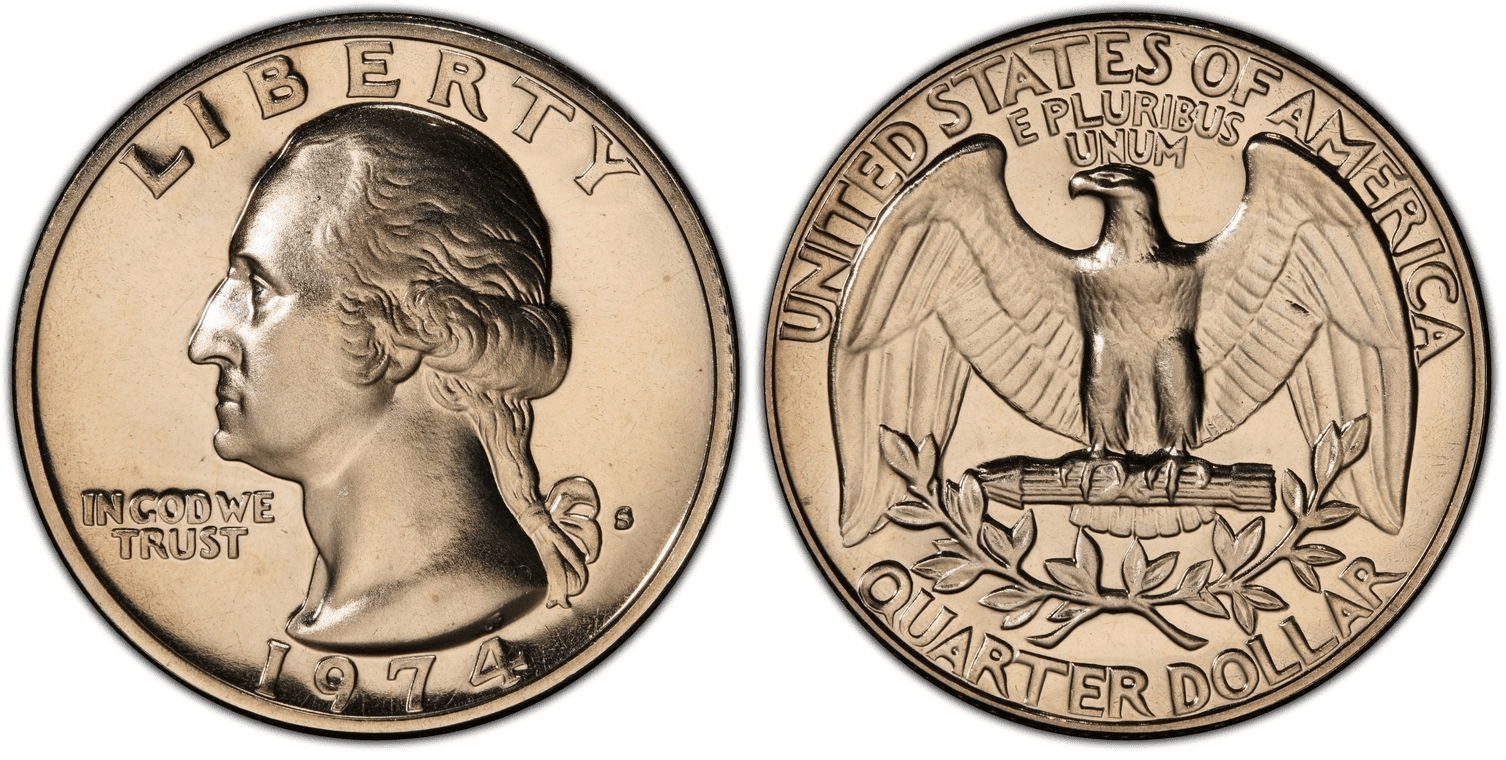 Image Source: PCGS
The San Francisco Mint did a great job in producing beautiful and detailed proof quarter coins in 1974. As a result, you should find examples with grades up to PR69 and in Deep Cameo. What's difficult to find is the PR70 Deep Cameo 1974 proof quarter coin, which can be elusive and cost a lot of money to obtain.
---
List Of 1974 Washington Quarter Errors
1974 Washington quarter coins with errors exist, and some are even more expensive than regular coins. If you're interested in finding one, here are some examples you should watch out for:
Incomplete mint mark
The mint mark on US coins is punched separately. That's why you'll see that the entire coin might be perfectly struck except for the mint mark. Different error types involve the mint mark, but here's one example that shows the mint mark wasn't completely punched:
Image source: eBay
Missing clad
Although the quarter is made of copper, it is clad with nickel. The nickel gives it its distinctive color and luster. During the minting process, sometimes the nickel didn't properly mix with the copper, causing it not to move to the surface.
Here's how it looks: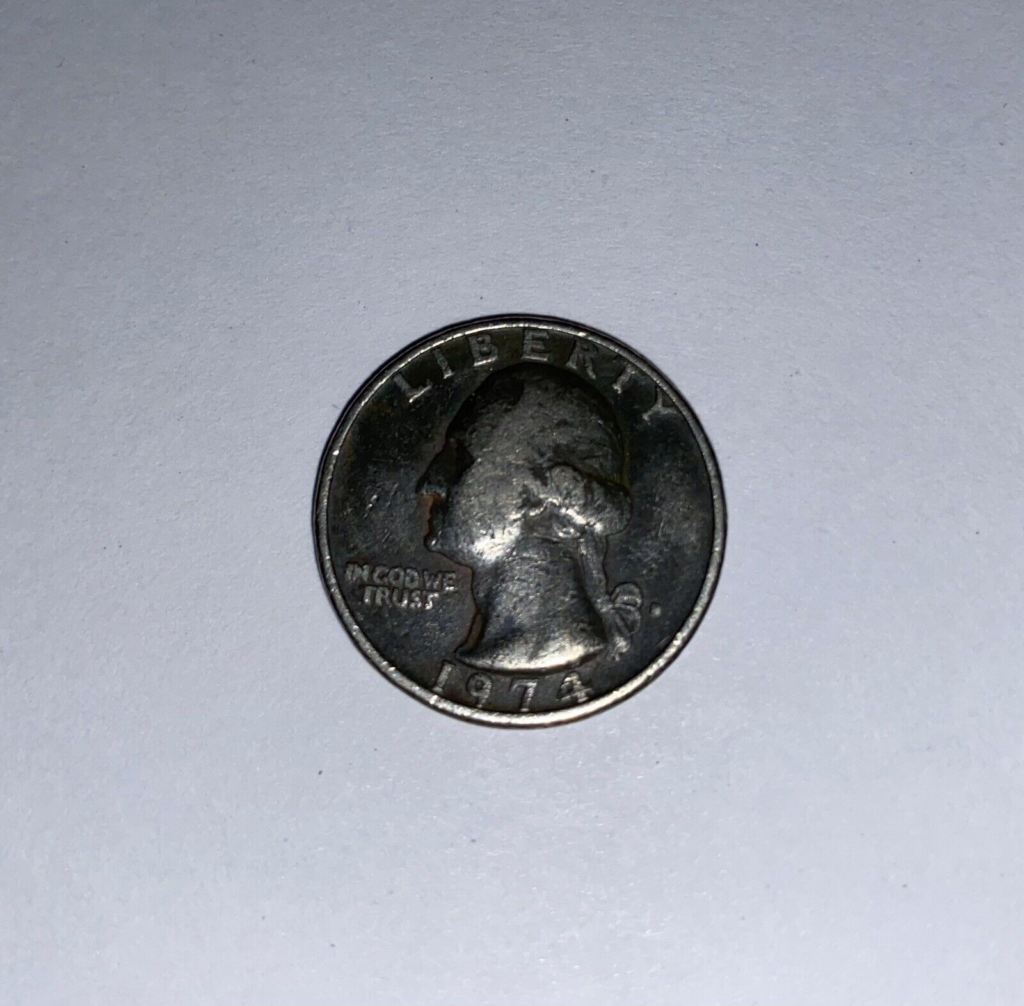 Image source: eBay
Strike-through error
The strike-through error happens when the die strikes through a foreign object stuck on the planchet or the die. The foreign material can be metal clippings, dust, and dirt, to name a few.
In this example, grease prevented the die from completely hitting the planchet, weakening the strike. This causes the coin to lose its details. Here's how it looks: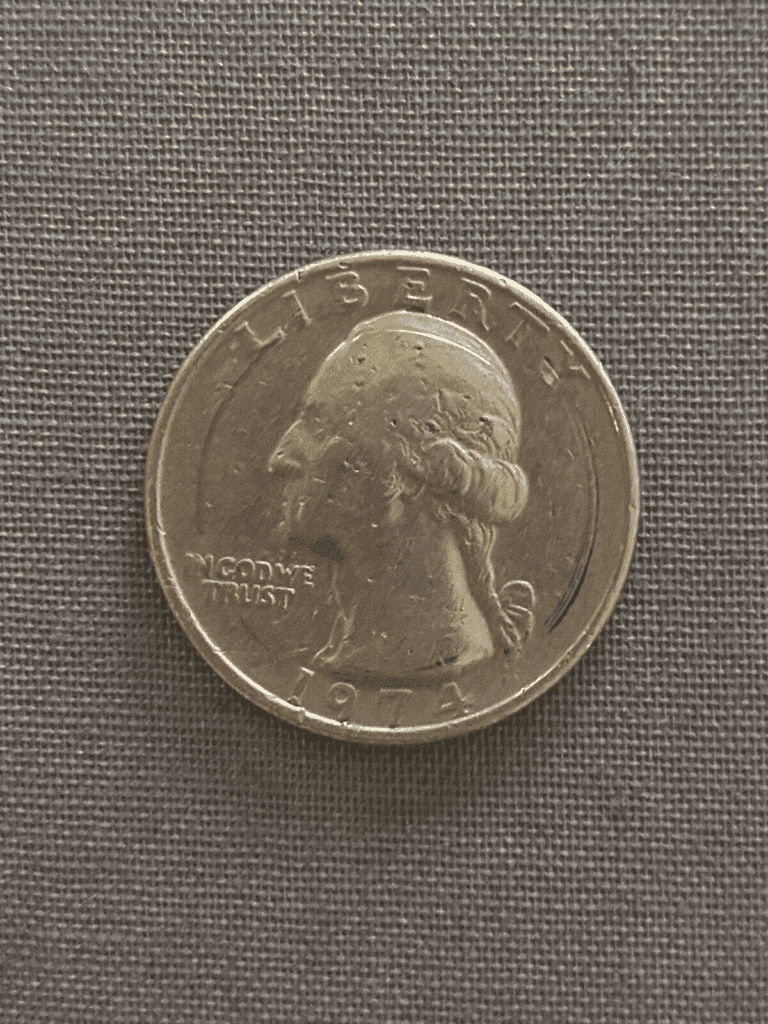 Image source: eBay
How Much Is 1974 Washington Quarter Worth Today?
If you're a beginner at collecting coins, some of your first questions might concern value. That's a fairly common concern. So, how much is a 1974 quarter?
The answer depends on the condition and rarity of the coin. 1964 quarters that have already been officially graded are considered more valuable than those that haven't been graded. So, if you wish to get a higher premium from your coin, consider having it checked by professional grading service providers.
There are different ways to know the value of your 1974 Washington Quarter. First, you base it on its face value, which everyone would fairly agree with. The face value of the quarter is inscribed on its reverse side, which is a quarter or 25 cents.
Another way to know the value of a coin is through its melt value. Regrettably, the 1974 quarter isn't made of any precious metals. So, it doesn't have a high melt value, around $0.0571.
The numismatic value is what determines the highest price of the coin. Take a look at the following auction records to appreciate the true value of a 1974 quarter:
| | | | | | |
| --- | --- | --- | --- | --- | --- |
| Coin | Condition | Grade | Sold date | Sold by | Value |
| 1973 D Washington Quarter | Superb Gem Uncirculated | MS 67+ | November 25, 2021 | eBay | $1,450 |
| 1973 P Washington Quarter | Superb Gem Uncirculated | MS 67+ | August 27, 2020 | Legend Rare Coin Auctions | $2,115 |
| 1973 S Proof Washington Quarter | Perfect Uncirculated | PR 70 – Deep Cameo | January 1, 2009 | Heritage Auctions | $10,925 |
How Does The Grading System Work?
The 1974 quarter is graded based on its appearance, luster, color, level of preservation, and strike. Considering these criteria would allow an appraiser to give a 1974 quarter its grade, which may range from 1 to 70.
Professional numismatists joined in the 1970s and established CoinGrading standards, known as the Sheldon Scale. These numismatists now assign grades at key places on the seventy-point scale, using the most regularly utilized numeric points in conjunction with the original adjective grade. The following are the most common coin grades:
(P-1) Poor

– Indistinguishable and probably damaged; if used, must have a date and mintmark; otherwise, rather battered.

(FR-2) Fair

– Nearly smooth, but without the damage that a coin graded Poor often possesses. The coin must have enough detail to be identified.

(G-4) Fair

– Inscriptions have merged into the rims in some areas, and important elements have been mostly erased.

(VG-8) Very Good-

A little weathered, but all primary design elements are visible, albeit faintly. There is little, if any, central detail left.

(F-12) Good –

The item is very worn, yet the wear is even, and the overall design details stand out clearly. Rims are almost completely isolated from the field.

(VF-20) Very Fine –

Moderately weathered, with some finer features still visible. The motto or all letters of LIBERTY are readable. Both sides of the coin have entire rims separated from the field.

(EF-40) Extremely Fine –

Gently used; all gadgets are visible, and the most important ones are bold. The finer details are bold and clear; however, light wear may be seen.

(AU-50) Uncirculated –

Slight evidence of wear on the coin's design's high points; it may have contact marks; eye appeal should be adequate.

(AU-58) Uncirculated Choice –

Slight traces of wear, no severe contact marks, almost full mint shine, and great eye appeal.

(MS-60) Mint State Basal –

Strictly uncirculated; no indication of wear on the coin's highest points, but an unsightly coin with reduced luster, visible contact marks, hairlines, and other flaws.

(MS-63) Mint State Acceptable –

Uncirculated, but with contact scratches and nicks, little reduced shine, but otherwise appealing appearance. The strike is weak to average.

(MS-65) Mint State Choice –

Uncirculated with great mint shine, little contact blemishes, and exceptional eye appeal. The strike is unusually severe.

(MS-68) Mint State Premium Quality –

Uncirculated with superb luster, no obvious contact marks to the naked eye, and exceptional eye appeal. The strike is quick and appealing.

(MS-69) Almost Perfect Mint State –

Uncirculated with perfect brilliance, a sharp and appealing strike, and extremely good eye appeal. A near-perfect coin with minor imperfections in the planchet, strike, and contact markings (seen only under 8x magnification).

(MS-70) Mint State Perfect –

Under 8x magnification, no tiny imperfections are discernible; the strike is crisp, and the coin is perfectly centered on a beautiful planchet. Rarely seen on a coin, this coin is bright and whole, with original luster and exceptional eye appeal.
Where To Buy Or Sell 1974 Washington Quarter?
You can start with local coin dealers if you are trying to buy or sell a 1974 Washington Quarter. Using yellow pages and directories could help you find them. Ask around, including people working for the banks.
You can look for local or national clubs or groups that collect coins. They should be able to point you in the right direction. You can also contact coin grading service providers like PCGS and NGC. They have graded a lot of coins, and they can give you details on how you can find 1974 Washington quarters. PCGS even has authorized retailers across the country who could help.
Finally, you can use the power of the Internet. Just a quick Google search and you'll instantly receive a list of websites that allow you to buy or sell 1974 Washington quarters. These may include Amazon, eBay, and Etsy.
FAQs
How do I know if my 1974 quarter is worth anything?
If you believe your 1974 quarter is valuable, you can confirm this by contacting professional grading service providers such as PCGS, NGC, and ANACS.
Is there anything special about a 1974 quarter?
The 1974 quarter becomes a special coin when it is rare and still in good condition. Error coins can be so unique that it becomes a special 1974 quarter. Coins with top grades could also be considered special coins.
Is a 1974 quarter rare?
No, there were more than a billion quarters produced in 1974. So, they are not rare. However, coins with grades starting at around MS67 and above could be considered rare.
How can you tell if a 1974 quarter is silver?
The US Mint didn't produce any silver quarter in 1974. However, if you think your coin is made of silver, you should check its weight. Silver coins are heavier. Check as well the reeds of your coin, which should look silvery.