Arkansas, the Natural State, is known for its beautiful landscapes and relaxed Southern lifestyle. However, not just the state's natural beauty can take your breath away. Arkansas is also home to some of the country's most stunning and expensive houses. From sprawling estates to luxurious penthouses, these properties boast extravagant features and jaw-dropping price tags.
In this blog, we'll take a closer look at some of the most expensive houses in Arkansas, exploring what makes them unique and what sets them apart from other properties in the state. So, whether you're in the market for a new home or simply curious about Arkansas's high-end real estate market, read on to discover some of the most exclusive and coveted properties in the Natural State.
14. 8700 Fromme Rd
Property Value: $2 million
Year Built: 1980
Area: 10,924 sq. ft.
Location: Hobbs State Park, Arkansas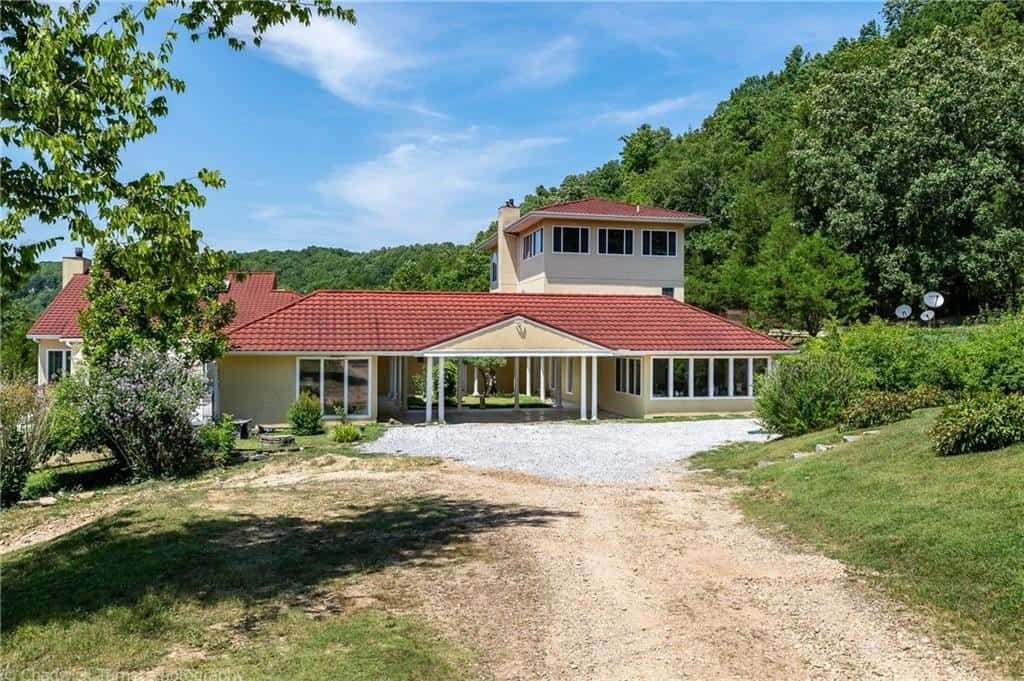 photo source: Realtor.com
8700 Fromme Rd Hobbs State Park, Arkansas, is a stunning lakefront estate in the serene and picturesque Hogscald Hollow on Beaver Lake. This property is a single-family home that was built in 1980, and it is designed with radiant heating and central air cooling/AC.
This property is a once-in-a-lifetime opportunity to own a gorgeous lakefront estate that comprises three separate land parcels featuring 900 ft of lake frontage and three coveted boat slips. Privacy is an understatement with this estate, and the views are jaw-dropping.
The property boasts many great building sites with stunning lake views, allowing you to enjoy the serene and peaceful surroundings to the fullest. The house is a true masterpiece, featuring soaring ceilings, gorgeous exposed beams, beautiful stained glass windows, and amazing hand-carved woodworking.
The inlaid wood flooring adds a touch of elegance to the already sophisticated house. The living spaces are giant and spacious, offering ample room for relaxing and entertaining guests.
Did You Know?
The property is in Hobbs State Park, the most extensive state park in Arkansas, encompassing more than 12,000 acres of land.
---
13. 7600 Edgewood Circle
Property Value: $2.20 million
Year Built: 1999
Area: 15,505 sq. ft.
Location: Fort Smith, Arkansas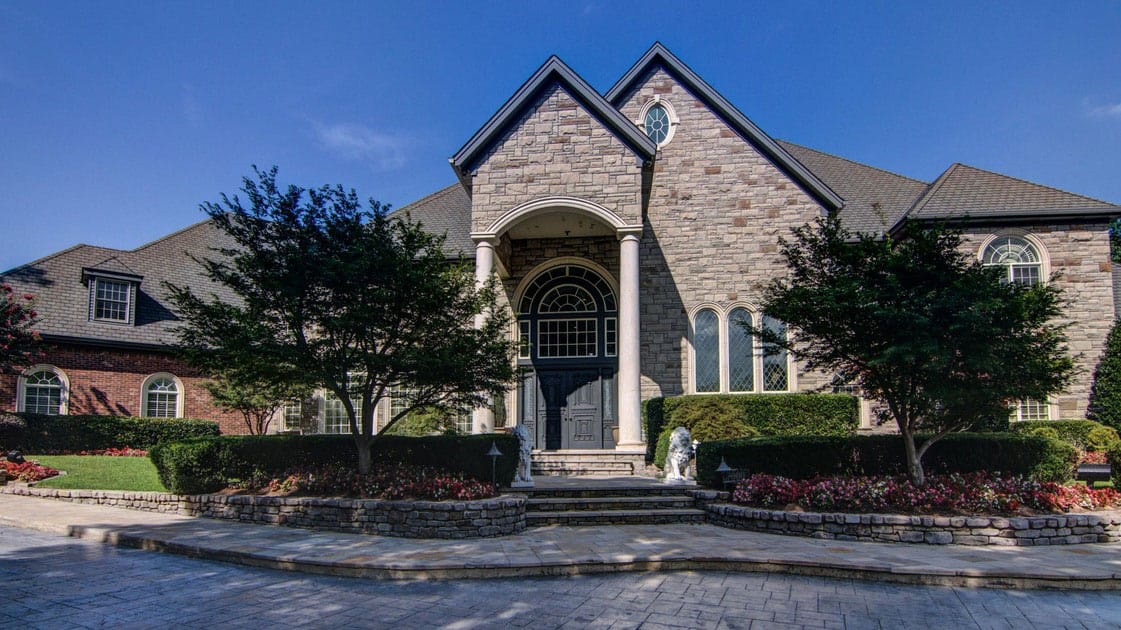 photo source: Pro360 Virtual Tours
7600 Edgewood Circle is a luxurious single-family home in Fort Smith Eastside, Arkansas. It is a spacious property with seven bedrooms, seven full bathrooms, and four half bathrooms, providing ample space for families and guests.
The total living area is a stunning 15,505 square feet, sitting on an extensive lot of 60,984 square feet. Constructed in 1999, this beautiful property stands out from other homes in the area with its impressive features and amenities.
The dwelling features bay windows that permit the entrance of natural light and a wine fridge that is incorporated for comfort. Additionally, it encompasses central vacuuming, ornamental illumination, a non-liquid bar, a lift, wiring for flat screens, high-velocity internet, an intercommunication system, various staircases, wiring for sound systems, lofty ceilings, paneling on the lower part of walls, a filter for water, a moist bar, and window draperies. The house is furnished, facilitating an effortless move-in for its prospective owner.
Did You Know?
The home is in the Fort Smith Eastside neighborhood of Fort Smith, Arkansas, known for its prestige and exclusivity.
---
12. 368 Lake Village Drive
Property Value: $2.33 million
Year Built: 2012
Area: 3,530 sq. ft.
Location: Murfreesboro, Arkansas
photo source: Zillow
Built in 2012, this home has modern amenities, including central air conditioning, a forced-air heating system, and a cooling system. The heating fuel is also forced air. 368 Lake Village Drive is an exquisite property located in Murfreesboro, Arkansas.
The open floor plan makes entertaining a breeze, and the outdoor patio kitchen is perfect for grilling up a summer feast for family and friends. The property comes with a two-car attached garage and ample parking space.
The exterior is adorned with stone, giving it an elegant and modern look. The foundation type is piers, ensuring stability and longevity. The property also features a deck, patio, and porch, perfect for relaxing and enjoying scenic views. This stunning property is a dream come true for anyone looking for a tranquil retreat. Whether you're looking for a vacation home or a permanent residence, 368 Lake Village Drive is the perfect place to call home.
Did You Know?
This beautiful single-family home boasts 5 bedrooms and 4 bathrooms and offers everything you've always dreamed of and more. It's nestled on a ridge overlooking Lake Greeson, providing breathtaking views of the sunset over the water from the 2nd story balcony windows.
---
11. 120 Knollwood Lodge Road
Property Value: $2.675 million
Year Built: 1996
Area: 11,750 sq. ft.
Location: Hot Springs, Arkansas
photo source: Trulia
120 Knollwood Lodge Road is an exceptional property on Lake Hamilton in Arkansas. This home was specifically designed to meet both daily living needs and entertaining needs, with ample space for up to 100 guests. The grand living room features stunning cherry wood flooring, a granite fireplace, and a boxed beam ceiling.
The home also includes a luxurious dining room, a full bar pub, a library with a fireplace and floor-to-ceiling bookcases, spacious guest suites, and an enormous 2500-square-foot master suite. In addition, the property boasts a garage that can accommodate up to 10 cars.
Built in 1996, the lot size is 4.47 acres, and the home includes bonus rooms, a den/family room, a great room, a laundry room, an office/study, and a sunroom.
Did You Know?
The kitchen has a dishwasher, free-standing stove, microwave, pantry, and refrigerator. The foundation is a combination of slab and crawl space.
---
10. 7 Sologne Circle
Property Value: $2.7 million
Year Built: 2011
Area: 9,477 sq. ft.
Location: Little Rock, Arkansas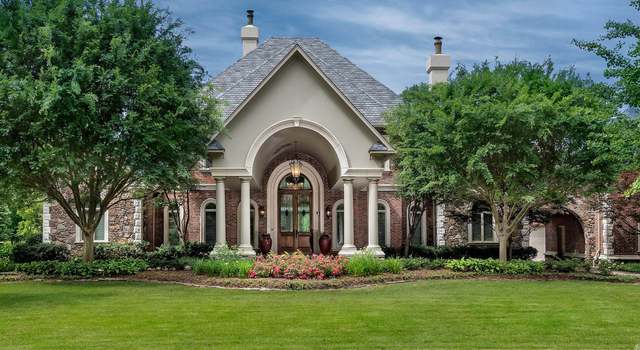 photo source: Redfin
The luxurious 7 Sologne Circle in Arkansas is a custom-built home by Jack Hartsell, located on the signature hole of Bear Den golf course. As you enter the house, you are greeted with a dramatic two-story foyer, a beautiful staircase, and floor-to-ceiling windows that bring in plenty of natural light. The gourmet kitchen boasts Viking appliances, marble floors, and granite counters.
On the main level of the house, you'll find the master bedroom, and on the upper level, there are four generously sized bedroom suites, along with two balconies.
Other property highlights include a wine cellar, bonus room, and theater room. Its spa-like bathrooms, stylish dining/sitting rooms, 6″ oak plank floors, and a salt/heated pool with an outdoor shower and kitchen make it an ideal space for hosting gatherings. Other home features include a 4-car garage, slate roof, and insulated doors and windows.
Did You Know?
The house is a single-family traditional-style home built in 2011, with brick and stone construction materials, a crawl space foundation, and a slate roof.
---
9. 1626 E Pickens Rd
Property Value: $4.5 million
Year Built: 2009
Area: 2,098 sq. ft.
Location: Pea Ridge, Arkansas
photo source: UpHomes
The property on the east side of Pea Ridge, Arkansas, at 1626 E Pickens Rd, is distinctive. It comprises a farm home and 100.28 acres of land being sold jointly. The land has a significant potential for development, with roughly 1,318 feet of Highway 72 frontage, making it a perfect spot for residential or commercial use. Most of the land is level and cleared, while a small portion that faces Highway 72 has some trees.
The farm home on the property features four bedrooms and a total living area of 2,098 square feet. The home includes a dishwasher, electric oven, electric range, and vent hood, with carpet and ceramic tile flooring. The foundation details are a crawl space, and the house style is a charming farmhouse. The roof is an asphalt shingle, adding to the traditional look and feel of the home.
Did You Know?
With its prime location, large acreage, and farmhouse-style home, this property will surely attract a wide range of buyers, from developers to families looking for a rural retreat.
---
8. 2 South Samoset Court
Property Value: $4.8 million
Year Built: 2005
Area: 15,000 sq. ft.
Location: Rogers, Arkansas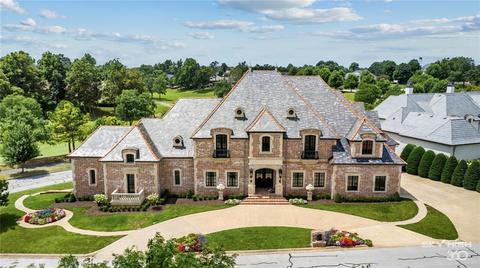 photo source: Movoto
2 South Samoset Court in Arkansas is a stunning single-family home built in 2005 on a one-half-acre lot that offers breathtaking views of the surrounding landscape. The property offers stunning views from multiple angles, including the 12th, 14th, and 15th island holes, observed from large balconies on the second floor and a covered patio on the fourth floor.
The home's interior is characterized by lavishness, with aged travertine and hand-scraped wooden floors, stone columns and capitals, marble stairs, wrought iron accents, high ceilings, large antique furniture, and numerous fireplaces. With six bedrooms, five full bathrooms, and two half bathrooms, the home features two spacious master suites equipped with jacuzzis and bidets.
Did You Know?
Located within two miles of high-end retail, restaurants, Pinnacle Hills Promenade, Walmart Amp, and Top Golf, the property is perfectly situated for upscale urban living. Additionally, a new upscale urban neighborhood, Pinnacle Village, is set to open nearby, making this property an excellent investment opportunity for anyone looking for a luxurious home in a prime location.
---
7. 2991 S City Lake Rd
Property Value: $4.9 million
Year Built: 2007
Area: 8,825 sq. ft.
Location: Fayetteville, Arkansas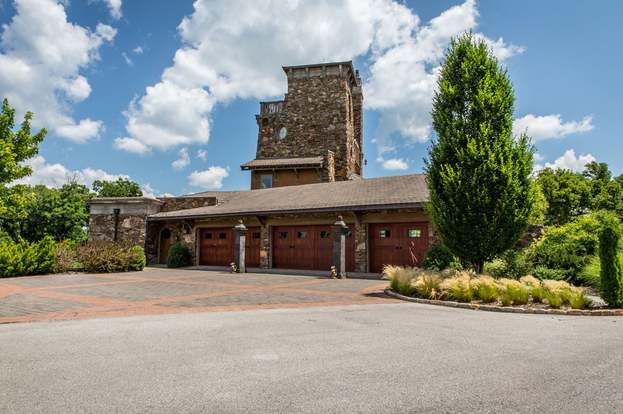 photo source: Redfin
Located in Arkansas, 2991 S City Lake Rd is a magnificent home known as the Dromborg Castle, a true state treasure. With three levels, five bedrooms, and 4.5 bathrooms, this home offers spectacular views of the surrounding area.
Situated on approximately 34 acres of land, the property also boasts a pond stocked with perch and catfish, as well as a small in-ground pool that has the potential to be heated.
The flow of the great room into the kitchen is perfect for those who love to cook and entertain. The kitchen features granite counters, an eat-in space, and modern appliances. A 1-car garage is conveniently located just off the kitchen, making it easy to carry groceries straight into the kitchen. The master and three other bedrooms offer privacy and convenience on the main floor. A second-floor family room provides a quiet space to relax and unwind.
Did You Know?
The home also features an attached 6-car garage and circular driveway with brick accents, providing ample parking for residents and guests. Additional home features include built-ins, cathedral ceilings, ceiling fans, drapes, RV parking, a wet bar, and a split floor plan.
---
6. 4799 Tar Kiln Road
Property Value: $5.25 million
Year Built: 2003
Area: 4,395 sq. ft.
Location: Harrison, Arkansas
photo source: Realtor.com
4799 Tar Kiln Road is located in the Mountain Home and Surrounding Areas region and boasts four bedrooms and four full bathrooms. The living room, kitchen, bedroom 2, dining room, and utility room are all situated on the main level, while the master bedroom and bedroom 3 are also on the main level. The family room, bedroom 4, and an extra room are on the lower level.
The property is equipped with central cooling and heating, and the heating is powered by forced air and propane/butane. The property features a wood-burning fireplace in the living room and an additional fireplace on the lower level. The exterior is made of cedar, making the property look rustic and charming. The total livable area of the property is 4,395 square feet, making it a spacious and comfortable home.
Did You Know?
The use of metal roofing in this property offers several benefits, including long-term durability, energy efficiency, and a low environmental impact. With its sturdy construction and reliable foundation, this property offers its residents a safe and secure living environment.
---
5. 8015 East McNelly
Property Value: $6.30 million
Year Built: 2008
Area: 15,039 sq. ft.
Location: Bentonville, Arkansas
photo source: Zillow
This stunning English Countryside Estate, built in 2008, is a one-of-a-kind property located on a 48.54-acre lot in an exclusive private entry near Rogers, Arkansas. This single-family property boasts four bedrooms, four and a half bathrooms, and an impressive 6-car garage spanning a whopping 15,039 square feet of living space.
8015 East McNelly features a beautiful Austin Stone exterior and a slate roof, with a private cobblestone drive leading to the main entrance. Inside, the property features extensive millwork with 23 exotic wood species and beautiful brick, marble, and wood flooring. Additional features of the property include a 4,900-square-foot barn with 6 horse stalls, a pond, and a free-standing spiral staircase.
Did You Know?
Smart home technology has been installed in the property to monitor thermal, motion, lighting, and sound, and it is also adorned with lovely Schonbeck Venetian Crystal chandeliers.
---
4. 12952 Galyean Stables Rd
Property Value: $6.5 million
Year Built: 1973
Area: 4,500 sq. ft.
Location: Greater Gravette, Arkansas
photo source: Realtor.com
Nestled on 147 rolling acres in Arkansas, 12952 Galyean Stables Rd presents a rare opportunity to own a stunning homestead on a vast expanse of prairie and pasture land. This property was once a working farm and has since been transformed into a picturesque oasis, complete with a 5-acre lake and freshwater spring.
The 1973 prairie ranch-style house is on a wide open space and offers breathtaking views from every angle.
This single-family residence boasts 4 bedrooms and 4 bathrooms, with 2 full and 2 half bathrooms. The skylights throughout the house provide ample natural light, creating a warm and inviting atmosphere.
The spacious kitchen features a variety of appliances, including a double oven, dishwasher, electric cooktop, electric oven, electric water heater, microwave, and refrigerator, making meal prep a breeze. The attached 3-car garage provides ample space for vehicles and storage.
Did You Know?
In addition to the main house, several additional structures are on the property, including a barn, outbuilding, pole barn, and well house. These structures provide plenty of space for storing equipment and livestock and additional living space if desired.
---
3. 9221 Moody Road
Property Value: $8.9 million
Year Built: 2005
Area: 18,367 sq. ft.
Location: Fort Smith, Arkansas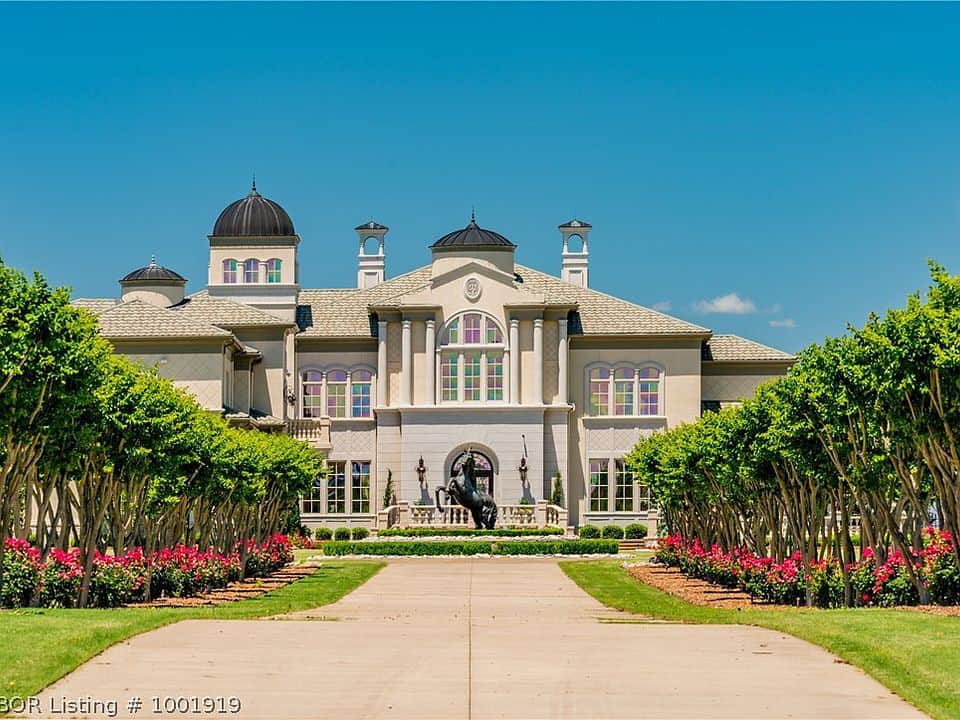 photo source: Zillow
9221 Moody Road in Fort Smith, Arkansas, is a stunning Mediterranean estate situated on 20 acres of land. With over 18,000 sq. ft. of living space, this property offers a level of elegance and luxury that is hard to match. The property also has an Otis elevator, an automated smart home system, and a gourmet kitchen, making it both luxurious and convenient.
There are 5 fireplaces on the property, adding to the cozy and inviting atmosphere. A hot tub spa is also available for ultimate relaxation. The property has 3 stories and an accessible elevator installed, making it easy to navigate. Handrails, an accessible approach with a ramp, wheelchair access, and accesible doors make this property inclusive for all.
Did You Know?
This estate was built in 2005 and features stucco construction. It has a slab foundation and a private pool, making it the perfect retreat from the summer heat.
---
2. 400 & 410 N Oliver Ave.
Property Value: $11 million
Year Built: 1966
Area: 11,320 sq. ft.
Location: Fayetteville, Arkansas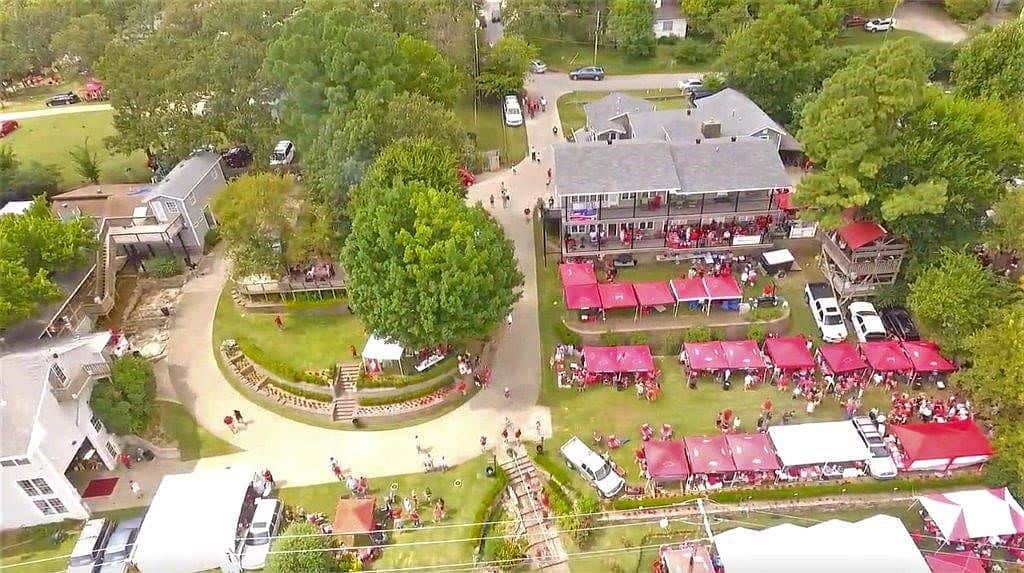 photo source: Zillow
400 & 410 N Oliver Ave. in Fayetteville, Arkansas, is a remarkable property that has become an iconic destination for game-day activities. The property is directly across the street from the Donald W Reynolds Razorback football stadium, making it a prime location for sports fans. The entire property consists of three residential dwellings, two lots beautifully-landscaped, and a private heated pool.
The pool on the property is a gunite, heated, in-ground, private pool, making it the perfect place to relax and unwind on hot summer days or after a long day of cheering on the Razorbacks. This property boasts many bedrooms, bathrooms, kitchens, and living areas, ideal for large families or groups. Additionally, the property includes two home businesses that convey the sale, providing even more potential for income or flexibility.
Did You Know?
The property was built in 1966 and had a traditional house style. It sits on a spacious 1.13-acre lot and features ample parking with 11 covered spaces, including an attached garage, a garage door opener, RV access/parking, and a workshop in the garage.
---
1. 2804 Covenant CV
Property Value: $16.8 million
Year Built: 2008
Area: 2,000 sq. ft
Location: Little Rock, Arkansas
photo source: Trulia
In 2021, 2804 Covenant CV was listed for sale for $16.8 million, making it the most expensive house in Arkansas. It is a stunning single-family home built in 2008 that boasts 4 spacious bedrooms and 2 full bathrooms, making it an ideal home for families. The property is in the desirable Covenant Cove Community, known for its peaceful surroundings and beautiful landscapes.
This property is located near several of the top medical centers in Little Rock. It is less than 5 minutes from the Arkansas Heart Hospital and less than 10 minutes from St. Vincent Medical Center. The University of Arkansas for Medical Sciences (UAMS) is less than 15 minutes away. Additionally, the Shackleford Crossing Mall is nearby, providing residents with ample shopping and entertainment options.
One of the standout features of this property is the two extended outdoor decks, which provide ample space for entertaining guests or enjoying the beautiful Arkansas scenery. The property also includes a cute patio and a two-car garage.
Did You Know?
This home's foundation is built on piers, and the roof is durable asphalt.
---