The Chevy Camaro is an American muscle car that's often referred to as "the best-looking car on the planet." Its design has been a huge hit among car enthusiasts and has a reputation for being expensive, but it's not difficult to see why.
When you buy a Camaro, you're buying into an iconic brand that has been around for decades. It's a vehicle that represents American engineering and innovation, and its design is timeless.
The Chevy Camaro has an interior that is designed with comfort in mind—it has leather seats, heated seats, and sunroofs to make your commute or drive more enjoyable. So, whether you are an avid car enthusiast or just a curious cat, this list will give you seven of the most expensive Camaros ever sold.
6. Chevrolet Yenko Super Camaro 427/450
Car Value: $632, 500
Year Made: 1967
Transmission: 4-speed manual
Engine: 427 ci/450 hp V8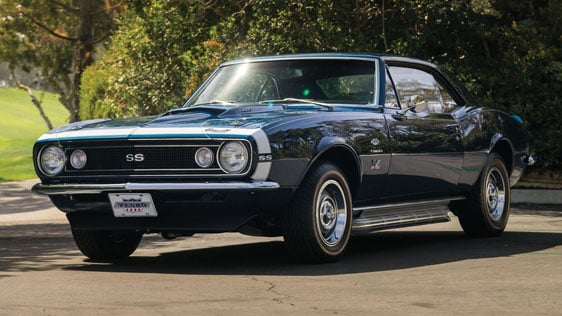 photo source: Classic Driver
Soon after Chevy's new pony car for 1967 made its debut, Canonsburg-based Chevy dealer Don Yenko ignited the 1960s "muscle car wars" with his ferocious 427-powered Super Camaro. The Yenko Super Camaro, which was modified with grafted RPO L72 427ci engines and auxiliary parts, ruled the streets.
At the same time, Dick Harrell's Yenko-sponsored racing vehicles attracted admirers from all over the world.
The 427/450 Chevrolet Yenko Super Camaro that was auctioned off by Barrett-Jackson in Scottsdale, Arizona, in January 2022 brought in $632,500. The powerful motor is what makes this so important. All of the original documentation and parts from when it was originally manufactured are still present.
Did You Know?
In addition to the larger engine, Yenko updated the cooling system and the suspension and installed a heavy-duty clutch and pressure plate. In 1967 dollars, it all cost only $677.27.
---
5. Chevrolet Camaro Z/28
Car Value: $650,000
Year Made: 2014
Transmission: 3-speed automatic
Engine: 7.0-liter LS7 V8
photo source: GTSpirit
At the Barrett-Jackson auction in Scottsdale, Arizona, Rick Hendricks, owner of NASCAR's Hendricks Motorsports, paid US$650,000 for the 2014 Chevrolet Camaro Z/28 with serial number 0001.
To prove that the 2014 Camaro Z/28 is the best-performing Camaro ever, General Motors brought the new model to Germany's Nürburgring, in which it set a record for the quickest lap by an American muscle vehicle ever with a time of 7:37.4.
Did You Know?
Chevrolet took steps to lighten the vehicle by removing the fog lights and HID headlights and narrowing the rear window from 3.5mm to only 3.2mm. The 2014 Chevrolet Corvette Z/28 weighs significantly 300 pounds less than the ZL1 due to these improvements.
---
4. Chevrolet Camaro COPO
Car Value: $700,000
Year Made: 2014
Transmission: 3-speed automatic
Engine: LS-based 350 cubic inch V8
photo source: MotorTrend
For the 2014 model year, there will only be 69 COPO Camaros produced, and this auction was for 2014 COPO #1. The speed of this vehicle is among the quickest ever produced by General Motors.
The Achilles Freedom Team of Wounded Veterans received the revenues from COPO #1 in 2014. Through physical therapy and specialized equipment like hand-crank wheelchairs, this group assists injured American troops in overcoming severe wounds, including limb loss, so that they may compete in marathons.
A few of the Achilles Freedom Team members attended the auction to participate in the bidding battle while also discussing the initiative and introducing a few of the injured troops who have benefited from it.
Did You Know?
In addition to being the first vehicle for the 2014 model year, this COPO Camaro is also the only one intended to be completed in Silver Ice Metallic colorway.
---
3. Chevrolet Camaro ZL1
Car Value: $848,000
Year Made: 1969
Transmission: 4-speed manual
Engine: Supercharged LSA 6.2L V-8
photo source: Road & Track
The First Generation Chevrolet Camaro has a high-performance variant called the Camaro ZL-1. To get around General Motors' mid-size and smaller vehicle engine size restrictions, Chevrolet produced two Central Office Production Orders in 1969. (COPO).
The first was 9561, which provided the Camaro with an "L72" 427 V8 engine; these vehicles are sometimes referred to as COPO Camaros. The ZL-1 Camaro was the second COPO, with the number 9560.
Fred Gibb asked for a more potent choice for NHRA drag racing, which is how the ZL1 came to be. Designed exclusively for drag racing, the ZL-1 had a 427 cubic inch V8 engine with an all-aluminum block.
Did You Know?
The ZL-1 engine was installed in only 69 instances, making these Camaros among the rarest and most valuable worldwide.
---
2. Chevrolet Camaro Z/28 Penske Trans Am Racer
Car Value: $990,000
Year Made: 1968
Transmission: 4-speed manual
Engine: 4.9-liter V8
photo source: SlashGear
This previous racing vehicle, which was owned by Mark Donahue and his team manager Roger Penske, was sold in 2016 at the Amelia Island Concours d'Elegance for $990,000. Power brakes and a 4.9-liter V8 engine were included with the Z28 variant, making it suitable for racing.
It performed admirably in the 1960s, but with a peak speed of 135 mph, it couldn't compete with modern racing vehicles. Almost all of the 1968 Trans-Am division races were won by Donahue. The Z/28's price was amply justified due to its potent performance and the popularity of its owners.
The vehicle continues to reap the benefits of its painstaking repair while serving as a productive worker for several other teams and showcasing the highest authenticity in the renowned Sunoco livery.
With its brilliant improvements, significant history, and stunning presentation, this exceptional Trans Am Camaro would be the highlight of any collection of American race cars.
Did You Know?
After 602 Z/28s were produced in 1967, the Camaro performance production model was established. The first 25 of those vehicles to leave the production line were sent to racers.
---
1. COPO Camaro ZL1
Car Value: $1.1 million
Year Made: 1969
Transmission: 4-speed manual
Engine: Aluminum V8
photo source: Barrett-Jackson
This 1969 COPO Camaro ZL-1 was recorded as the most expensive Camaro ever sold for almost $1.1 million. Even though the price paid for the Camaro ZL-1 was a record-breaking amount at auction, it wasn't all that shocking given that the original ZL-1 is one of the most prized Chevrolet automobiles ever produced.
A 1969 Camaro ZL-1 in Hugger Orange that was auctioned off in 2017 only brought around $770,000.
It was also sold for a comparable price once more between 2017 and 2020. The 427-cubic-inch V8 engine of the ZL1 produces 430 horsepower and has open-chamber cylinder heads and a rectangular port; this isn't as powerful as the Camaro ZL1 of today, but it was incredibly powerful for its day.
Power disc brakes are included, and it is coupled with an M22 Rock Crusher four-speed manual gearbox.
Did You Know?
Hugger Orange exterior paint and a unique ducted hood are featured on this COPO Camaro. The vehicle has the trim option in the Z21 design and is equipped with white-letter tires.