Are you looking for the best car subwoofers money can buy? If so, you've come to the right place! Car subwoofers are a great way to upgrade the audio quality of your car and create a personalized experience while driving. Whether you're looking for extra bass, more depth and clarity in your audio, or want to show off, this list of the 10 most expensive car subwoofers will help you get the best bang for your buck.
From ultra-premium to high-end ones, these subwoofers will not only provide superior sound quality but also give you the ultimate driving experience. Get ready to ride in style with the most luxurious car subwoofers money can buy!
10. Alpine X-W12D4 Car Audio Type X
Price: $599.00
Diameter: 11 in.
Sensitivity: 84.3 dB
Frequency Response: 22 Hz. to 200 Hz.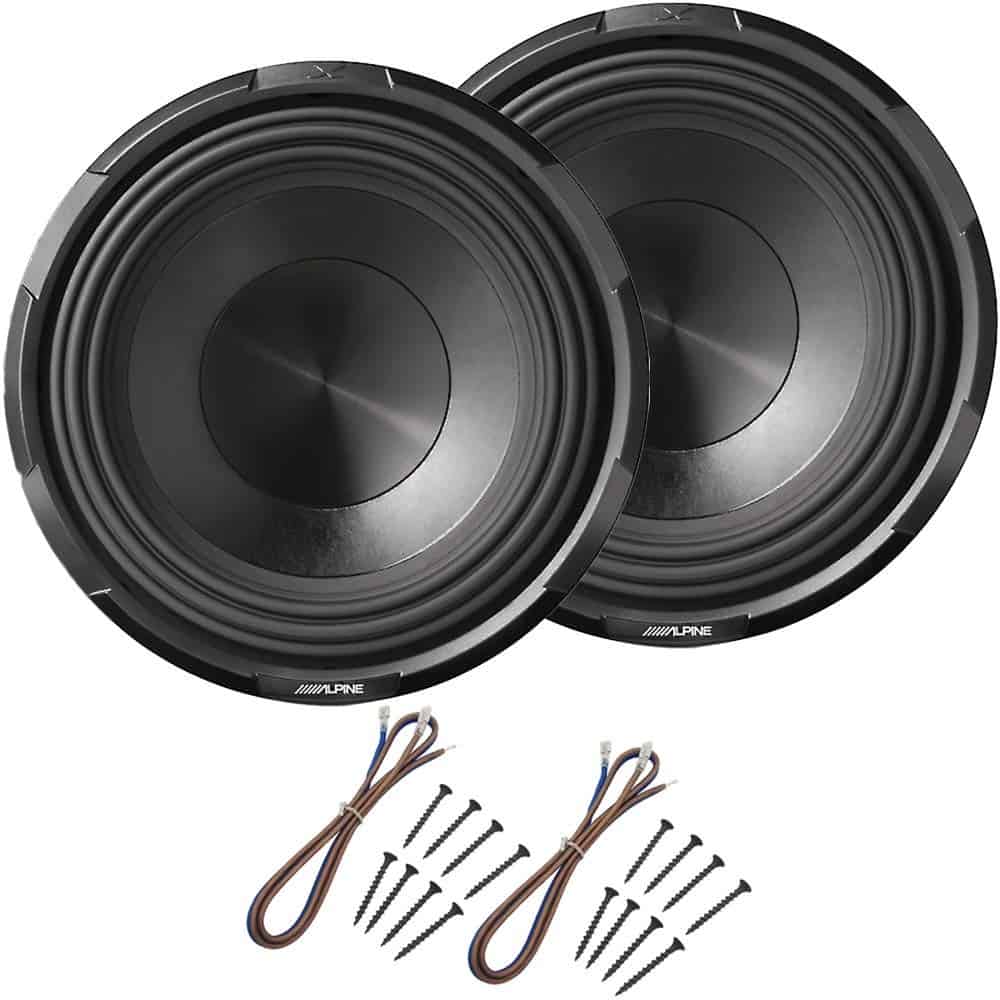 photo source: Amazon
To provide even more outstanding performance, Alpine redesigns its X-Series subwoofers. The tough X-W12D4 12″ subwoofer includes a pulp/mica cone with a parabolic form that retains its stiffness and strength for great response and precision. It can withstand up to 900 watts RMS, so don't be afraid to give it lots of power.
Alpine's most recent technology enables this sub to move an astonishing volume of air (28mm Xmax, for you bass nerds out there) at very high levels while remaining cool. The large rubber ring supports the cone in the sub's cast aluminum frame.
To get the best performance out of your amp, you may wire the twin 4-ohm voice coils, or you can create a unique arrangement with many subwoofers.
Did You Know?
To get the bass, you want to hear and feel, the X-W12D4 works well in both sealed and ported enclosures.
---
9. Massive Audio HippoXL122R
Price: $639.95
Diameter: 12 in.
Sensitivity: 96.9 dB.
Frequency Response: 45.32 Hz.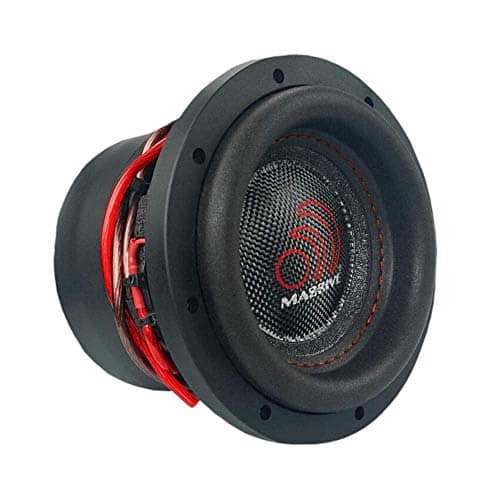 photo source: Galleon.ph
The Hippo XL 122R is an addition to the now immensely successful HIPPO family of subwoofers and is a CEA 2031 Certified Subwoofer. It has a robust, industrial-textured cast aluminum basket that is heavy and durable.
Additionally, it includes a kevlar spunlaced dual impedance black anodized voice coil former. Speaking of reinforcement, it also has a non-pressed paper cone reinforced with kevlar fiber and finished with an industrial textured surface.
Did You Know?
For increased motor force, this subwoofer also incorporates a black anodized one-piece pole plate.
---
8. Sundown Audio X-8 Series Subwoofers
Price: $326 to $653
Diameter: 8.70 in.
Sensitivity: 81.1 dB.
Frequency Response: 10 Hz. to 250 Hz.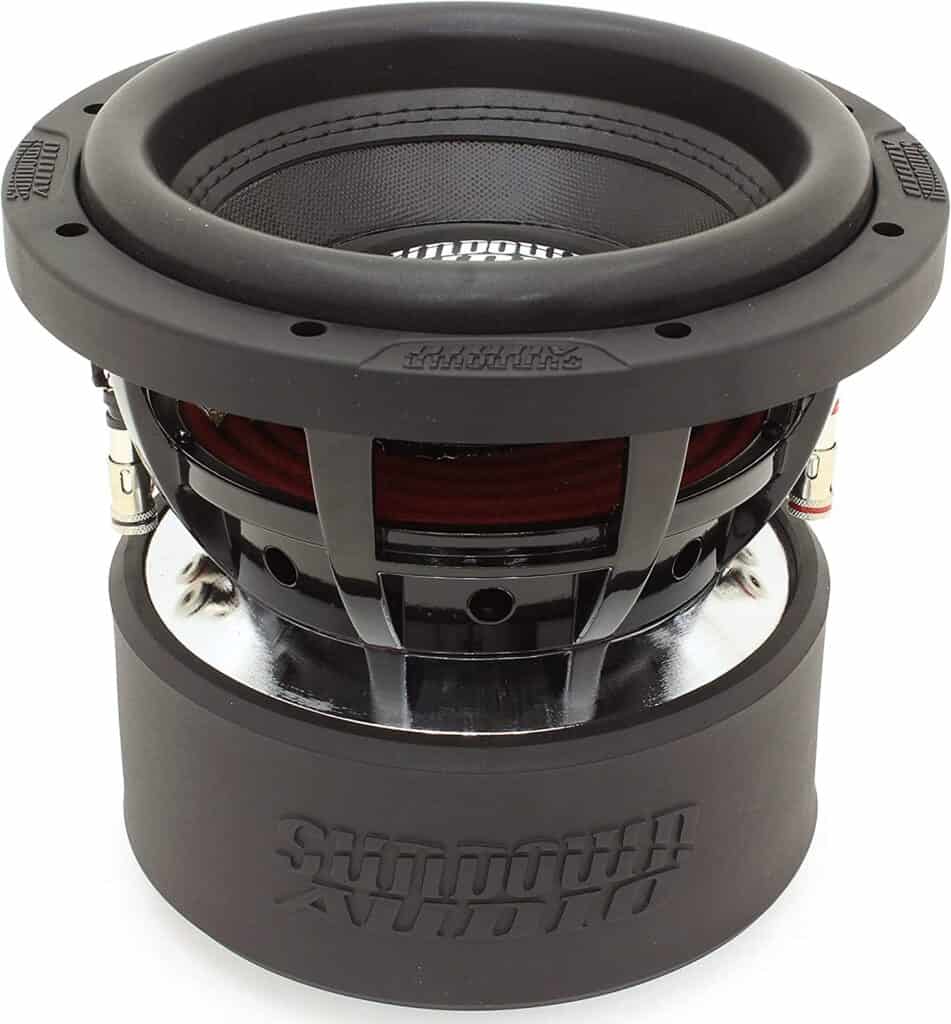 photo source: Ubuy Japan
Sundown Audio X-8 Series Subwoofers are high-performance subwoofers that provide great power and low-end performance. They feature a unique "X-Max" design which delivers an accurate, punchy response with a maximum excursion. The X-8 series gives you the best of both worlds, combining the impact of a powerful subwoofer with the accuracy of a high-end system.
The X-8 series features a rigid aluminum basket, dual spiders, and a large triple-stacked 2.5" voice coil. It has a peak power of 2500 watts and an RMS power of 1250 watts. The X-8 series also has a high-temperature copper wire wound on aluminum former for superior power transfer and efficiency.
Its frequency response range is from 10Hz to 250Hz, with a sensitivity of 81.1 dB. The X-8 series can handle a high SPL of up to 140dB with its high excursion.
Did You Know?
The X-8 series has a mounting depth of 8.7" and a cutout diameter of 8.70 in. It weighs 24.4 lbs and has a 2-year warranty.
---
7. Focal E25KX 10″ Subwoofer
Price: $949.99
Diameter: 10 in.
Sensitivity: 84.5 dB.
Frequency Response: 25 Hz. to 500 Hz.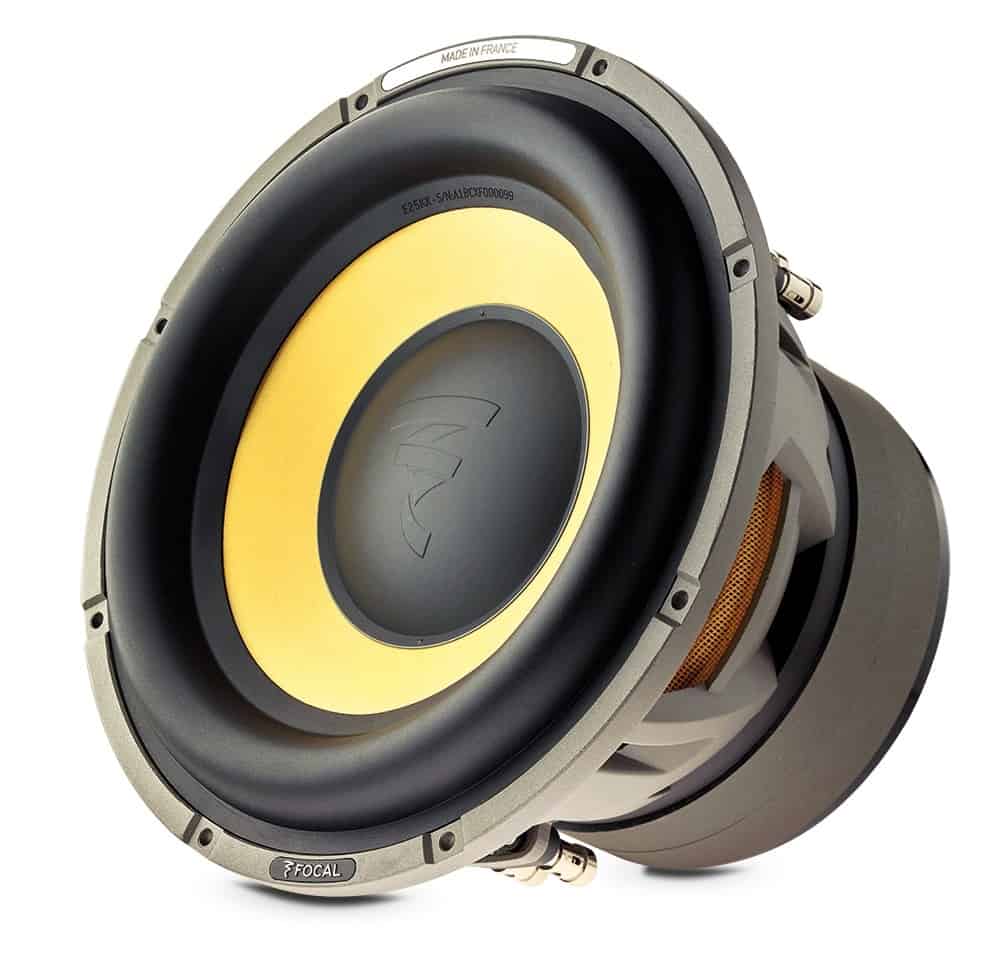 photo source: Focal America
The Focal E25KX 10″ Subwoofer is a high-performance subwoofer designed to offer superior sound quality in a compact form factor. This subwoofer features an extended bass response for deep, rich lows, along with improved mid-bass performance. The E25KX has a 10-inch woofer cone with a reinforced fiberglass frame and a 2-inch voice coil for maximum power handling.
Other features include adjustable phase control, auto signal sensing, and two separate line-level inputs for connecting multiple components. The E25KX also offers a frequency response of 25 Hz. to 500 Hz., a sensitivity of 84.5dB, and a peak power output of 1000 watts.
Did You Know?
The subwoofer is also equipped with a powerful 500-watt RMS amplifier and a variable low-pass filter for precise tuning.
---
6. DS18 HOOL-X15.4DHE 15″ Competition High Excursion Car Subwoofer
Price: $999.95
Diameter: 15 in.
Sensitivity: 88.3 dB.
Frequency Response: Hz. 16 to 500 Hz.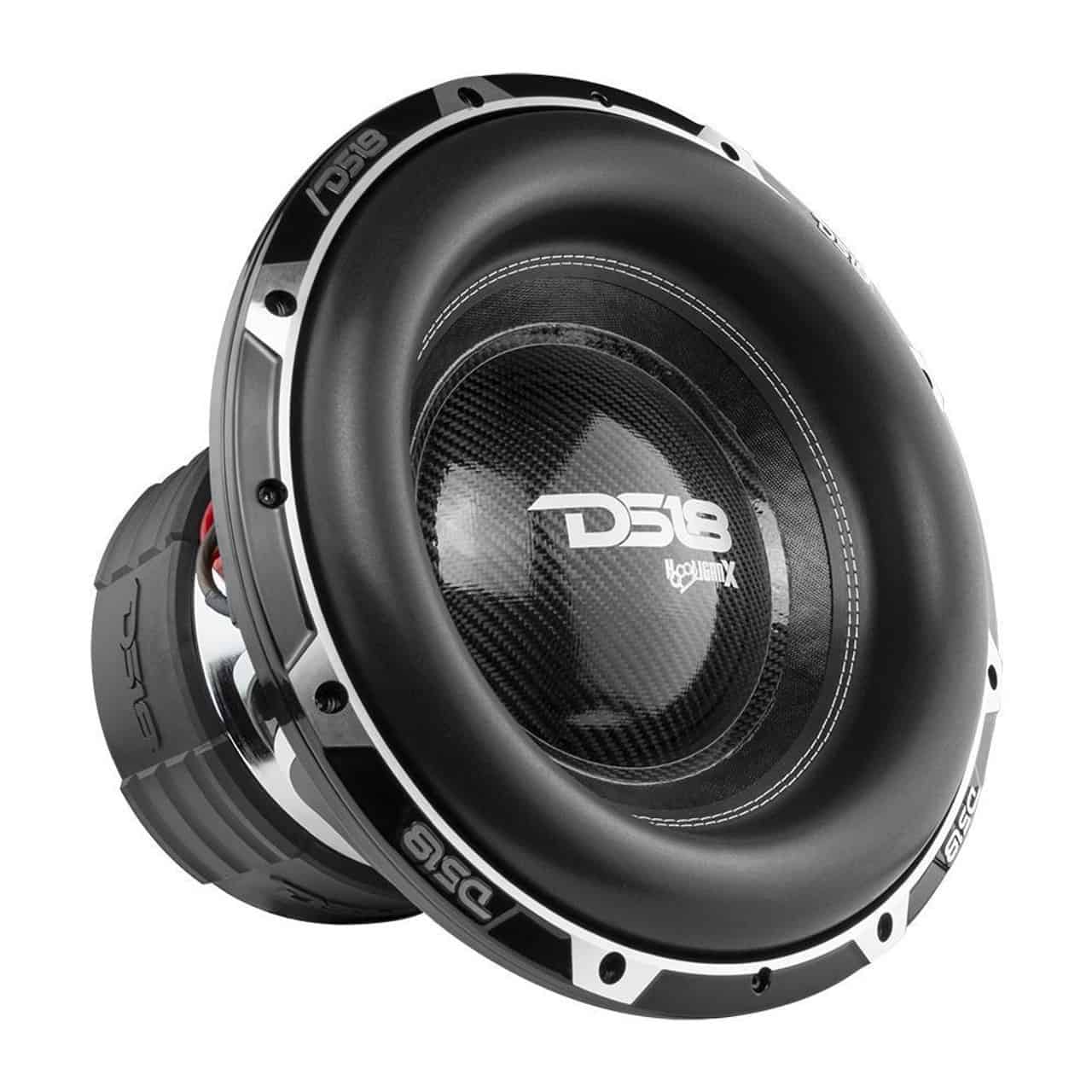 photo source: Down4Sound Shop
One of the sleekest and best-looking baskets on the market is the DS18 Tooled Black model. You may use plexiglass or install it inverted on your box to view the show-quality frame and motor, which are finished off with a carbon fiber dust cover since it is not only incredibly sturdy but also looks fantastic.
It also includes a powerful 4″ Black Aluminum voice coil that can handle 6000w of maximum power and 4000w of RMS power for powerful competitive bass. To help with the high pole-to-pole flex that this subwoofer has, a large high excursion surround has also been added, giving it a 59mm one-way max.
Did You Know?
This subwoofer plays lower and louder than earlier models thanks to an additional large spider that lowers the FS (Resonant Frequency).
---
5. DS18 PRO-BX21N.1 Car Subwoofer Audio Speaker – 21″
Price: $1,299.95
Diameter: 21 in.
Sensitivity: 90 dB.
Frequency Response: 41 Hz.
photo source: DS18
The DS18 PRO-BX21N.1 Car Subwoofer Audio Speaker – 21" is an incredibly powerful sound system designed to provide superior sound quality and performance. Featuring a massive 21" subwoofer driver, this audio speaker is capable of producing up to 3000 watts of peak power and is ideal for car audio systems or any other large sound applications.
The subwoofer has a high-density polypropylene cone and rubber surround, providing a strong bass response and excellent sound clarity.
In addition, the subwoofer is equipped with an adjustable low-pass filter, allowing you to customize the sound to your specific needs. Other features include a protective grill and a durable steel frame that can withstand the toughest environments.
The DS18 PRO-BX21N.1 Car Subwoofer Audio Speaker – 21" is a great choice for anyone looking for superior sound quality and performance in their car audio system.
Did You Know?
This subwoofer also includes a 2-inch voice coil, allowing it to handle the most extreme bass frequencies.
---
4. Cerwin Vega SPCL152 15″
Price: $1399.99
Diameter: 15.5 in.
Sensitivity: 93.8 dB.
Frequency Response: 10 Hz. to 35 Hz.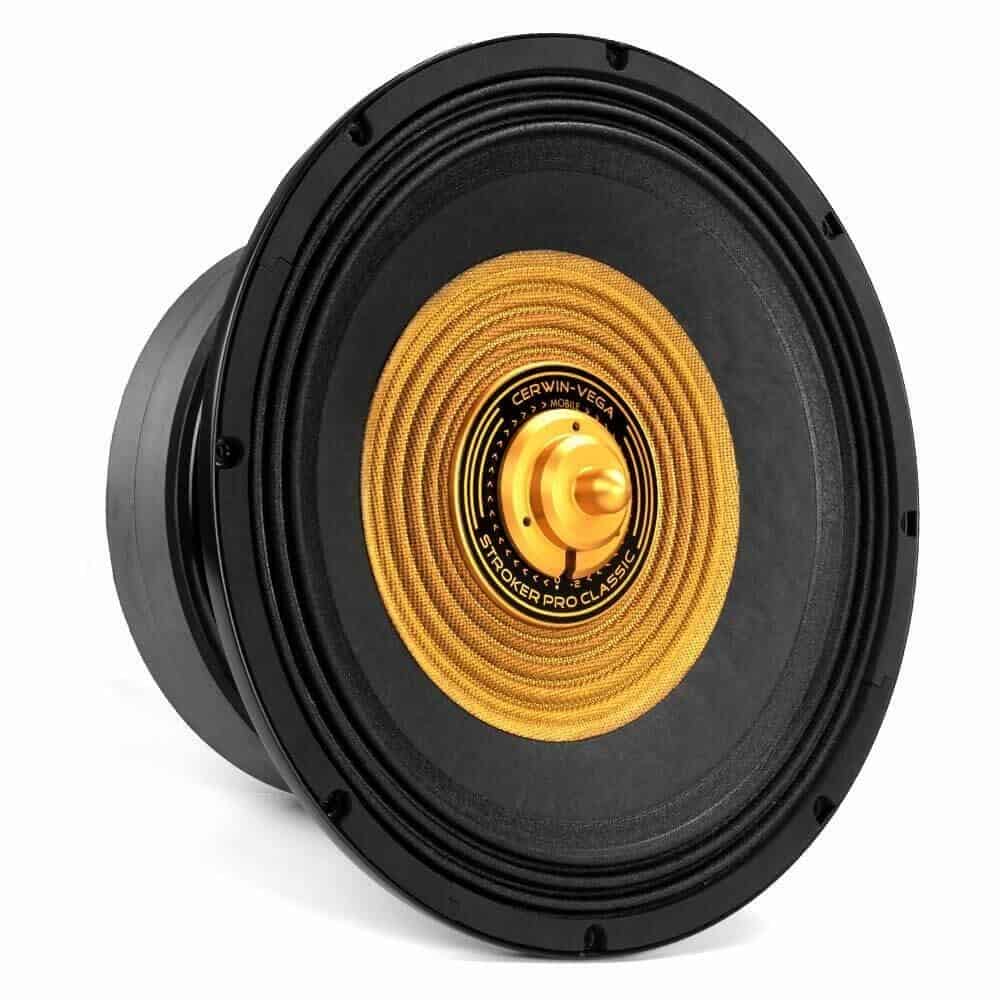 photo source: eBay
Heavy-duty industrial cast aluminum makes the Cerwin Vega SPCL152 15-inch basket. For greater heat dissipation, it includes a cutting-edge voice coil heat sink design.
A 4″ Single Layer High Temp voice coil with a black coated voice coil former is another feature to watch on. Additionally, this subwoofer has great density, high B/L motor construction for high power handling, and a Detented Adjustable Voice Coil Xmax control for fine-tuning +/-15 Percent in 5% increments.
Did You Know?
The patent for the design of this subwoofer is still pending, according to Cerwin Vega's website.
---
3. Rockford Fosgate T2S1-16 Power 16″ T2
Price: $1,199.99
Diameter: 15.04 in.
Sensitivity: 89 dB.
Frequency Response: 21 Hz. to 250 Hz.
photo source: Crutchfield
This subwoofer is not just another one made with off-the-shelf components. There were some high expectations to meet because the original Power T2 subwoofer was created by one of the top loudspeaker engineers in the world.
To outperform its predecessors, work was done from the ground up while considering helpful feedback from the fantastic network of Rockford Fosgate dealers. We believe that aim was missed because they wanted it to be larger and bolder with dual everything. We included two spiders for the cone assembly's remarkable movement because this model is so large.
Did You Know?
The subwoofer's impressive power handling capacity is made possible by the IDHS heat sink and the highly linear operation of the motor structure.
---
2. DS18 Troublemaker SPL Competition Subwoofer
Price: $1,999.99.
Diameter: 18 in.
Sensitivity: 92.9 dB.
Frequency Response: 32 Hz. to 250 Hz.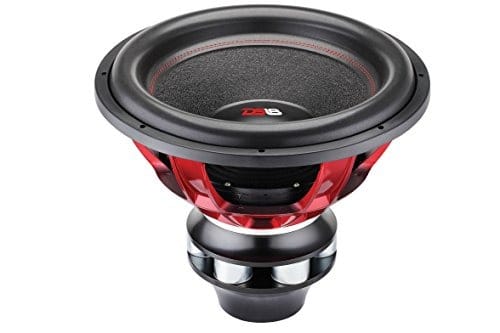 photo source: Galleon.ph
The name pretty much sums everything up. You can learn how to adjust these subs and get the greatest outcomes after causing havoc in the competition lanes and outperforming worldwide expectations.
DS18 invented a new technology in SPL competition subwoofer motors after years of research and development, and they reorganized the entire line. The outcome of this DS18 Troublemaker is a massive subwoofer that surpasses all requirements sought by rivals globally and can take burps of up to 25K watts.
Did You Know?
DS18 used the best components possible to create their top-secret design, including real red Kevlar cones, voice coils created in the USA, and a blend of proprietary glues and resins.
---
1. Adire Audio Parthenon Car Subwoofers
Price: $5,000 to $8,000
Diameter: 8.75 in.
Sensitivity: 134 dB.
Frequency Response: 6 Hz.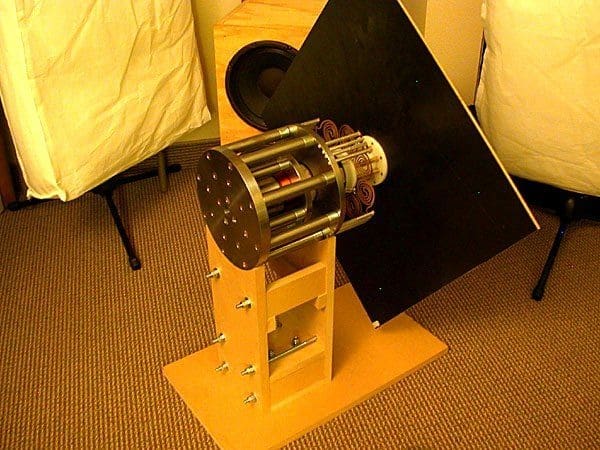 photo source: Pinterest
This is not a cheap sub, so be prepared to sign a second mortgage. The Adire Audio Parthenon Automobile Subwoofers are the world's most expensive car subwoofers you can get, ranging in price from $5,000 to $8,000, depending on your needed customization. The best bragging rights and all contest victories are yours if you have this in your trunk.
The Parthenon Motor, which was given that name for obvious reasons, has the same proportions as a Tumult but utilizes a twin coiled coil to achieve a linear stroke of more than 80mm in one direction.
Did You Know?
The motor is made from 1008-grade steel and uses 16 N38-grade neo magnets.