Teddy Bear is perhaps the greatest addition to the toy market of all time. The love for teddy bears has transcended generations and geographical boundaries. From Greatest Generation to Gen Z, these stuffed toys have been loved by all around the world.
The first teddy bear was made in 1903 by Russian-born American businessman-toymaker Morris Michtom and his wife rose. It was inspired by a political cartoon published in The Washington Post on November 16, 1902.
The cartoon created by Pulitzer Prize winner cartoonist Clifford K. Berryman depicted former US President Theodore Roosevelt, often referred to as Teddy. The cartoon was based on an incident where President Roosevelt refused to kill an injured bear cub considering it unsportsmanlike.
Around the same time, the German toymaking company Steiff Firm made stuffed bears based on the designs created by Richard Steiff. In fact, Steiff was the first company to make a stuffed bear with movable arms and legs. They called in Bear 55 PB.
After the teddy bear was popularized, Steiff Firm soon took over the market worldwide by producing innovative and adorable teddy bears, primarily for children.
Over the years, old and rare teddy bears have become collector's items sold for thousands of dollars at auctions. Here, we put together a list of the 8 most expensive teddy bears ever sold.
8. Harlequin Teddy Bear
Price realized: $74,500 (approx.)
Production year: 1925
Sale year: 2010
Manufacturer: Steiff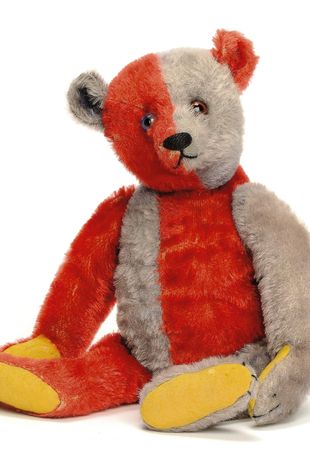 photo source: i2-prod.mirror.co.uk
Harlequin is a half-red and half-blue teddy bear made by Steiff sometime around 1925. It features yellow felt pads and black stitching. One eye is blue and black, and the other is brown and black.
The toy was originally owned by a woman worker who was associated with Steiff for more than 40 years. She worked with the founder of the company Margarete Steiff for the initial five years of her career.
No other teddy bears have been found with the same design. So, it is believed that it was probably a unique experimental piece, perhaps made by the original owner.
Did you know?
Hedge fund manager Paul Greenwood bought this teddy bear from the Steiff Festival Auction in 1999. Greenwood had a huge collection of luxury teddy bears. Later, when he was convicted of fraud in 2010, all his soft toys were sold at an auction held at Christie's showroom.
---
7. Diamond Eye Teddy Bear
Price realized: $84,000
Production year: 2008
Sale year: 2008
Manufacturer: Steiff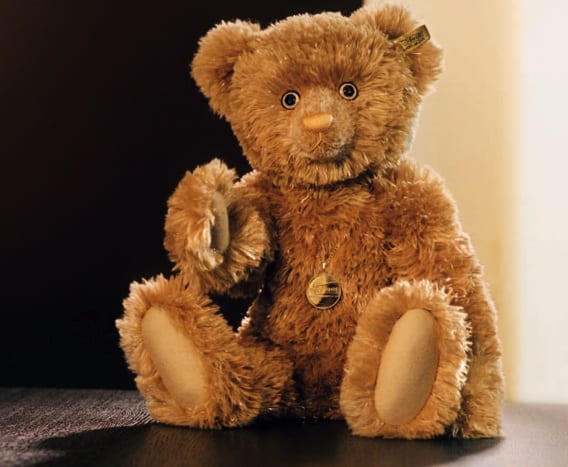 photo source: 4.bp.blogspot.com
Unlike Harlequin, the price of this teddy bear is not derived from its historical value. It was expensive because of its materials.
Steiff made this super-expensive limited edition Diamond Eye teddy to commemorate the company's 125th anniversary. The toy's mouth was made of 24-carat solid gold, and its fur was made from gold thread.
Additionally, it had eyes featuring emerald pupils surrounded by diamond irises. The teddy bear came with a complimentary gift pack consisting of a Mont Blanc pet and an ink pot filled with liquid gold.
Did you know?
The diamond Eye teddy bear was available at Selfridges, the high-end department store in London. Selfridge launched its toy section with this teddy bear.
---
6. Steiff Rod Teddy Bear
Price realized: $ 101,880
Production year: 1904
Sale year: 2002
Manufacturer: Steiff Firm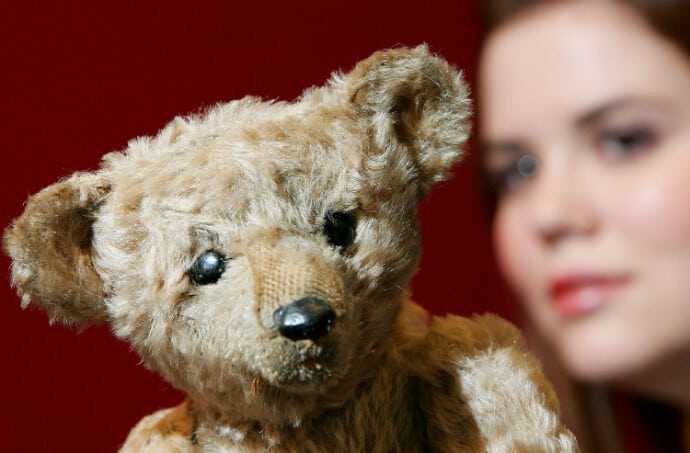 photo source: blog.circu.net
The earliest teddy bears made by Steiff featured cord joints. In 1904, during the second stage of Steiff's development of teddy bears, the company introduced rod joints for limbs. It made the toys far sturdier. Given these teddy bears are more than a century old, they are incredibly rare and thus sell for high prices in auctions.
One example of the Steiff Rod teddy bear was sold for 82,000 euros at the annual Steiff festival in Giengen, Germany, in 2002.
Did you know?
This Steiff Rod bear was the oldest teddy bear that ever appeared in an auction. Later, another example from this lot was sold for 25,000 pounds at an auction held by Christie's.
---
5. Supreme x Louis Vuitton Teddy Bear
Price realized: $106,016.08
Production year: 2017
Sale year: 2017
Manufacturer: Louis Vuitton and Supreme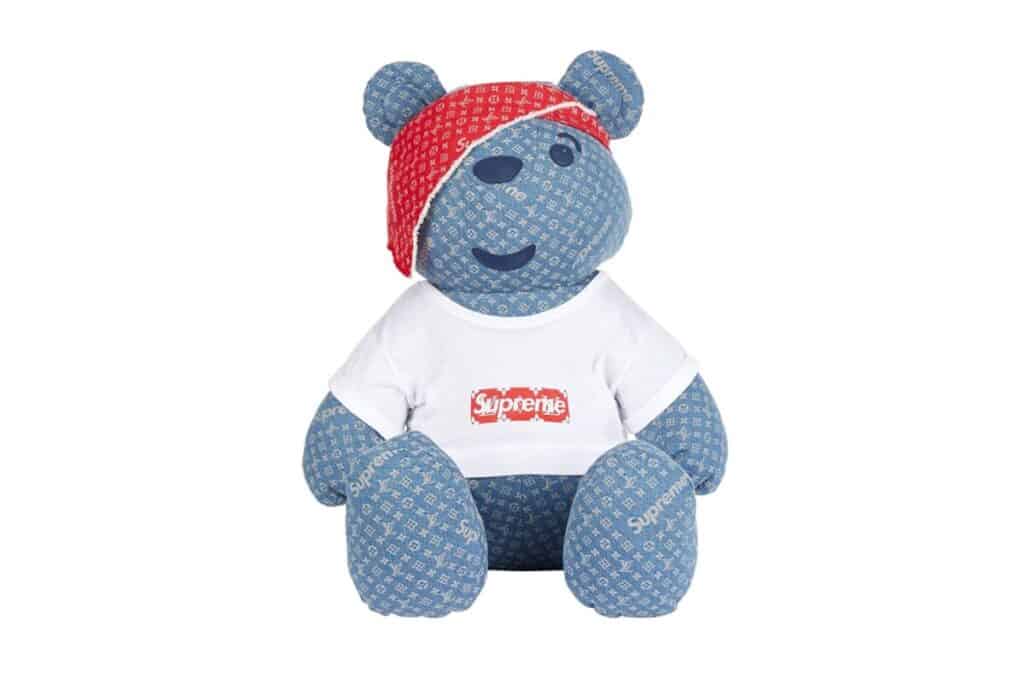 photo source: www.dmarge.com
This giant-size one-off teddy bear was made in 2017 as part of BBC's Children in Need project. Loius Vuitton and Supreme collaborated to recreate the official mascot of the charitable event, Pudsey Bear.
The 71-cm-long toy was fashioned from premium denim. It also wears a red bandana covering one eye. The teddy was sold for $106, 016.08 and the entire money went to BBC Children in Need's fund.
Did you know?
Children in Need is a charitable project of BBC that began in 1980.
---
4. Steiff Titanic Mourning Bear
Price realized: $131,937
Production year: 1912
Sale year: 2000
Manufacturer: Steiff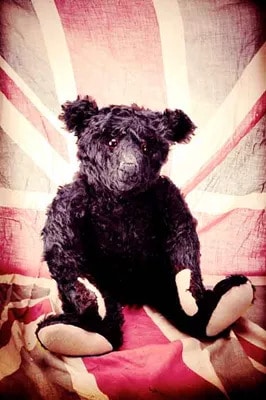 photo source: gazette-eu-west2.azureedge.net
In 1912, after the sinking of the Titanic, Steiff made a special limited-edition black mohair teddy bear to be given as mourning gifts. A total of 665 black bears were made, and they came in five different sizes.
One example of this teddy bear was sold for 91,750 pounds from Cristie's auction house in London. It was purchased by the Puppenhaus doll museum in Basel, Switzerland. This 20-inch-long doll is now a part of the collection of the museum. It has black fur, cream paws, a humpback, and a long snout.
The original owner of the teddy never liked it and locked it up in the cupboard all her life. As a result, when it appeared on the auction, it was in mint condition.
Did you know?
The Titanic teddy bear didn't do well when it was launched in the London market, as the black fur was considered unappealing.
---
3. Teddy Girl Bear
Price realized: $143,000
Production year: 1904
Sale year: 1994
Manufacturer: Steiff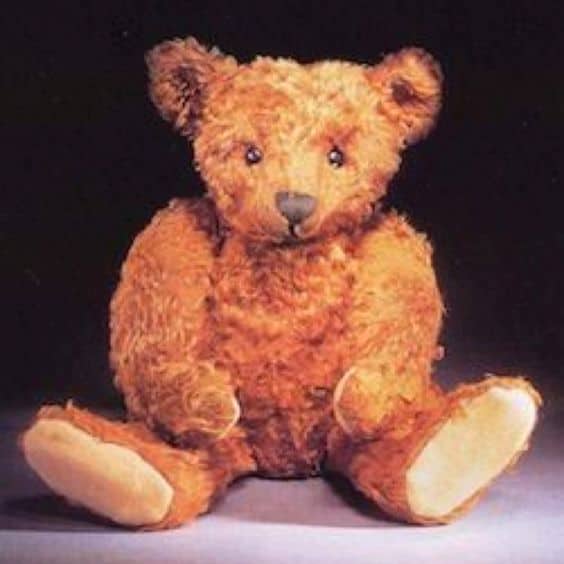 photo source: i.pinimg.com
This cinnamon color center seam teddy bear with thick curly mohair and black boot button eyes was a lifelong companion of Colonel Robert "Bob" Henderson. The teddy was gifted to him the day he was born, and he retained it till his death in 1990.
Handerson named it Teddy Boy. He would carry the teddy with him even to the battlefields when serving in the army. He gifted the toy to his daughter Cynthia after she was born. One day, Cynthia dressed the teddy in a woman's dress with frills, and from then onwards, it came to be known as Teddy Girl.
In 1994, the teddy appeared in an auction held by Christie's and sold for a whopping £111,000. It was bought by Yoshihiro Sekiguchi, owner of the Izu Teddy Bear Museum in Japan.
Did you know?
Colonel Handerson has always been passionate about teddy bears and how people feel about them. Hander wrote, '…the bear has commanded a special place in folklore, myth, fairy-tale and legend…today, in the form of the teddy bear, it is grasped in physical compensation and clung to for security…'
---
2. Happy Anniversary Teddy Bear
Price realized: $ 152,334
Production year: 1926
Sale year: 2002
Manufacturer: Steiff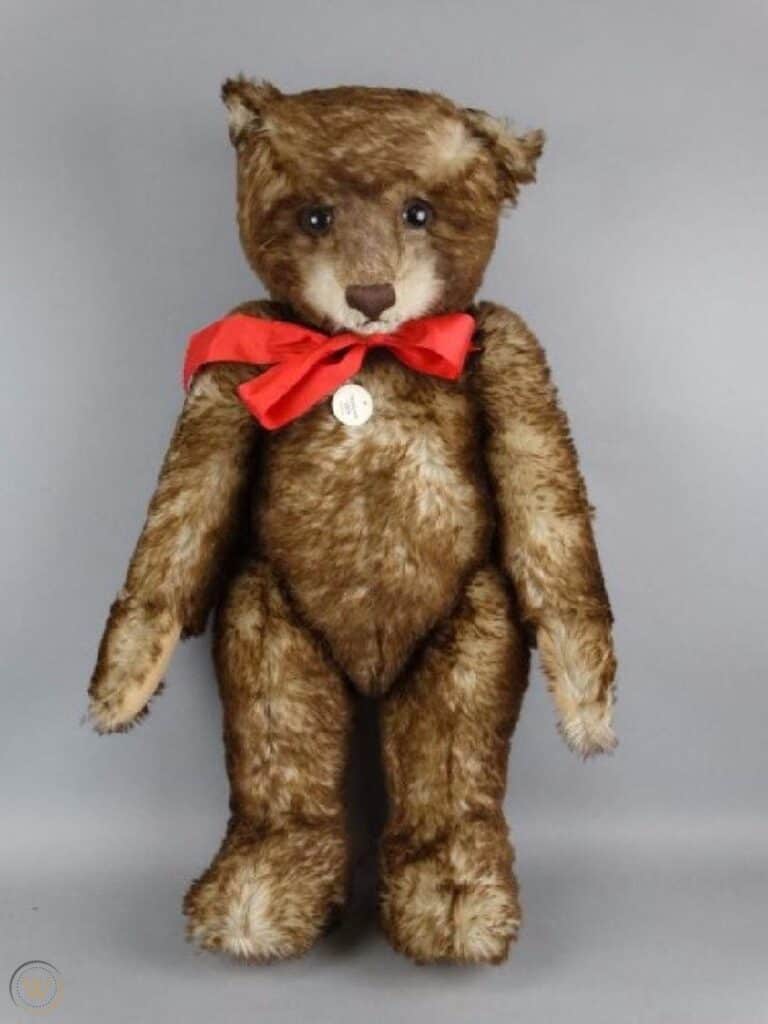 photo source: thumbs.worthpoint.com
Happy Anniversary Teddy Bear, also called 'Happy', is the second most expensive teddy bear ever sold. This teddy bear was made by Steiff in 1926.
In 1989, Rosemary and Paul Vlopp bought this teddy bear from Sotheby's Auction House in London. It was the couple's 42nd wedding anniversary. They planned to spend $5,000 to $10,000 to buy an anniversary gift. However, they ended up spending $86,000 on Happy. For five years, Happy remained the most expensive teddy bear.
In 1996, Vlopps moved from Buena Park, California, to Carson City in Nevada. At that time, they got rid of around 1000 teddy bears from their collection of over 5000 teddies.
In 2002, Happy was sold at the Steiff Festival in Giengen, Germany, for £ 101,556.
Did you know?
Vlopps used to visit various teddy bear conventions around the world with Happy. They would waive the speaker fees and donate them to charities. Rosemary Vlopp once said Happy had raised at least $100,000 for children's causes.
---
1. Steiff Louis Vuitton Teddy Bear
Price realized: $2,100,000
Production year: 2002
Sale year: 2002
Manufacturer: Steiff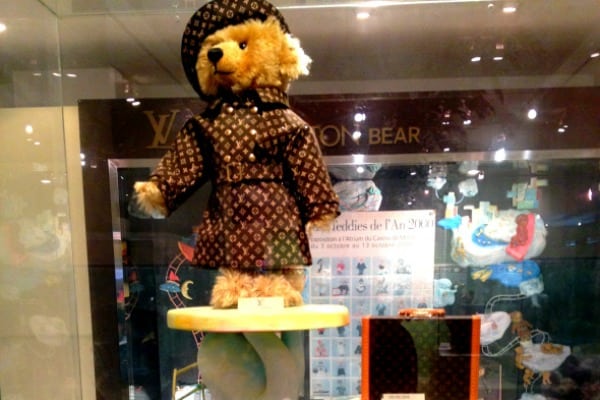 photo source: www.luxurytopics.com
In 2002, Steiff joined hands with Loius Vuitton to make the most expensive teddy bear ever. It is made with mohair and gold fiber. The teddy wears a Louis Vuitton designer attire with 24 carats of gold embellishments. Besides, its eyes are made of sapphire and diamonds.
This teddy bear was sold at an auction at Christie's, Monaco, for an astonishing $2,100,000 and made it to the Guinness Book of World Records. It was bought by Jesse Kim from Korea, owner of the Teddy Bear Museum, Jeju Island.
Did you know?
In 2018, Kim Kardashian spent $170,000 on a Louis Vuitton Teddy Bear, which she bought for her third child.