For centuries, the fragrances and essential oils used in aromatherapy have been used to clear the mind, heal the body, improve emotional well-being and even increase physical strength and endurance.
Nowadays people are using essential oils for aromatherapy purposes in their homes as well. In fact, many health experts recommend using them regularly. Many of these oils can also be used externally on the skin or diluted into an unscented oil base for making perfumes, soaps, shampoos, and more.
The world of essential oils is growing fast and there are many new oils being added to the market every day. It is now possible to buy oils that are made from exotic plants and organic spices, as well as herbs. This gives us an idea of how essential oils can be expensive or cheap.
Below is a list of the most expensive essential oils in the world.
12. Neroli Essential Oil
Price: $354 per ounce
Plant Used: bitter orange tree (Citrus aurantium)
Country of Origin: Egypt
Aroma: Intensely floral, citrusy, sweet, and exotic
photo source: decleor.co.uk
Neroli Essential Oil has been a favorite of Italian nobility since the 17th century. The Duchess of Bracciano was well known for using a bitter orange essential oil, which she used to scent her gloves and add a few drops to her bath. She was so fond of the oil that she was even referred to as "Princess Nerola."
Neroli Essential Oil has been used extensively in perfumery as a middle-to-top note and is regarded as a premium oil. Instead of steam distillation, a solvent is used to extract orange blossom absolute from the blossoms, which is a middle note highly prized in perfumery.
It has been shown that neroli essential oil is useful for both emotional and skin well-being. It may be used to counteract sorrow, lessen emotions of melancholy and despair, promote serenity, and boost happiness, among other things.
Did You Know?
Due to its relaxing and aphrodisiac qualities, neroli essential oil has traditionally been utilized in wedding ceremonies.
---
11. Jasmine Absolute Essential Oil
Price: $364.65 per ounce
Plant Used: Jasmine flower
Country of Origin: India
Aroma: Intense oily-fruity, waxy floral scent
photo source: newforestaromatics.co.uk
Jasmine Absolute Essential Oil is a remarkable oil used in perfumery because of its unique, exotic floral scent. Its seductive scent is regarded as an aphrodisiac that heightens sentiments of passion and love.
Furthermore, it is pleasant to the senses and contributes to a happy environment. A sore throat may also be relieved when issues arise, and it can aid in freshening and revitalizing the skin when combined with skincare products.
The perfume of jasmine absolute is exquisitely fragrant and distinctively on its own. Because jasmine blooms cannot be successfully steam distilled, a solvent is used to extract them, yielding a highly concentrated absolute. Both male and female valuable fragrancing products utilize jasmine absolute.
Did You Know?
There is evidence to support the effectiveness of aromatherapy in easing depression symptoms. According to a study on jasmine essential oil, it boosted behavioral arousal when compared to a placebo.
---
10. Vanilla Absolute Essential Oil
Price: $463.50 per ounce
Plant Used: Vanilla Orchid
Country of Origin: Madagascar
Aroma: Rich, warm, sweet, thick
photo source: exportersindia.com
The orchid family's blooming tropical plant known as vanilla is an extremely expensive and labor-intensive crop. The first vanilla blooms appear about four to five years after the plant is planted, and just 600 hand-pollinated blossoms may yield one kilogram of dried vanilla pods.
The same vanilla orchid that produces vanilla extract, Vanilla planifolia, is used to make Vanilla Absolute Essential Oil. The aroma of vanilla is seen as calming by some people and as enticing by others. Regardless, vanilla pure oil is one of the most valued distillates in the field of perfumery as well as for individual customers due to its sweet and seductive scent.
Over two-thirds of the world's output of vanilla come from the SAVA area of Madagascar, commonly known as the "green triangle," where the vanilla pods for this absolute are farmed organically.
Variations in supply and demand as well as the orchid's growth environment have a large role in the high price of vanilla absolute.
Did You Know?
A powerful antioxidant, anti-inflammatory, and anti-microbial substance with a sweet, warm, and pleasant scent, vanilla absolute is useful for treating acne as well as preventing and reversing free radical damage to the skin.
---
9. Sandalwood Essential Oil
Price: $492 per ounce
Plant Used: Sandalwood
Country of Origin: India
Aroma: Deep, woody scent, a mix of floral, rich, balsamic, soft, and sweet accents
photo source: draxe.com
Sandalwood, which is frequently cultivated in India and is widely utilized for numerous reasons, is used to make some of the most costly fragrances in the world. A number of health problems, including coughs and the common cold, as well as a number of skin ailments, may be treated with Sandalwood Essential Oil, which is an expensive treatment.
The wood and roots of the East Indian sandalwood tree, santalum album, are the source of sandalwood essential oil. It is one of the most expensive trees in the world that is utilized globally. In the past, sandalwood oils from West Indies and Africa were also made, but these are no longer generally accessible.
In addition to its usage for medicinal purposes, sandalwood essential oil is closely linked to religious rituals and has been a part of several rites in Eastern civilizations.
When burned during ceremonies, the wood itself, which is frequently used for incense sticks, gives off a distinctively woodsy aroma.
Did You Know?
Indian folk medicine known as Ayurveda has long used East Indian sandalwood oil as a common component. Additionally, it is utilized in conventional Chinese medicine.
---
8. Elecampane Essential Oil
Price: $560 per ounce
Plant Used: horse heal flower
Country of Origin: Corsica
Aroma: Sweet floral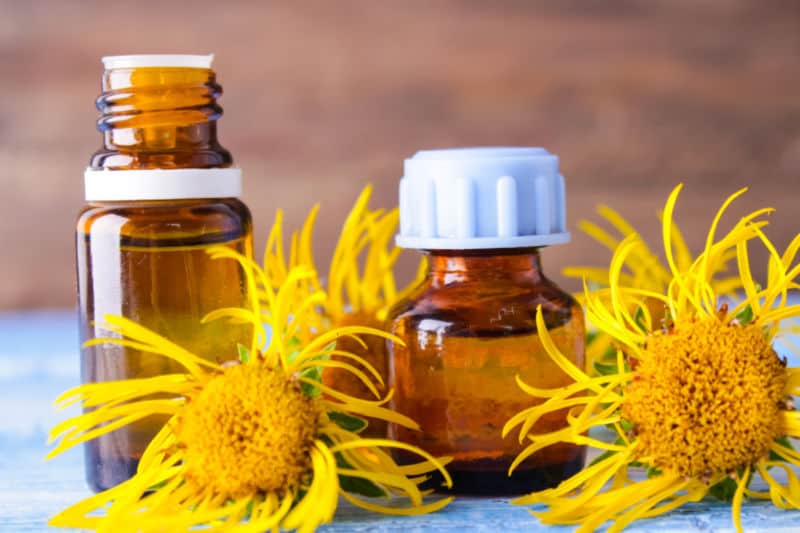 photo source: zliving.com
Elecampane Essential Oil is derived from the horse heal flower, which mimics the more well-known sunflower plant and is useful for a number of things. It is most frequently applied to respiratory and digestive problems in conventional medicine.
This unique variety of plants is used to make absinthe as well as essential oils, and the effects are far more pleasurable when utilizing this highly sought and incredibly rare plant. Since certain studies have demonstrated that sesquiterpenes had anticancer effects against specific types of cancer cells, sesquiterpene is one component of elecampane that researchers are interested in.
Elecampane essential oil can also be used to treat inflammation, liver disorders, muscle spasms, and even asthma and bronchitis, according to some sources.
Did You Know?
With deeper historical origins that connect them to Ancient Greece and the mythological Helen's tears, horse heal herbs are native to Europe and certain parts of Asia. On the island of St. Helena, the plant grows in the wild.
---
7. Seaweed Absolute Extra Essential Oil
Price: $650 per ounce
Plant Used: seaweed
Country of Origin: France
Aroma: Oceanic, green-herbaceous, dry-woody, and phenolic aroma
photo source: neoils.com
A key component of the "marine" scent idea and a potent perfume ingredient is seaweed absolute. It provides somewhat briny sea notes and is often used to add hay, smoke, and walnut nuances.
The production of a distinctive moss foundation or the addition of interest to compositions that are green or fresh may benefit greatly from the use of seaweed absolute by natural perfumers.
Utilizing the minerals, vitamins, and other enzymes present in seaweed, seaweed's absolute essential oil creates an essential oil with a wealth of beneficial characteristics. When used topically, Seaweed Absolute essential oil helps soften cuticles and aid in skin hydration.
Off the coastlines of the Atlantic and Pacific Oceans, as well as in the coastal areas of the North and Baltic Seas, is where you may find the seaweed needed to make the Absolute essential oil.
Did You Know?
The essential oil of seaweed absolute is effective in detoxifying the body, promoting healthy digestion, and enhancing heart function.
---
6. Rose Essential Oil
Price: $700 per ounce
Plant Used: perennial plant
Country of Origin: Syrian capital Damascus
Aroma: Rich, intoxicating, sweet floral aroma, romantic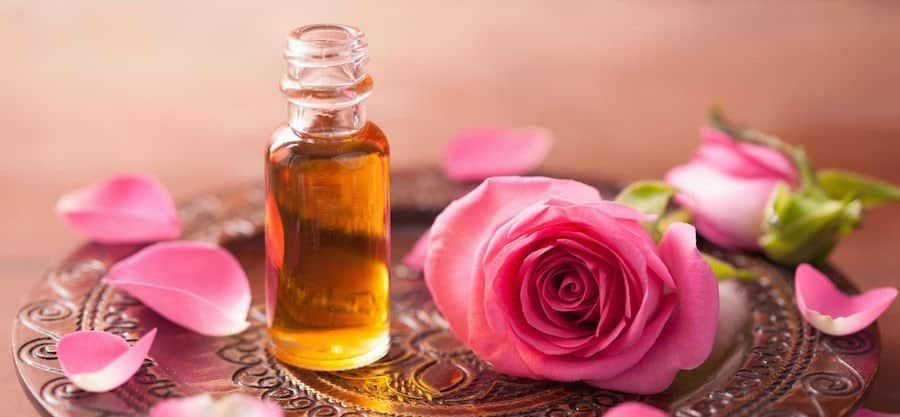 photo source: achs.edu
The rose has been lauded for its virtues by poets and lovers for a very long time, but it is a flower that offers much more than simply a lovely display of fragrant petals. Research has revealed a variety of possible advantages for the essential oil extracted from the rose plant.
The Rose Essential Oil is produced from what is arguably the most famous flower in the world, making it one of the most often used essential oils.
The essence of two specific types of rose petals, the absolutes, and the ottos, is extracted to create rose oil, which is a common component in many fragrances.
Its calming and energizing perfume balances skin moisture levels, lessens the visibility of skin flaws, and delivers a relaxing and uplifting fragrance. An even skin tone and healthy-looking complexion are also supported by rose essential oil.
Did You Know?
Rose essential oil is a thick, highly concentrated essential oil that has the ability to control blood pressure in addition to lowering heart rates in those with cardiac conditions.
---
5. Agarwood Essential Oil
Price: $850 per ounce
Plant Used: Agarwood
Country of Origin: India
Aroma: Sweet and woody fragrance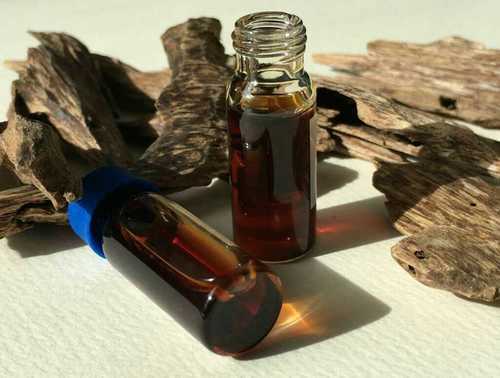 photo source: tradeindia.com
One of the rarest and most costly essential oils in the world is agarwood. Inspiring courage and increasing self-awareness on an emotional level. Not many oilers' collections include this highly sought-after essential oil.
Agarwood essential oil has a distinct and powerful scent and is derived from the agarwood tree. Asia has long utilized it for ceremonial purposes and conventional treatment. The antibacterial and anti-inflammatory actions of agarwood oil are only two of its amazing qualities.
Once the bark is wrapped in a mold, a coating of resin forms, which enhances the beneficial characteristics of the essential oil. The oil is then extracted from the mold.
When used to treat mental problems and alleviate depression, agarwood essential oil is said to offer relaxing effects that boost demand.
Did You Know?
In addition to helping with pain management, agarwood essential oil has sedative-like qualities that make it a potent sleep aid.
---
4. Cannabis Flower Essential Oil
Price: $946 per ounce
Plant Used: Cannabis Flower
Country of Origin: Canada
Aroma: Floral with a light spicy note, earthy notes of grass, warm musk, and cedar
photo source: findingheaven.com
The Cannabis Flower Essential Oil provides evidence that the cannabis plant has a variety of therapeutic uses in addition to being a prohibited recreational narcotic. Cannabis flower essential oil may be found in a broad variety of alternative cosmetics, as well as in anything from soaps and candles to fragrances and pharmaceuticals.
No other plant in the world generates the white crystals that grow on the cannabis flower, which gives cannabis essential oil its distinctive qualities. Cannabis oil extraction sometimes referred to as hemp oil, has a lower THC content.
Although it lacks some of the qualities present in its recreational form, it can still be utilized as a complementary treatment.
Did You Know?
An ounce of cannabis oil costs about $946 due to its enormous popularity and the fact that it is also believed to help treat cancer patients.
---
3. Frangipani Absolute Essential Oil
Price: $1,482 per ounce
Plant Used: Frangipani flower
Country of Origin: Central America
Aroma: Ethereal, rich, heady, extremely sweet aroma with pleasant earthy notes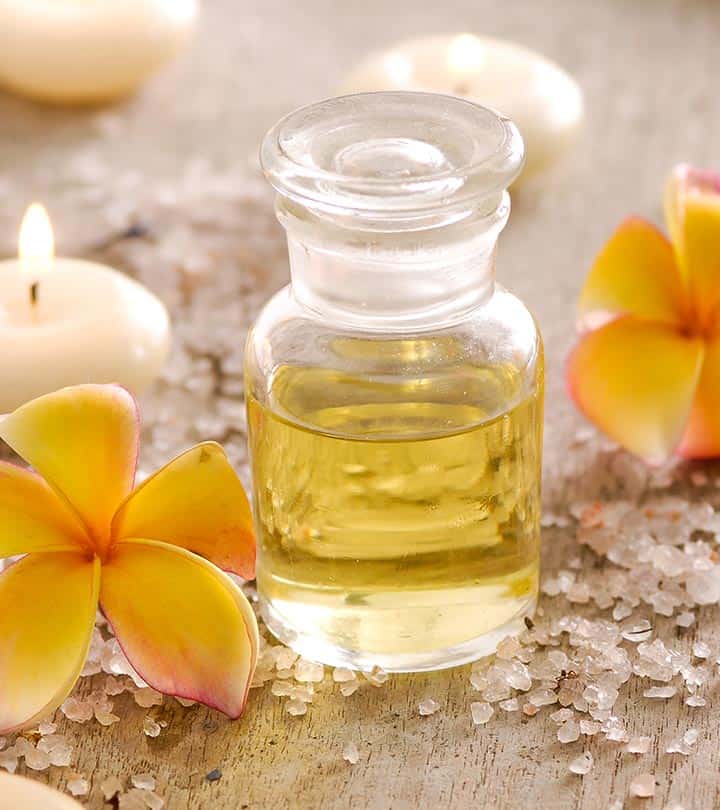 photo source: laviebohemecandles.com
Whereas Carnal Flower has a dry, astringent green element, Frangipani Absolute continues to be the brighter, sweeter aroma with a lasting citrus accent. A pleasantly sweet-smelling essential oil, frangipani is extracted from the plumeria flower.
According to reports, those who inhale the oil feel renewed and invigorated in their body, mind, and soul.
Frangipani essential oil is used in high-end fragrances and may also be used topically to soothe skin irritants. This promotes clean, healthy skin and even lessens the visibility of stretch marks.
Additionally, it may be used to lessen stress and inflammation, and because of its relaxing properties, it is a helpful oil for treating anxiety and nervous problems.
Did You Know?
In India, frangipani is referred to as the Tree of Life; when a limb is removed from the tree, it continues to bloom, perhaps symbolizing our soul's limitless relationship with God.
---
2. Tuberose Absolute Essential Oil
Price: $1,645 per ounce
Plant Used: perennial plant
Country of Origin: India
Aroma: Rich, clean, intensely sweet floral
photo source: exportersindia.com
The most popular uses for tuberose absolute are in natural fragrancing and perfumery. Tuberose absolute is a beautiful, very scented flower oil. In addition to blending wonderfully with other floral absolutes and essential oils, it also does so with oils from the wood, citrus, spice, resinous, and earthy families.
Tuberose Absolute Essential Oil is allegedly an aphrodisiac and may alleviate infertility or passiveness. Its seductive scent makes it a lovely complement to mixes created for romance, sensuality, or relaxation. One of the most costly essential oils available, tuberose essence is utilized in pricey scents and perfumes as well as in aromatherapy.
With their small white petals flowering on long stems and emitting a distinctive, potent perfume, tuberose plants are native to Southeast Asia and the United States.
Did You Know?
In addition to being used in love spells, tuberose essential oil is also consumed to help with insomnia and is supposed to help you think more clearly and help you stay focused.
---
1. Champaca Absolute Essential Oil
Price: $2,256 per ounce
Plant Used: Champaca Flower
Country of Origin: India
Aroma: Sweet, dense, intoxicating, floral, and fruity
photo source: treasurehutch.com
Champaca Absolute Essential Oil is the most expensive essential oil in the world which costs a whopping $2,200 per ounce. Despite its incredible beauty, Champaca Absolute is one of the most difficult natural essences to deal with.
This is especially true when the flower is meant to be the center of attention. From a business perspective, it presents two additional difficulties, it is neither very accessible nor well-liked in the West.
The usage of Champaca Absolute Essential Oil to treat depression and for millennia to ease headaches and even vertigo has a lengthy history. Due to its rejuvenating qualities, it is also a valuable oil for treating a variety of skin problems, including acne scars, wrinkles, and other problems with a dull complexion.
Did You Know?
Because it is a pricey component, champaca absolute should not be used in goods intended for the general public. It works best when used sparingly to give a scent or cosmetic composition a hint of elegance.