The richest neighborhoods in Brooklyn will impress you with their beautiful houses, historic landmarks, and scenic surroundings. With a booming economy, diverse culture, and engaged community, Brooklyn has attracted some of the wealthiest people in New York City.
In this post, let us look into the top 9 richest neighborhoods in Brooklyn. Of course, please note that data may vary, and different factors could increase or decrease the affluence of a specific neighborhood. Nevertheless, our list is accurate at the time it was written.
So, whether you are curious about the lavish lifestyle of Brooklyn's rich and famous or looking for a new place to call your home, here are some of the wealthiest neighborhoods in New York's most populous borough.
9. Brooklyn Heights
Median home value: $1,300,000
Year founded: 19th century
Population: 21,000 (as of 2020)
Land area: 0.31 sq miles2 (0.81 km2)
Image source: Shutterstock
Brooklyn Heights is among the most sought-after neighborhoods in New York because of its geographic location and natural beauty. The historic neighborhood comes with huge mansions and elegant townhouses. There are also modern high-rise residential buildings.
The Brooklyn Heights Promenade offers a majestic view of the Brooklyn Bridge and the Manhattan skyline.
Did you know?
Brooklyn Heights is home to the oldest subway tunnel in the world. The Atlantic Avenue Tunnel, aka Cobble Hill Tunnel, was built in 1844 and was a subway system powered by a steam engine.
---
8. Williamsburg
Median home value: $1,500,000
Year founded: incorporated in 1827
Population: 162,498 (as of 2020)
Land area: 2.85 sq miles2 (7.38 km2)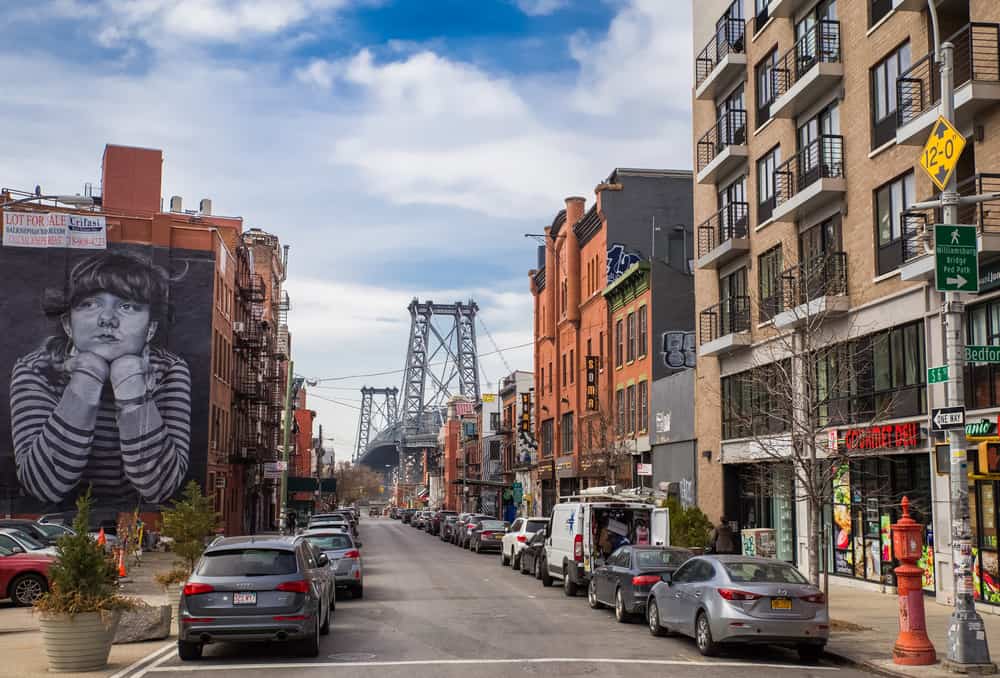 Image Editorial credit: Mihai Speteanu / Shutterstock.com
Williamsburg is located on the East River waterfront, which allows people to have a clear glimpse of the impressive Manhattan skyline.
Many buildings in Williamsburg were built in the 19th and 20th centuries. The factories and warehouses were converted into residential areas and office spaces.
Because Williamsburg is home to a mix of residents with different cultural backgrounds, you'll find various types of food here, from Jewish delicacies to Mexican cuisines.
Did you know?
Williamsburg was first incorporated in 1827, given the official name "Village of Williamsburgh, " and was still part of the Town of Bushwick. The East River in the area encouraged the building of shipyards, which eventually laid the foundation of Williamsburg's rich and thriving economy.
---
7. Borough Park
Median home value: $1,600,000
Year founded: 20th century
Population: 103,411 (as of 2020)
Land area: 1.014 sq miles2 (2.63 km2)
Image source: Shutterstock
Even though it is located in the heart of Brooklyn, Borough Park emits a suburban feel around its place. The neighborhood features various dwelling places such as single-family homes, apartment buildings, and rowhouses.
The people living in Borough Park are diverse and come from different cultural, ethnic, and religious backgrounds. Jewish, Hispanic, Pakistani, and Chinese immigrants live in the area.
The primary commercial centers of Borough Park are 13th Avenue and 16th Avenue. You'll find a lot of shops, markets, and restaurants here. Borough Park is also the home of the historic Green Wood Cemetery, where many of New York's prominent figures were buried.
Did you know?
Borough Park has one of the largest populations of Jews. According to records, there could be about 75,000 to 100,000 Orthodox Jews in Borough Park. Thus, you would find plenty of yeshivas, kollels, and synagogues.
---
6. Park Slope
Median home value: $1,650,000
Year founded: late 19th century
Population: 72,000 (as of 2020)
Land area: 1.62 sq miles2 (4.2 km2)
Image source: Shutterstock
Park Slope got its name from the large hill that runs through it. The neighborhood is best known for its largest collection of 19th-century row houses. Because of the magnificent architecture of the Park Slope building, it was used multiple times for TV shows and movies.
Many young families choose to live in Park Slope because of its numerous playgrounds, educational facilities, parks, and kid-friendly annual events.
If you love food, then you'll also love Park Slope. They have various restaurants that serve locally-sourced and fresh food.
Did you know?
The Brooklyn Academy of Music is located in the Park Slope. It has existed for over 150 years and has served as a multi-arts center that includes dance, theater, music, film, and opera.
---
5. Carroll Gardens
Median home value: $1,800,000
Year founded: mid-19th century
Population: 14,726 (as of 2020)
Land area: 0.16 sq miles2 (0.41 km2)
Image source: Shutterstock
If you are looking for a neighborhood with a laid-back and relaxed atmosphere, then you would love Carroll Gardens. The community enjoys the beautiful streets lined with shady trees along with charming houses designed with different architectural styles.
There is a lot to love about Carroll Gardens. You have Carroll Park and Columbia Street Waterfront Park. You'll also find interesting the various restaurants in the area that feature international cuisines. Recently, Carroll Gardens became famous for its cafes and bakeries.
Did you know?
Carroll Park gave the name Carroll Gardens to the neighborhood. The park was named after Charles Carroll. He was one of the signatories of the Declaration of Independence.
---
4. South Slope
Median home value: $1,900,000
Year founded: mid-19th century
Population: 28,000 (as of 2010)
Land area: 0.5 sq miles2 (1.2 km2)
Image Editorial credit: James Andrews1 / Shutterstock.com
South Slope is located in the southwestern part of Brooklyn. The charming neighborhood looks peaceful with its tree-lined streets and impressive brownstones. South Slope residents love that they are just near the 500-acre Prospect Park. There are also cafes, restaurants, and bars in the area.
You should visit the South Slope during the day and at night. They have lively nightlife here and different music venues such as the Bell House and Freddy's Bar.
Did you know?
South Slope is home to the Old Stone House, built in 1699 and eventually reconstructed over time. It is the site where the Battle of Brooklyn happened during the Revolutionary War.
---
3. Red Hook
Median home value: $2,000,000
Year founded: 17th century
Population: 11,000 (as of 2020)
Land area: 1.26 sq miles2 (3.26 km2)
Image source: Shutterstock
Red Hook was once a thriving manufacturing and shipping hub, but now, it is home to some of New York's elites, young professionals, and artists. Because of the recent addition of big businesses and cultural institutions, Red Hook attracts more people.
What's great about Red Hook is it gives its residents a unique taste of waterfront living combined with rich history and culture. The strategic location of Red Hook comes with stunning views of the New York Harbor and the Statue of Liberty.
Did you know?
The name Red Hook came from the red clay soil in the area and the "hook" shape of the East River peninsular corner. Red Hook is among the earliest places in Brooklyn that were settled. The Dutch came to this place and named it Roode Hooke (Red Hook).
---
2. Greenpoint
Median home value: $2,270,000
Year founded: mid-19th century
Population: 32,500 (as of 2020)
Land area: 1.1 sq miles2 (2.8 km2)
Image source: Shutterstock
Greenpoint is considered one of the richest neighborhoods in Brooklyn as more and more working-class people populated the place starting in the 19th century. The former industrial buildings of Greenpoint were converted into beautiful loft apartments, creative workspaces, and even art galleries.
Greenpoint is best known for its vibrant community and nightlife scene. You'll find various bars and restaurants all over the place. The iconic Greenpoint Savings Bank building features a clock tower, while Transmitter Park boasts a magnificent waterfront view.
Did you know?
Greenpoint has the largest Polish communities in Brooklyn and is sometimes called the "Little Poland." The earliest Polish immigrants reached Greenpoint in 1903. Then, immigration came in waves during the many years to follow.
---
1. DUMBO
Median home value: $2,850,000
Year founded: 19th century
Population: 4,211 (as of 2020)
Land area: 0.27 sq miles2 (0.7 km2)
Image source: Property Nest
Dumbo is the richest neighborhood in Brooklyn. DUMBO is an acronym that means District Under the Manhattan Bridge Overpass. Dumbo is best known for its bustling industrial past; now, it is home to some of the most luxurious and expensive estates in New York.
The neighborhood was developed in the 19th century. Going through it, you'll still find cobblestone streets and historic brick buildings. Since the place was formerly a highly industrial zone, many of its buildings were converted into stylish apartments and artist studios.
Some of the best places to visit in Dumbo include Brooklyn Bridge Park, St. Ann's Warehouse Theater, and New York Transit Museum.
Did you know?
The name DUMBO is believed to have originated from local artists to discourage developers from building new structures since the name sounds like a weird name. Before the DUMBO name, the place was known as Gairville. The neighborhood was once a large industrial area in the United States.