For many people, traveling in first class is the ultimate luxury experience. From spacious seats to gourmet meals, first-class air travel offers a level of comfort and indulgence that is unmatched by any other mode of transportation. But for those who are truly looking for the ultimate in luxury, there are first-class flights that take indulgence to a whole new level.
These flights offer private suites with showers, personal butlers, and gourmet multi-course meals. But with such extravagance often comes a hefty price tag. In this article, we'll look at the 9 most expensive first-class flights in the world that offer unparalleled luxury and comfort. Get ready to be amazed by the extraordinary levels of luxury these flights offer and the jaw-dropping prices that come with them.
9. Singapore Airlines
Price: $14,000
Year Started: 2007
Popular Offering: Gourmet dining
Website: singaporeair.com
Image source: Singapore Airlines
Singapore Airlines is renowned for its luxurious first-class flight experience, which has been offered since 2007. With a price tag of $14,000, passengers can expect unparalleled comfort and service. One of the most popular offerings of this premium service is the exquisite dining experience, which features world-class cuisine and a wide selection of fine wines.
The airline's website, singaporeair.com, provides comprehensive information about its first-class flights, including booking and check-in procedures and details about the amenities and services provided on board. Traveling in first class with this airline is truly an indulgent experience that offers a level of luxury and sophistication that is unmatched in the airline industry.
Did you know?
Singapore Airlines' first-class cabins are designed to provide a tranquil and serene environment, with soothing lighting, soundproofing, and temperature controls.
---
8. Qantas
Price: $14,974+
Year Started: 2009
Popular Offering: Cozy fireplace
Website: qantas.com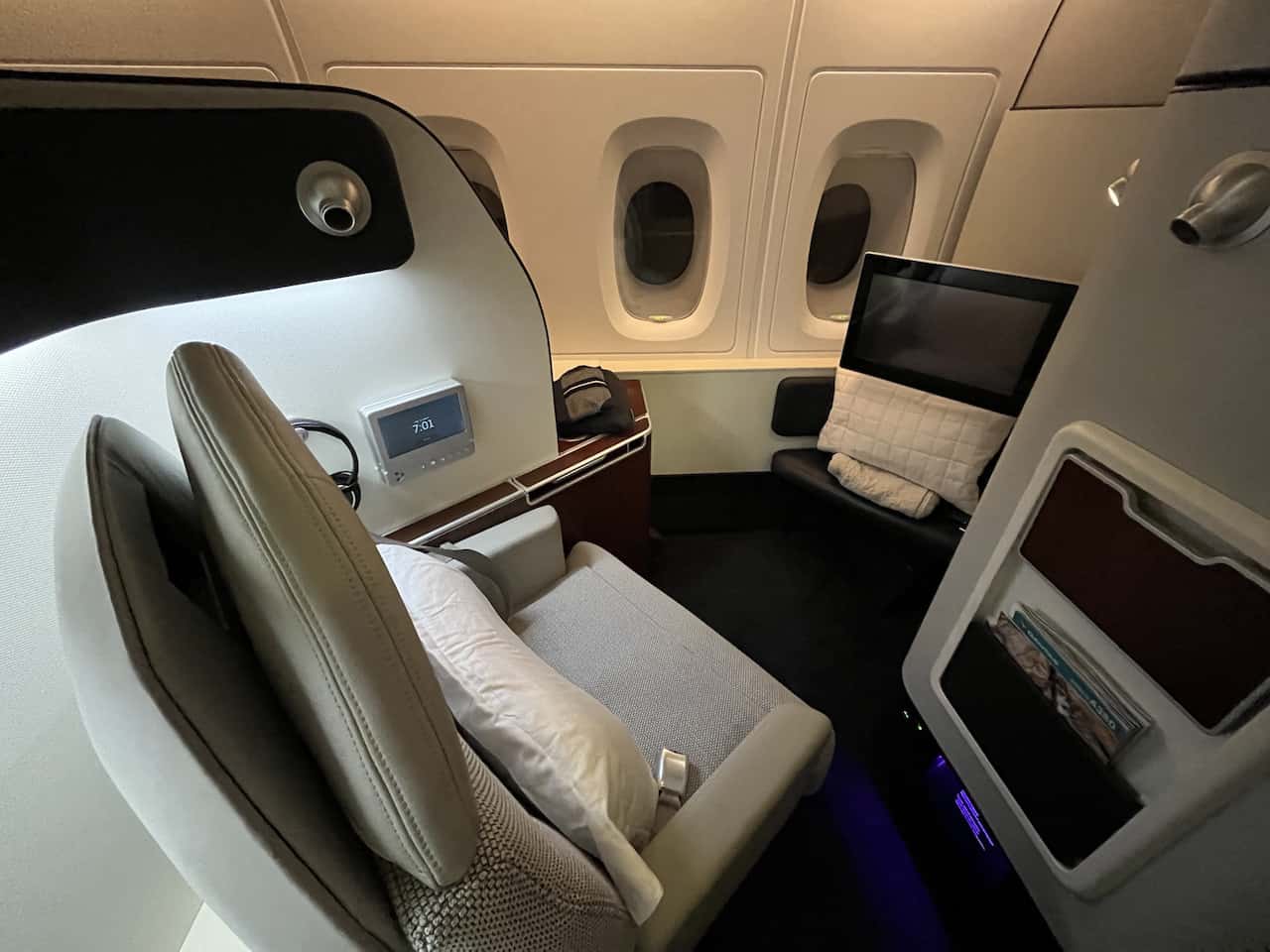 Image source: Points Brotherhood
Qantas, the primary airline carrier of Australia, provides a lavish first-class flight experience that has been available since 2008. Passengers can anticipate a sumptuous and pleasant journey with fares starting from $14,974. Among the notable highlights of Qantas' first-class cabins is the charming fireplace that generates a cozy and welcoming ambiance on board.
Additionally, customers can relish in amenities such as a fully flat bed, personal entertainment systems, and a selection of delectable meals served in elegant china. First-class flyers are also granted exclusive access to airport lounges, personalized check-in and boarding services, and a dedicated staff team delivering attentive and tailored assistance throughout the flight.
Did you know?
Qantas' first-class flight service is recognized for its luxury, refinement, and meticulous attention to detail, making it a popular choice for travelers with discerning tastes seeking comfort and elegance.
---
7. Japan Airlines
Price: $16,000+
Year Started: 2008
Popular Offering: Partitioned nook with reclining mattress
Website: jal.co.jp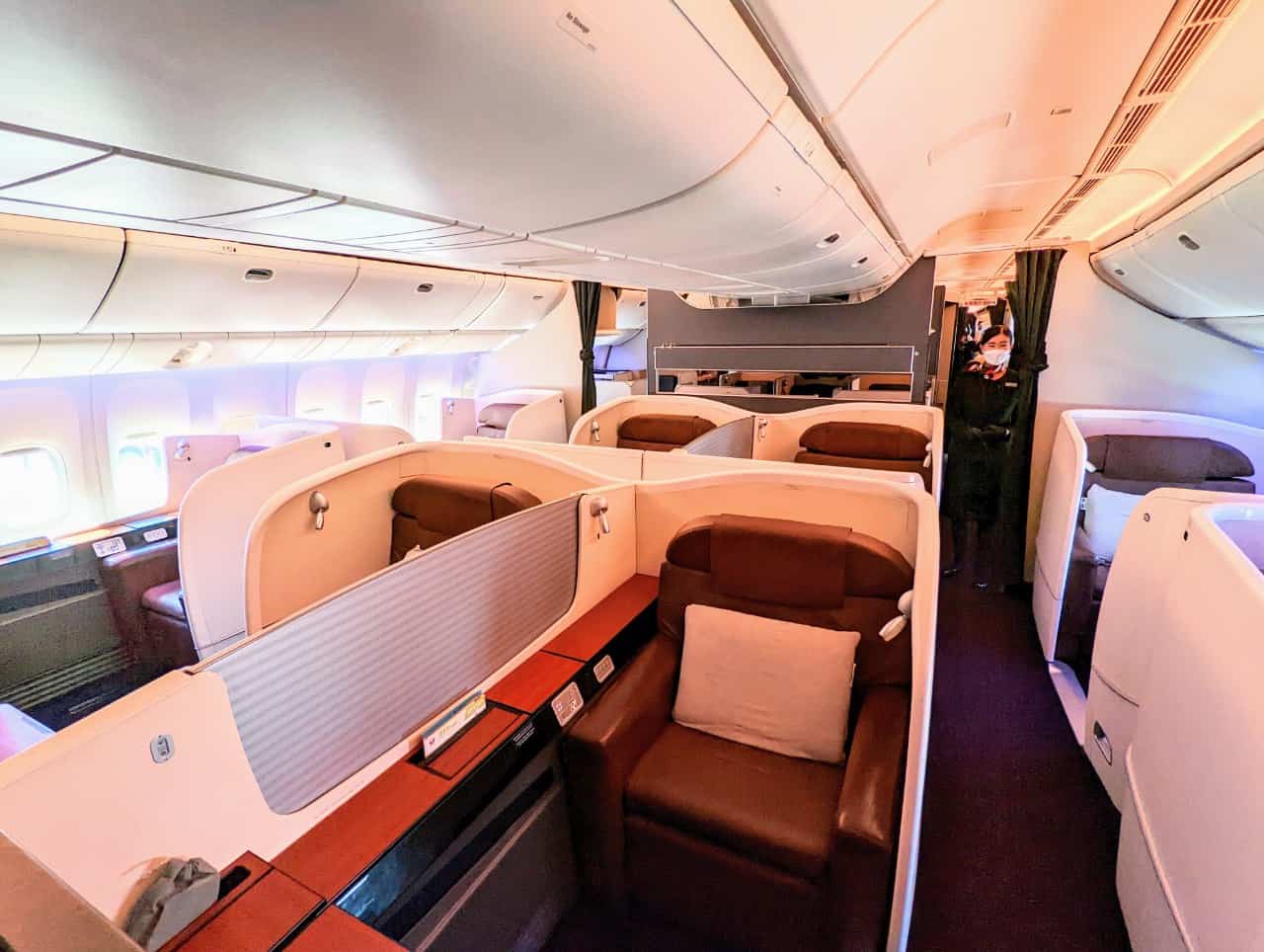 Image source: The MileLion
Japan Airlines has set a high standard for luxury air travel with its exceptional first-class flight experience. The airline introduced this premium service in 2008 and has since been catering to passengers seeking unparalleled comfort and luxury in their air travel. The first-class cabin is designed to provide maximum comfort and privacy, with a partitioned nook featuring a reclining mattress. Passengers can fully relax and enjoy their flight with the ample space provided, complemented by personalized service throughout the journey.
The delectable cuisine and premium wine offerings are carefully curated to delight the most discerning palates. Every detail of the first-class cabin is crafted with the utmost care and precision, creating an atmosphere of sophistication and elegance. The commitment to providing a top-tier experience is evident from the sumptuous amenities to the exquisite craftsmanship of the cabin design.
Did you know?
The design of the first-class cabin has won several awards, including the Good Design Award in 2013.
---
6. Virgin Atlantic
Price: $22,000
Year Started: 2019
Popular Offering: Comfortable seats with technology
Website: flywith.virginatlantic.com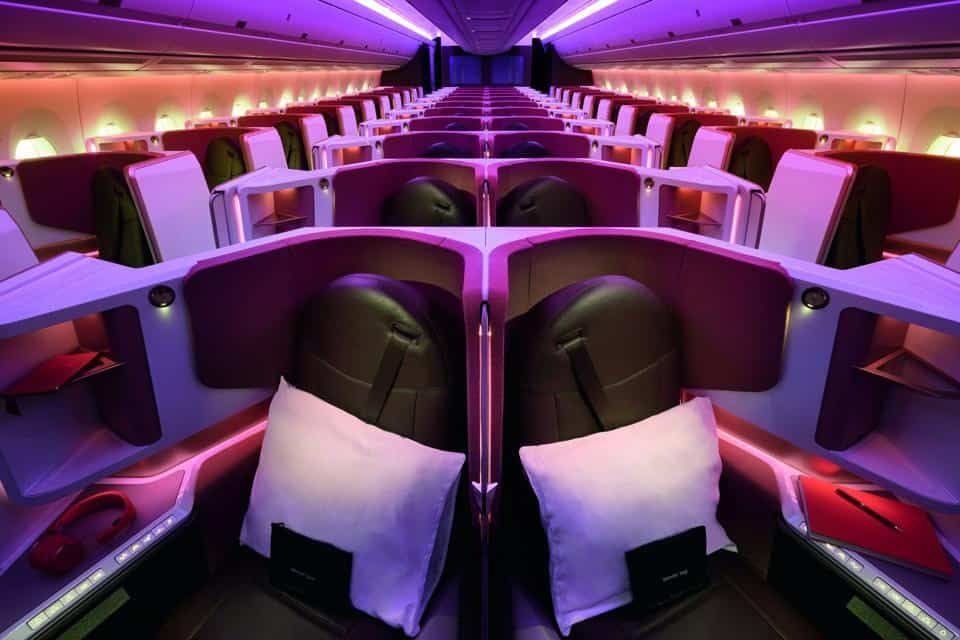 Image source: Forbes
In 2019, Virgin Atlantic launched its first-class flight service, offering passengers an exclusive and elegant experience at a price starting at $22,000. One of the most popular offerings of this first-class flight is the comfortable seats equipped with the latest technology. The seats are designed to provide maximum comfort and relaxation during the journey, with adjustable headrests, lumbar support, and ample legroom.
Another popular feature of its first-class flight is the personalized service provided by the attentive and friendly cabin crew. The crew members are trained to cater to passengers' needs and ensure a pleasant and memorable journey.
Did you know?
Virgin Atlantic is committed to sustainability and has implemented various measures to reduce its carbon footprint, such as investing in fuel-efficient aircraft and offsetting carbon emissions.
---
5. Swiss Air
Price: $22,265+
Year Started: Unspecified
Popular Offering: Epicurean dining with fine wines
Website: wiss.com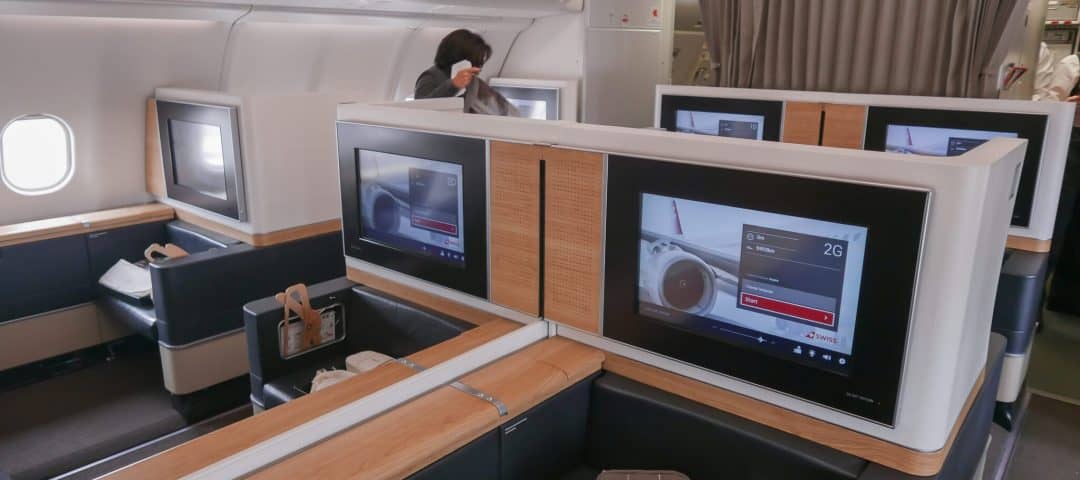 Image source: The Luxury Travel
Swiss Air's first-class flight, with prices starting at $22,265, is a fancy and premium experience. One of the most popular Swiss Air's first-class flight offerings is the epicurean dining experience, featuring gourmet cuisine and fine wines. Renowned chefs curate the menu, and the selection of wines is carefully chosen to complement the dishes.
The first-class cabin features eight private suites, each equipped with a large personal screen, noise-canceling headphones, and various entertainment options. The seats are designed to provide maximum comfort and are equipped with adjustable lumbar support, a massage function, and a built-in reading light.
Did you know?
Swiss Air's first-class flight provides access to exclusive airport lounges, where passengers can relax and enjoy complimentary food and drinks before their flight.
---
4. Cathay Pacific
Price: $26,572+
Year Started: 2022
Popular Offering: Wide bed and flat screen
Website: cathaypacific.com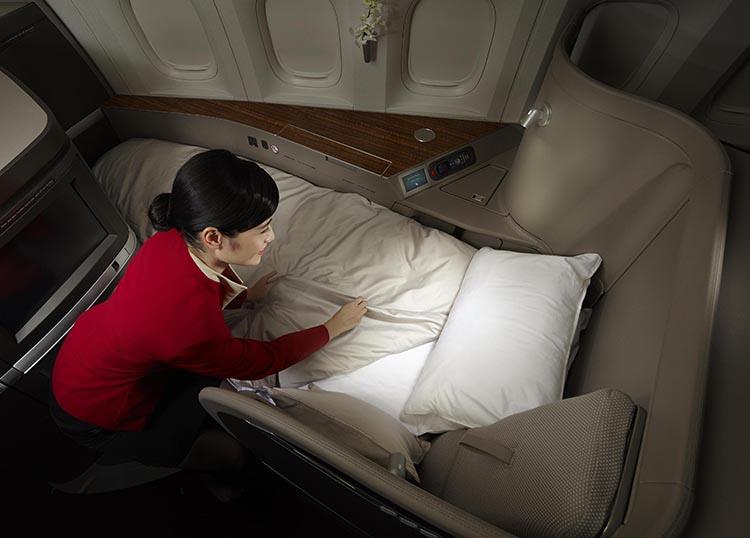 Image source: TopMiles
Cathay Pacific, renowned for its commitment to excellence, presents an unparalleled first-class flight that sets new standards in luxury air travel. Introduced in 2022, the first-class experience offered by this airline is designed to provide the utmost comfort and sophistication to discerning travelers. With prices starting at $26,572, passengers can expect an exceptional journey that combines opulence, personalized service, and cutting-edge amenities.
Cathay Pacific's first-class cabins boast wide beds that ensure a restful sleep, while flat-screen displays offer an immersive entertainment experience. Whether indulging in fine dining options or enjoying exclusive lounge access, passengers are assured a refined travel experience from takeoff to landing.
Did you know?
The airline has received numerous prestigious awards, including the World's Best First Class by Skytrax.
---
3. Korean Air
Price: $28,000
Year Started: 2011
Popular Offering: A set of Bose noise-canceling headphones
Website: koreanair.com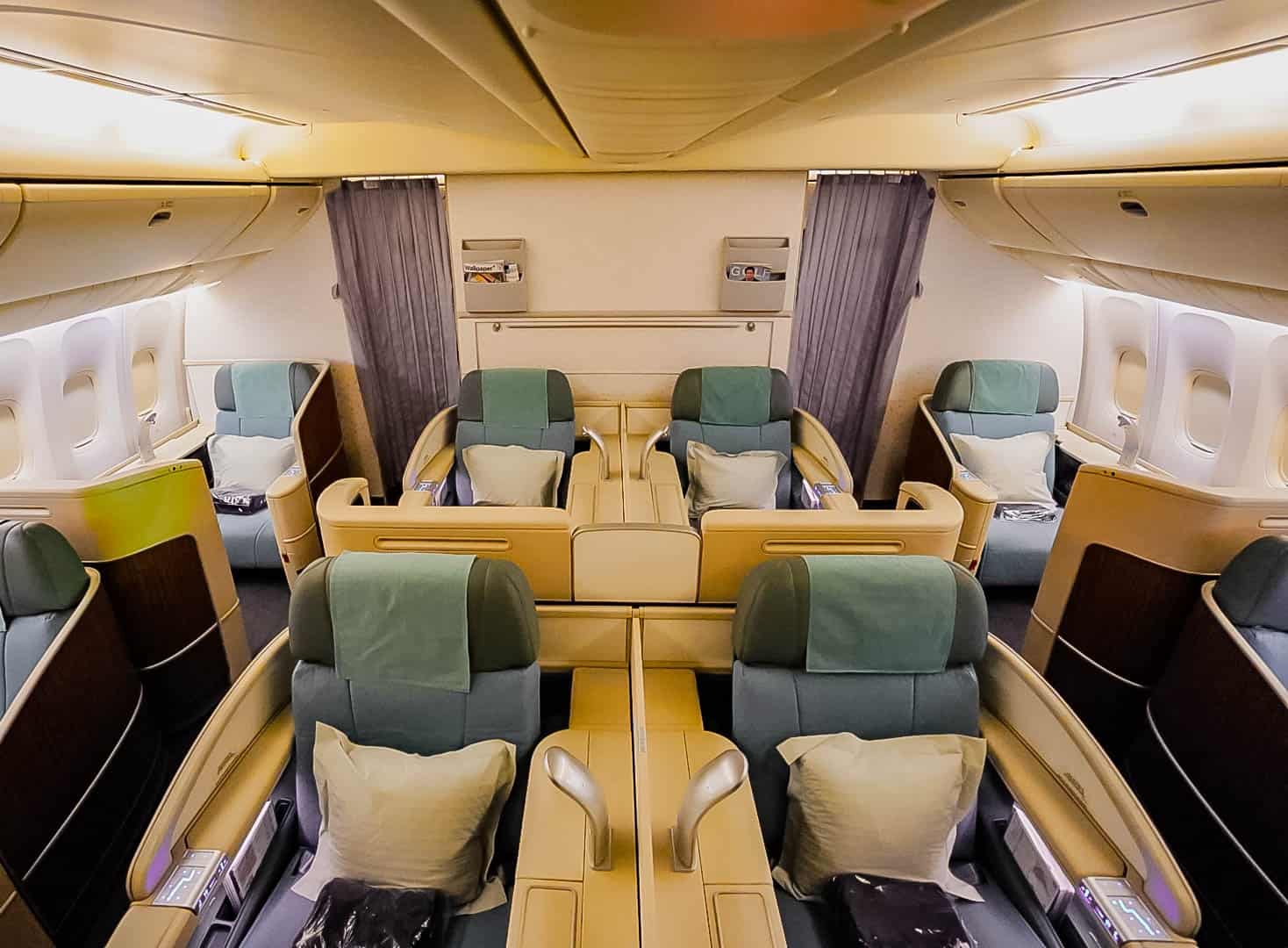 Image source: Upgraded Points
Korean Air's first-class flight is synonymous with unparalleled comfort and world-class service. Pioneering its debut in 2011, the airline has since been dedicated to redefining the standards of premium air travel. With a price tag of $28,000, passengers can expect extraordinary comfort and sophistication throughout their journey.
One of the standout features of its first-class experience is providing a set of Bose noise-canceling headphones. These high-quality headphones are meticulously designed to minimize ambient noise, allowing passengers to immerse themselves in their preferred entertainment or enjoy moments of tranquility.
Did you know?
Korean Air has partnered with luxury skincare brand Amorepacific to offer first-class passengers an exclusive selection of premium skincare products.
---
2. Emirates
Price: $31,000
Year Started: 2008
Popular Offering: Shower Spa
Website: emirates.com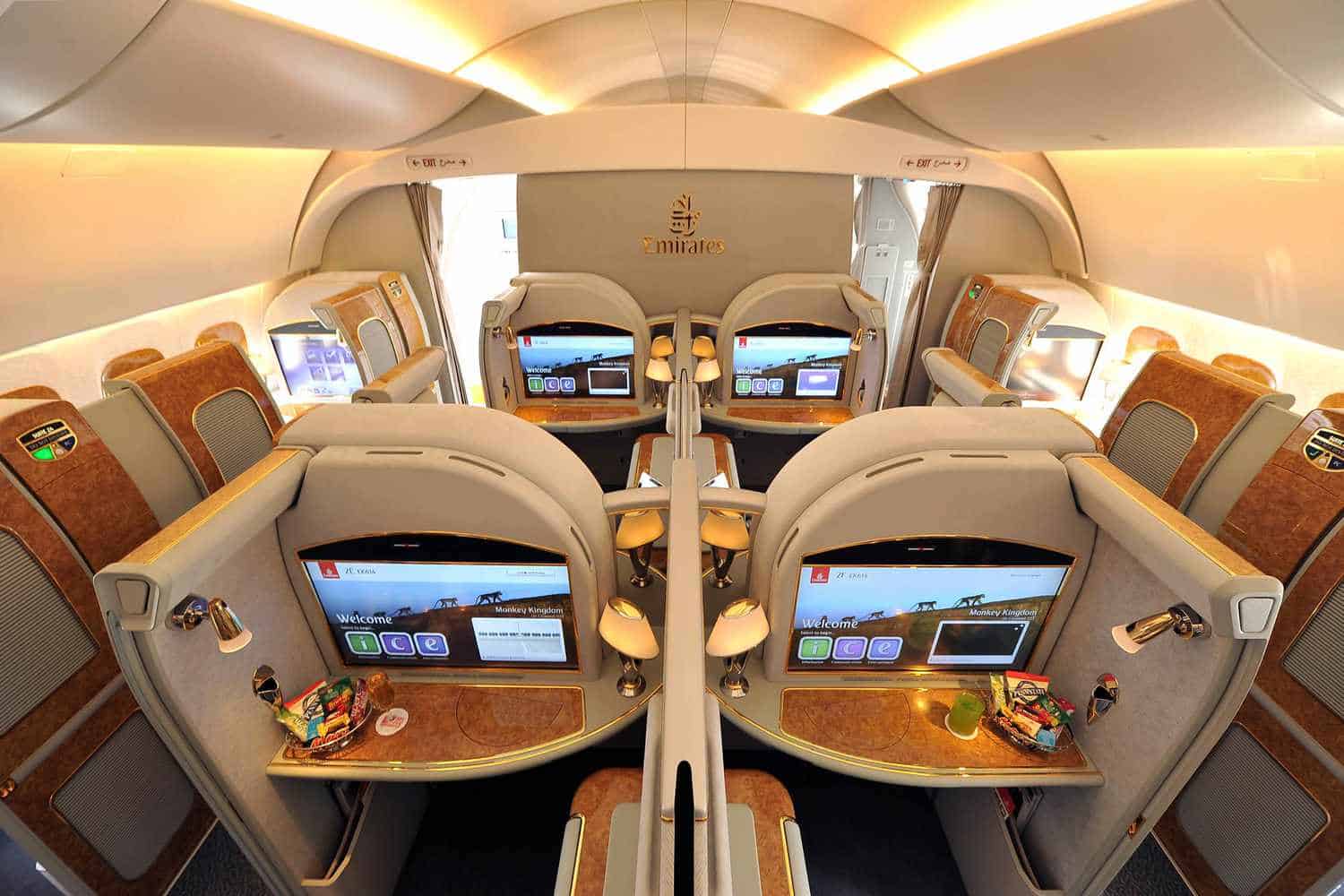 Image source: Travel + Leisure
Emirates' first-class cabins, priced at $31,000, are designed meticulously, providing passengers with a private oasis in the sky. Each spacious suite features a fully flat bed, ensuring restful sleep during long-haul flights. Passengers can also enjoy the convenience of private mini-bars, personal storage areas, and luxurious amenities, including plush bedding, designer toiletries, and soft loungewear.
Its first-class passengers have access to the iconic onboard Shower Spa, one of the most impressive amenities offered in the sky. Each first-class suite has a private shower room, allowing passengers to freshen up and rejuvenate during their flight. The Shower Spa experience includes a full-sized shower, luxurious toiletries, and plush towels, providing a truly indulgent and refreshing experience at 40,000 feet.
Did you know?
Emirates' first-class passengers can enjoy a complimentary chauffeur-driven service to and from the airport.
---
1. Etihad Airways Residence
Price: $66,000
Year Started: 2014
Popular Offering: Traveling to the airport by a Limousine
Website: flights.etihad.com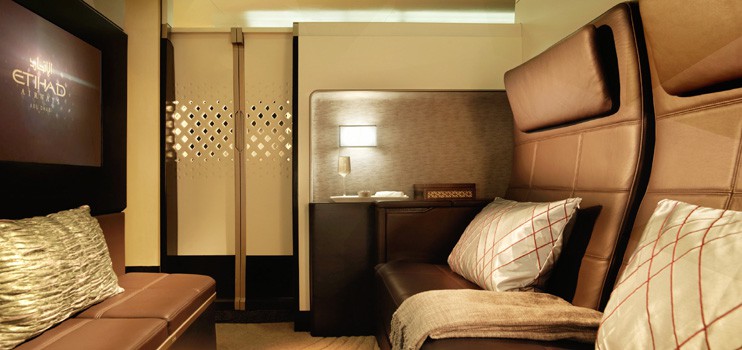 Image source: Airline Ratings
Etihad Airways Residence represents the pinnacle of luxury air travel. Being the most expensive first-class flight in the world, with a price tag of $66,000, the Residence delivers an extraordinary experience that goes above and beyond what passengers could imagine.
One of the remarkable highlights of it is the exceptional chauffeur-driven Limousine service provided exclusively to its passengers. This indulgent offering ensures that passengers are enveloped in an atmosphere of convenience and sophistication from the beginning of their journey.
Traveling to and from the airport in a private luxury vehicle, passengers experience a seamless and truly opulent transition between their home or hotel and the airport. This personalized chauffeur service sets the tone for the entire travel experience, signaling the extraordinary level of service and attention to detail that awaits them on their flight.
Did you know?
Etihad Airways Residence is the world's first and only three-room luxury suite available on a commercial aircraft.