We will all agree that beauty products and skincare items can be ridiculously expensive. A small tub of face moisturizer can cost more than what many of us pay for our monthly rent.
Luxury skincare brands bank on people's perpetual desire for eternal youth and to look attractive. These products promise to improve the skin's structural stability, restore moisture, and bring back radiance.
Our lives are changing fast. Several factors, including ever-growing pollution, stress, and the changing food habit, hurt our skin's health. More and more people are thus clinging to skin nourishment products that offer hope to them.
More exotic ingredients are being introduced in face creams and other skin care products, and intensive research is being conducted to find that magic potion.
Here, we list 8 of the most expensive face creams from around the world. As new products are launched every day, it is practically impossible to track all of them. This list is compiled based on the information available on the websites of the top luxury skincare brands.
8. 3Lab Super Cream
Brand: 3Lab
Price: $950 for 50 ml
Type: Anti-aging cream
Key Ingredients: X-50 Anti-Aging Powder, Bio-Engineered Renewal Complex, Apple Stem Cell Technology, Alpha Melight, Osilift, Dragon Blood, etc.
photo source: shopify.com
3Lab is a Thailand-based skincare company founded in 2003 by Erica Chung. The company aims to merge beauty with science, and a team of 40 chemists works relentlessly to bring the latest in skincare innovation.
Super cream is 3Lab's most expensive face cream that promises to repair the skin and minimize fine lines. The cream contains a lab-developed growth hormone that promotes healthy and rejuvenated skin. Besides, it also has an anti-aging powder that helps repair dull and damaged cells.
The other ingredients include Apple Stem Cell Technology, Alpha Mellight, Osilift, and Dragon blood. These are some plant-based components that reduce wrinkles and slow down aging.
Did you know?
The Apple Stem Cell Technology is a unique technology invented by 3Lab. This stem cell ingredient is collected from a rare Swiss apple that effectively slows down the signs of aging.
---
7. Celestial Black Diamond Cream
Brand: 111Skin
Price: $995 for 50ml
Type: Moisturizer
Key Ingredients: Diamond powder, horse chestnut seed extract, licorice root extract, apricot, kernel oil, etc.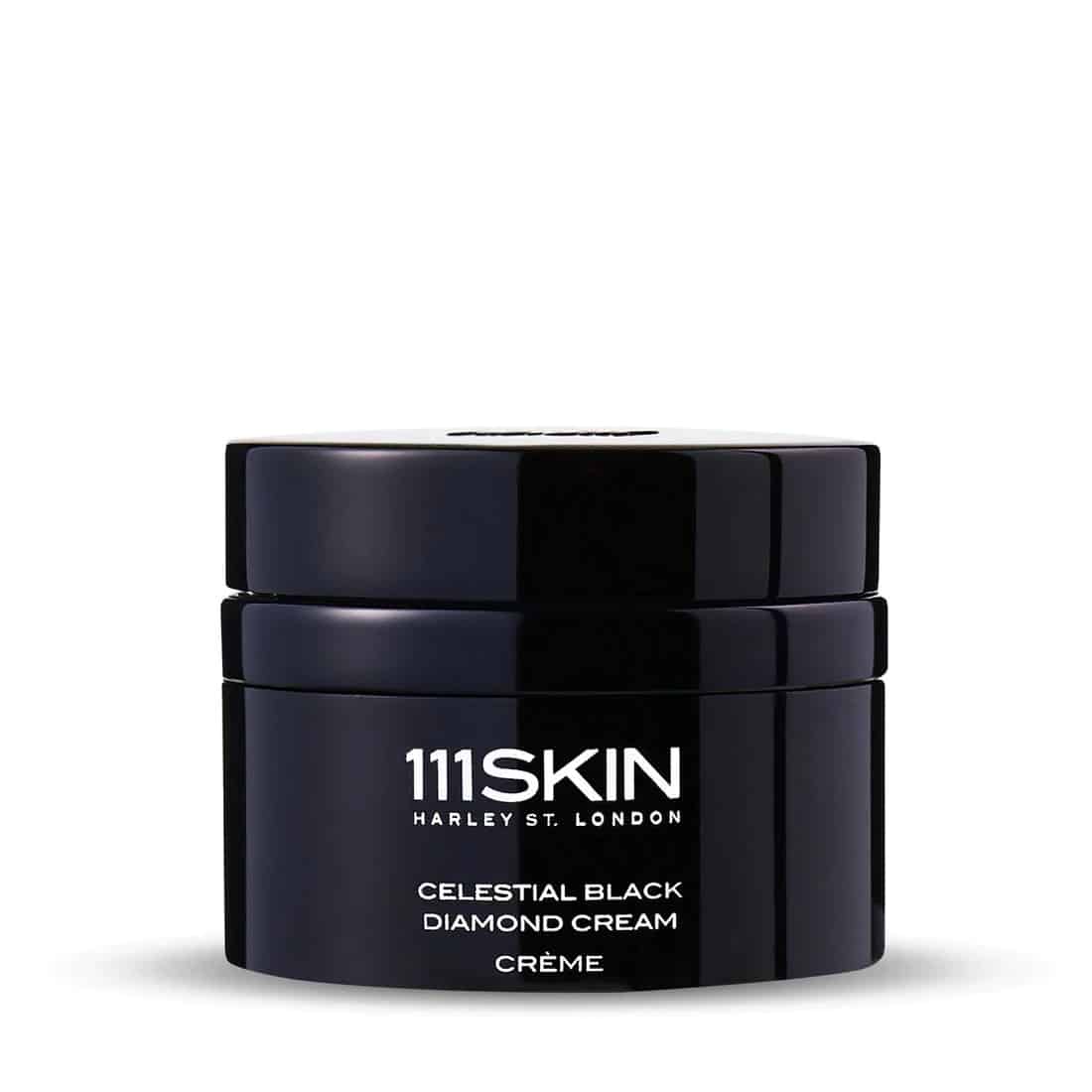 photo source: shopify.com
Celestial Black Diamond cream is a part of 111Skin's Intensive collection. 111Skin is a UK-based company founded by renowned plastic reconstruction surgeon Dr. Yannis Alexandrides and his wife, Eva Alexandrides.
The face cream is particularly more suitable for complexions that are more vulnerable to aging. It contains clinical-grade skin-renewing ingredients that help resurrect dry, dehydrated, and aging skin.
The cream improves the elasticity and texture of the skin by providing intensive hydration. It brightens hyperpigmentation and offers an even skin tone.
Did you know?
111Skin Celestial Black Diamond Cream contains a special formula known as the NAC. The effectiveness of the skincare formula was tested in space where the skin ages most rapidly.
---
6. Lancer Legacy Youth Treatment
Brand: Lancer Skincare
Price: $1000 for 50 ml
Type: Rejuvenating cream
Key Ingredients: Elkhorn Sea moss extract, snow fungus extract, oarweed extract, saffron crocus extract, Chiretta extract, and others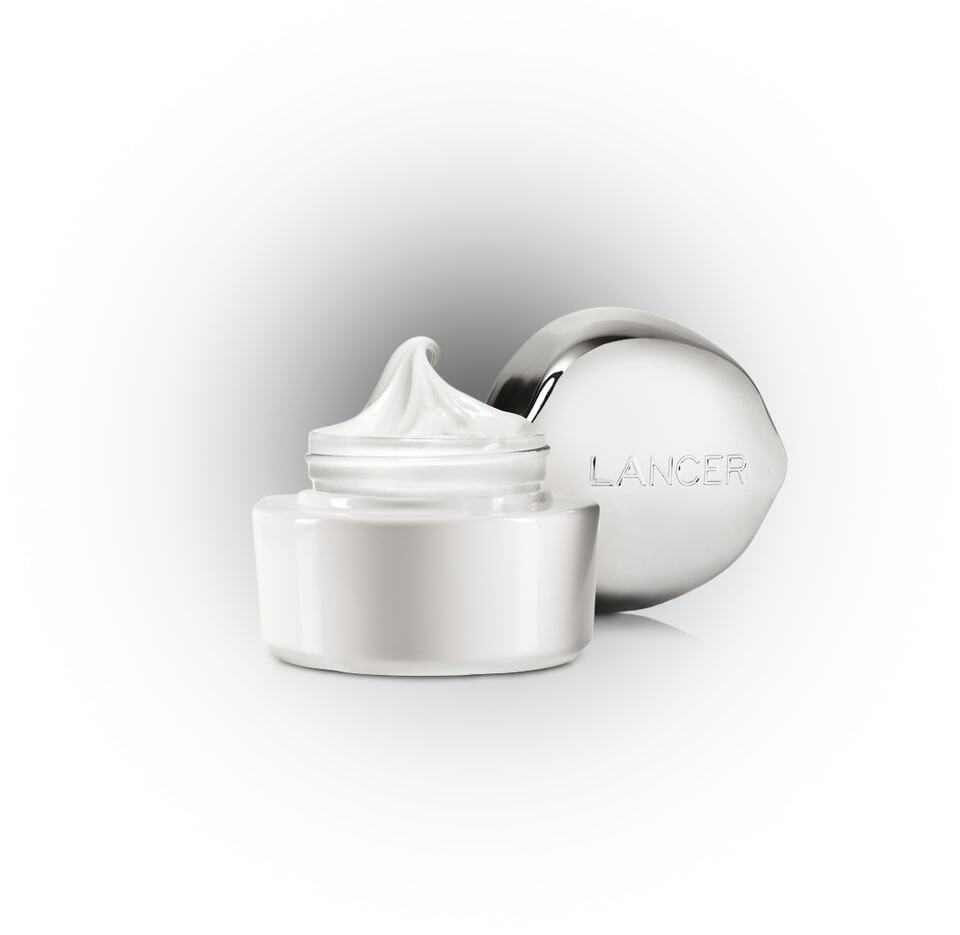 photo source: www.lancerskincare.com
Lancer Legacy Youth Treatment face cream contains more than 30 ingredients sourced from around the world. The ingredients are engineered in 5 complexes that support rejuvenation, recapture skin vitality, and provide a moisture barrier, antioxidant defense, and water saturation.
In the words of founder CEO Dr. Harold Lancer, "Over the course of my 30-year career as a dermatologist, I have been searching for a topical treatment to help my high-profile clients achieve the naturally fresh look that I call 'believable beauty'. Lancer Legacy™ Youth Treatment is the culmination of my life's work. Enriched with over 30 advanced ingredients, it is designed to preserve and refresh your skin's intrinsic beauty."
Did you know?
Lancer Legacy Youth Treatment contains several exotic rare-to-find ingredients. One is Swertia chirayita, commonly known as chiretta. It is a critically endangered medicinal herb found in high altitudes of the Himalayas from Kashmir to Bhutan.
---
5. X Baccarat AQ Meliority Cream
Brand: Decorté
Price: $5,000 for 200 ml
Type: Regenerating multi-cream
Key Ingredients: Benifuki extract, Murasaki-Cha extract, White Mucuna Extract, and others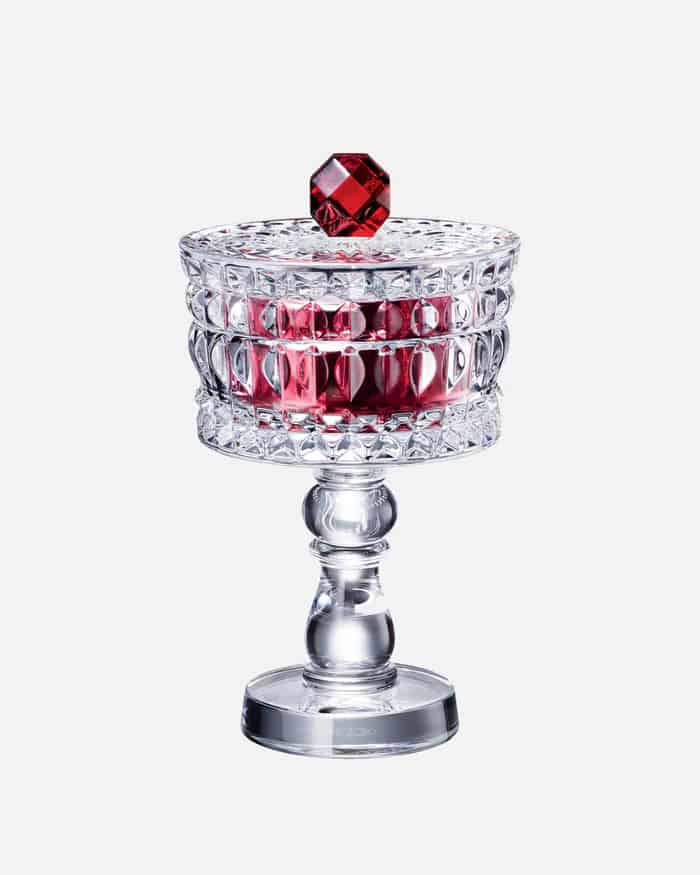 photo source: shopify.com
Japanese luxury skincare brand Decorté collaborated with Baccarat and Marcel Wanders to create this limited-edition offering. It was launched to celebrate the 50th anniversary of the company.
The cream contains 30 carefully chosen ingredients that support regeneration and help the skin transform. As you apply the cream, it melts on your skin and absorbs completely.
The three key ingredients are Benifuki, Murasaki-cha, and white mucuna extracts. Benifuki is collected from green tea leaves organically grown in Yakushima, a UNESCO World Heritage Island. Murasaki-cha is the Japanese word for purple tea. It is a special type of tea leaf created by the Tea Research Foundation of Kenya.
The last one, the white macuna, is a powerful antioxidant. It was used in ancient medicine to promote skin rejuvenation.
Did you know?
This special limited-edition face cream comes in a gorgeous crystal jar made by the French luxury brand Baccarat.
---
4. Platinum Rare Haute-Rejuvenation Cream
Brand: La Prairie
Price: $780 for 30ml
Type: Rejuvenating cream
Key Ingredients: Colloidal platinum, Korean ginseng, Chinese peony root extract, coffee arabica seed extract, raspberry leaf extract, etc.
photo source: amazon.com
Platinum Rare Haute-Rejuvenation Cream is a skin-rejuvenating cream made by the Swiss company La Prairie. The cream refines the skin texture and diminishes wrinkles and fine lines. It promotes an even skin tone and restores radiance.
The cream contains platinum particles, the most expensive metal available. Besides this cream, the La Prairies Platinum collection includes other products such as lotion, eye elixir, and eye cream.
Did you know?
The history of La Prairie goes back to 1931when Dr. Paul Niehans, the founder of the company, opened a clinic in a refurbished manor. Dr. Niehans believed that science can unlock the secrets of eternal youth, and the company still upholds this idea.
---
3. Orchidée Impériale Black The Cream
Brand: Guerlain
Price: $1,380 for 50ml
Type: Anti-aging cream
Key Ingredients: Black orchid extract, jojoba esters, diamond dust, great burnet root extract, etc.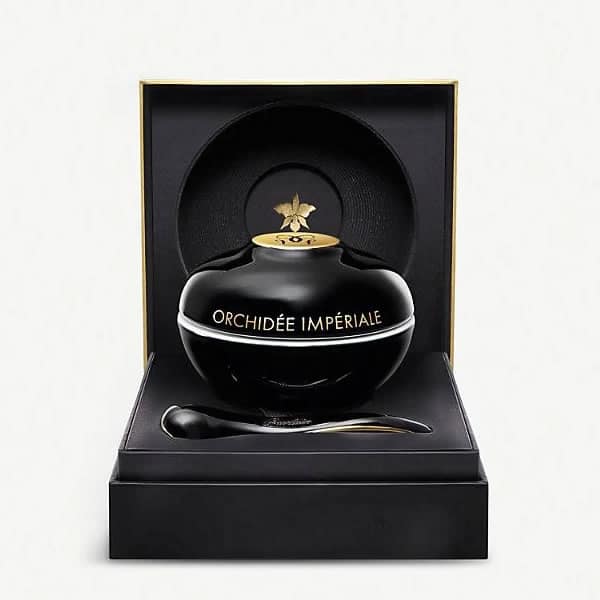 photo source: www.slapiton.tv
Guerlain is one of the oldest perfume, cosmetics, and skincare companies in the world. It is a French company that began its journey in 1828 as a perfume store. Since the early years, Guerlain has been an important name in the Parisian Fashion scene.
The brand is known for making super-expensive luxury perfumes and skin care products targeted at a niche clientele. Orchidée Impériale Black The Cream is the most expensive face cream ever made by this company.
Orchidée Impériale Black The Cream is the fruit of 15 years of extensive research by the Orchidarium® and Guerlain research. The face cream contains an extract of a rare Black Orchid from Peru, a plant known for its extreme resilience.
The cream reduces wrinkles and helps refine skin texture. It enables the skin to resist stresses, both internal and external. Thus, your skin can better concentrate on its rejuvenating process.
Did you know?
Orchidée Impériale Black The Cream comes in a beautiful refillable porcelain jar. The handcrafted jar is enameled black and embellished with 24K gold.
---
2. Synactif Intensive Cream
Brand: Clé de Peau Beauté
Price: $1,125 for 40ml
Type: Anti-aging
Key Ingredients: Mulberry and cinnamon bark extract, neem leaf extract, rose petals, retinol, Vitamin E, Vitamin C-Ethyl, etc.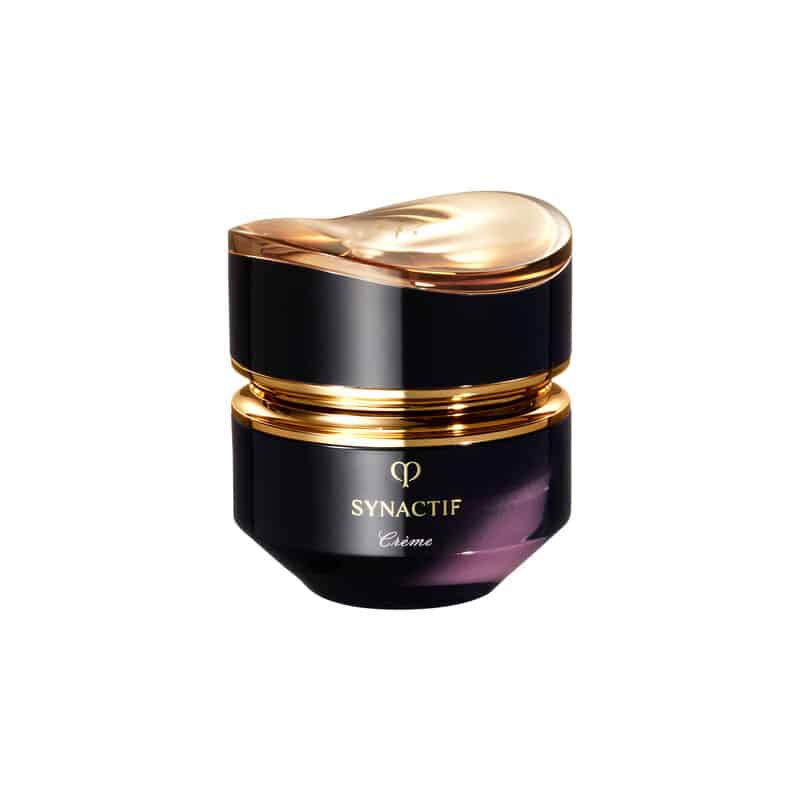 photo source: www.cledepeaubeaute.com
Clé de Peau Beauté is a Japanese skincare product manufacturing company founded in 1982. While this company is generally known for making high-end beauty products, this one is their most expensive regular edition face cream.
Synactif is an anti-aging face cream that contains various bark and root extracts, including cinnamon and white mulberry. According to the company's website, this face cream helps to reverse the sign of aging by enhancing the skin's ability to regenerate and purify itself.
Did you know?
This face cream is scented with a rare type of rose called Synactif that offers a subtle, sophisticated fragrance. Synactif rose blooms in May and exudes fragrance only for a few hours in the early morning.
---
1. La Crème (Limited edition)
Brand: Clé de Peau Beauté
Price: $13,213 for 50 ml
Type: Antiaging night cream
Key Ingredients: Platinum golden silk, European beech bud extract, Korean ginseng root extract, dog rose fruit extract, raspberry, rosemary, olive and tea leaf extract, etc.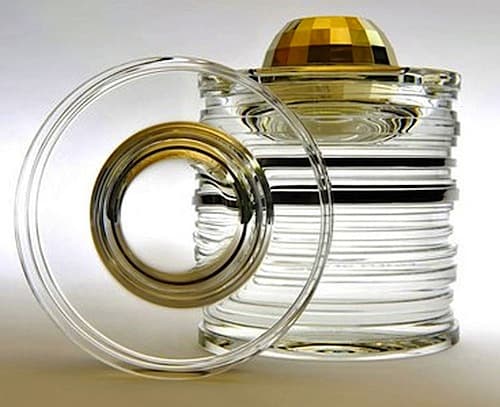 photo source: beautystatv2.wpenginepowered.com
La Crème (Limited edition) by Clé de Peau Beauté is the most expensive face cream ever sold. Clé de Peau Beauté launched this face cream in September 2012 to commemorate the 30th anniversary of its parent company Shishedo. A 50ml jar of the cream was priced at $13,213.
The cream was specially packaged, and only three jars were ever sold. The jars were made with 30 layers of crystal and three platinum rings. The packaging was specially designed by French glassmaker Crystal Saint-Louis.
Did you know?
The same cream in regular packaging will cost you $795 for 50ml. You can order it on Clé de Peau Beauté's official website.