Naruto is one of the best-selling manga in history, with over 250 million copies sold worldwide. This Japanese manga, written and illustrated by Masashi Kishimoto, tells the story of young ninja Naruto Uzumaki in two parts.
The character of Naruto was an instant hit. The manga series was translated into several languages and adapted into an anime television series.
Funko, the American company producing pop culture collectibles, launched its first Naruto Pops figurines in 2015. Over the last seven years, Funko has produced several Naruto Pops Based on the protagonist, as well as the other characters.
Where most of these figurines are available in the mass market, some were released exclusively in a limited number. The aftermarket price of a Funko Pop is usually directly proportionate to its rarity. Design, character's popularity, and other factors also play significant roles in determining the demand and price of a Pop Figures.
Here we list 9 of the most expensive Naruto Funko Pop Vinyl figures that you can find in the market. However, remember the price in the aftermarket is always in a state of flux. This list is created based on the most current estimated prices.
9. Sasuke (Rinnegan) Glow Chase
Estimated price: $75
Release date: August 2021
Rarity: High
photo source: ebayimg.com
Sasuke Uchiha is one of the central characters in Naruto manga. He belongs to the notorious ninja family Uchiha clan and is a staunch enemy of Naruto. Sasuke is also among the handful of characters who could awaken the Rinnegan. This Sasuke Pop features Sasuke with his Rinnegan eye.
It is a chase edition which means this Pop vinyl was produced in a limited number. The chase variants of Funko Pop vinyl figures feature a slightly different design than the regular figures and are randomly inserted into the standard production run. You cannot order a chase variant; receiving them depends purely on the chance factor.
Did you know?
Rinnegan is the strongest out of the three great eyes in the Naruto world. Only the people who alter the fate of the world can awaken this eye.
---
8. Madara with Scythe Game Stop Exclusive
Estimated price: $60 – $100
Release date: August 2021
Rarity: Moderate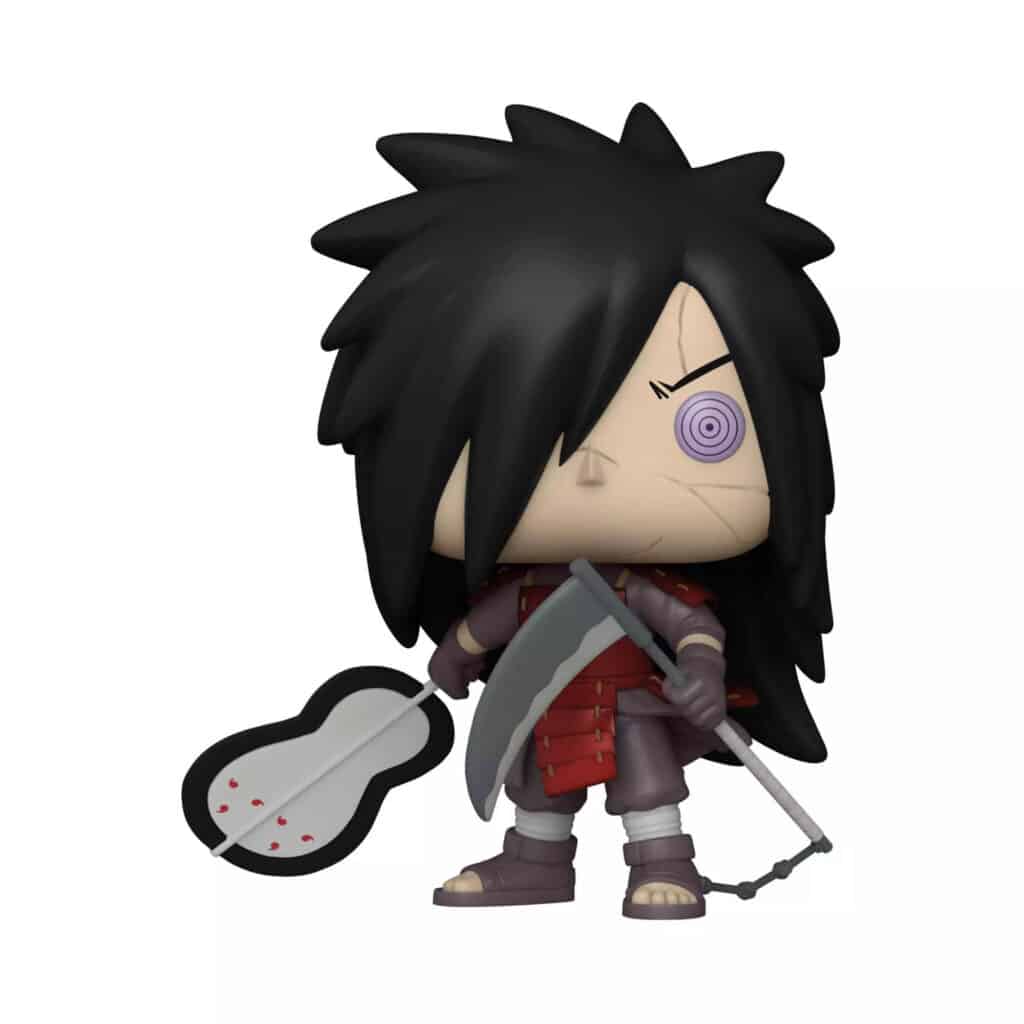 photo source: media.gamestop.com
Madara is one of the primary antagonists in the series. Madara with the scythe was the second Funko Pop based on this character.
The figure comes with two of the primary weapons of Madara, the qunbai and kama. The package also included a Funko Tee. This Pop was released in August 2021 as a Game Stop exclusive.
Did you know?
Madara is often considered one of the most well-written villains in the history of manga.
---
7. Kakashi (Anbu) Limited Chase Edition
Estimated price: $80 – $100
Release date: October 2021
Rarity: Moderate
photo source: avidfanmerch.com
The Team 7 teacher Kakashi Hatake is a popular character in the Naruto manga and anime series. Although initially, the author created him to be a harsh and apathetic teacher, as the series progresses, he turns out to be a generous and loyal person who is always there for his students.
In this Pop In this vinyl figure, he is wearing his Anbu operative attire; it looks like he is on an assassination mission. This Pop was released in October 2021 as a chase edition.
Did you know?
Kakashi has found his place within the top five most popular characters in every Weekly Shonen Jump popularity poll.
---
6. Anbu Itachi Chase Edition Chalice Exclusive
Estimated price: $100 – $110
Release date: January 2022
Rarity: Moderate to high
photo source: ebayimg.com
It is another chase edition on this list. As discussed, chase editions are always rare and hence sell for a high price in the secondary market. The Abu Itachi chase edition was exclusively released on Chalice Collectibles in very limited numbers.
It is a fairly new figure, but the price is already quite high in the secondary market due to its rarity. Fans predict the price will only go up in the future. While some want to get their hands on this piece to complete their Funko Pop collection, others see it as a good investment.
Did you know?
There were two ways to acquire this exclusive Pop from Chalice Collectibles. One could choose to pay $20 or $50. A chase figure was guaranteed on all $50 orders. However, with $20 orders, there was a 1 in 6 chance of receiving a chase.
---
5. Naruto vs Sasuke Anime Moments
Estimated price: $120
Release date: March 2020
Rarity: Moderate
photo source: media.gamestop.com
Funko released this Pop set based on the iconic fighting scene between Naruto and Sasuke that took place in episode 476 of Naruto Shippuden. The set includes a background of the Valley of the End as well.
It is a very detailed figure incorporating all the elements of the scene. However, the whole thing comes as a single piece. You cannot detach the figures from the backdrop. The price of this piece usually remains high primarily due to the importance of the scene.
Did you know?
The final battle of Naruto vs. Sasuke begins in episode 476 and runs through episode 478. The fight wraps up the events of Naruto Shippuden, and the series comes to an end.
---
4. Kaguya Otsutsuki NY Comic Con Exclusive
Estimated price: $125
Release date: October 2020
Rarity: Moderate
photo source: ebayimg.com
Kaguya Otsutsuki Funko Pop vinyl figure was released as a New York Comic Con 2020 and GameStop shared exclusive. The figure has excellent sculpture and paintwork. It also features Black Zetsu in her left sleeve.
The New York Comic Con of 2020 was scheduled to be held in October, between 8 and 11. However, due to the pandemic-induced lockdown, it was conducted online.
Did you know?
The photos of this vinyl figure released by Funko before the release feature white eyebrows. However, this particular design was missing in the final product.
---
3. Jiraiya on Toad
Estimated price: $190 – $300
Release date: April 2020
Rarity: Moderate to high
photo source: cdn.media.amplience.net
Jiraiya, the Toad Sage, is the mentor of Naruto Uzumaki. He assumes the role of the godfather in Naruto's life.
This Funk vinyl figure features Jiraiya riding a toad. So, technically it contains two figures. Funko took great care to maintain high quality and incorporate every minute detail in this figure. Even the symbol on the frog's necklace is clearly visible.
The Pop was a Hot Topic exclusive release and sold out in a matter of days.
Did you know?
The name of the character Jiraiya was taken from the Japanese folktale Jiraiya Goketsu Monogatari. The character of the folktale excels in toad magic.
---
2. Naruto (Sage Mode) Prototype
Estimated price: $500
Release date: 2017
Rarity: High
photo source: www.hobbydb.com
This vinyl Pop consistently maintained high prices in the secondary market mainly due to its rarity and demand. You cannot find this figure even in the after-market most of the time. Every time it appears in the market, the price increases.
Prototypes tend to be expensive because they are always produced in limited numbers. Prototypes are released by Funko to demonstrate the design of Pop before it goes to mass production. It gives a rough idea of how the figure will look.
Prototypes are not painted and feature only one color. Even the facial features are not painted in prototypes. Usually, Funko produces 3 prototypes per product line.
Prototype figures are distributed through giveaways and contests. Some prototypes are also available at the big stores.
Did you know?
Gemini Collectibles and Fugitive Toys are two of the most reliable stores where you can find Funko prototype figures.
---
1. Kurama (Kurama Mode) Glow in the Dark
Estimated price: $550 to $700
Release date: February 2016
Rarity: High
photo source: m.media-amazon.com
Kurama (Kurama Mode) Glow in the Dark is the most expensive Naruto Funko Pop ever released. This figure sells for $700 or more in the secondary market.
The figure is 6-inches long and super rare to find. It is also the only Kurama Funko Pop in Kurama mode. The figure was released in limited numbers as a Game Stop exclusive.
Did you know?
The character of Kurama is named after a character from the Japanese manga YuYu Hakusho, created by Yoshihiro Togashi.