The Caribbean is a tropical paradise, and we're not just talking about the beaches. It is also home to some of the most expensive islands in the world. Tourism is an important industry in the Caribbean Islands and it generates revenue for the territory's economy.
The most expensive Caribbean islands tend to be located in warm, tropical climates with beautiful beaches, coral reefs, and clear blue waters.
There are many beautiful islands to choose from and you have undoubtedly thought of visiting them while surfing the internet. When it comes to the most expensive islands, the Caribbean may surprise you. Though their beaches look beautiful and inviting, each one comes with steep prices that can easily break the bank.
Check out our list of the most expensive islands in the Caribbean.
14. St. Barths
Average Rate per night: $500
Island Area: 21 sq. km.
Location: French West Indies, Northeast Caribbean Sea
Owner: France
photo source: Vogue
In the Caribbean Sea, Saint Barthélemy, sometimes known as St. Barths, is a posh island. The rich and famous love to vacation on this French island. A vacation on this Caribbean island is also among the priciest.
Along with its trendy boutiques and eateries, St. Barts is widely renowned for its opulent hotels and villas. In the Caribbean, it is also among the priciest destinations to stay in. The cost of lodging starts at $500 per night, and dining at upscale establishments will set you back several hundred dollars.
Did You Know?
The Arawaks, the island's indigenous inhabitants, first referred to St. Barths as "Ouanalao" in 1493. After finding St. Barths, Columbus gave the island his brother Bartolomeo's name.
---
13. St. Lucia
Average Rate per night: $529
Island Area: 617 sq. km.
Location: Caribbean Sea
Owner: British Commonwealth
photo source: TravelPulse
The beaches, coral reefs, and rainforests of Saint Lucia are famous for their natural beauty. This tropical island is renowned for its beach resorts and luxury resorts. The St. Lucia parrot, the island's official bird, calls it home and also serves as an important resting place for migrating birds.
St. Lucia is a well-liked place to visit nowadays, and Castries, the country's capital, is a hive of activity. St. Lucia continues to be a site where travelers may enjoy peace and solitude despite its rising popularity. The resorts on this island, such as Jade Mountain Resort, and Sugar Beach Resort are among the most costly in the Caribbean; a night there starts at $529.
Did You Know?
The Piton Mountains, two volcanic peaks that form part of the island's landscape, are also located there. These mountains are a UNESCO World Heritage Site.
---
12. Parrot Cay
Average Rate per night: $568 to $9,600
Island Area: 4 sq. km.
Location: Turks & Caicos
Owner: COMO Hotels and Resorts
photo source: Luxury Travel Advisor
The picturesque private island of Parrot Cay in the Turks and Caicos offers an opulent escape for individuals seeking solitude and leisure. A sense of solitude is created by the rich flora, which contrasts beautifully with the gorgeous white sandy beaches and brilliant turquoise seas.
Celebrities who own properties on this 1,000-acre luxury private island include Bruce Willis, Donna Karan, and Keith Richards. Additionally, there is a posh resort, a beach club, and a spa on Parrot Cay.
A variety of dining options are available at the many restaurants and bars. A two-bedroom beach home at COMO Parrot Cay resort would set you back nearly $9600 per night in December, starting at $568 for a Garden View room.
Did You Know?
By fusing a laid-back beach house look with a calming contemporary style, British interior decorator Keith Hobbs created COMO Parrot Cay.
---
11. Nevis
Average Rate per night: $600
Island Area: 92.98 sq. km.
Location: West Indies, Leeward Islands
Owner: Great Britain
photo source: Caribbean Journal
Nevis has a wealth of sights to behold. Nevis is unquestionably a spectacularly gorgeous island due to the richness and splendor of its views. What distinguishes Nevis is the mix of its attractions. The Caribbean country of Saint Kitts and Nevis is made up of the two smaller islands of Nevis and Saint Kitts.
Sand beaches, such as Oualie Beach and Pinney's Beach, which are both protected, are well-known in this area.
One of the Caribbean islands with the least development and most tranquility is Nevis. Nevis has long been a location where the environment is valued highly. Nature has always been accepted and safeguarded on the island, even now when tourism is the island's main economic driver.
Did You Know?
The natural hot springs of Nevis are also well-known for their claimed therapeutic qualities.
---
10. Mustique
Average Rate per night: $600 to $2000
Island Area: 5.7 sq. km.
Location: St Vincent and the Grenadines
Owner: Mustique Company
photo source: Mustique Island
When it comes to beauty and elegance, Mustique, a little island in the Caribbean, is a powerhouse. The beaches on this private island are gorgeous, and it is home to some of the most opulent mansions in the whole world. Mustique is fairly rustic and unassuming, despite its reputation as an upmarket destination.
The only modes of transportation on the island of Mustique are a beach buggy or a bicycle. For years, tourists have been drawn to the island's mild temperature and natural splendor, which includes majestic hilltops and gorgeous palm-fringed beaches.
Did You Know?
Mustique is renowned for its famous visitors, which have included Kate Moss, Mick Jagger, David Bowie, Princess Margaret, and many others.
---
9. Virgin Gorda
Average Rate per night: $723
Island Area: 21 sq. km.
Location: British Virgin Islands
Owner: British Commonwealth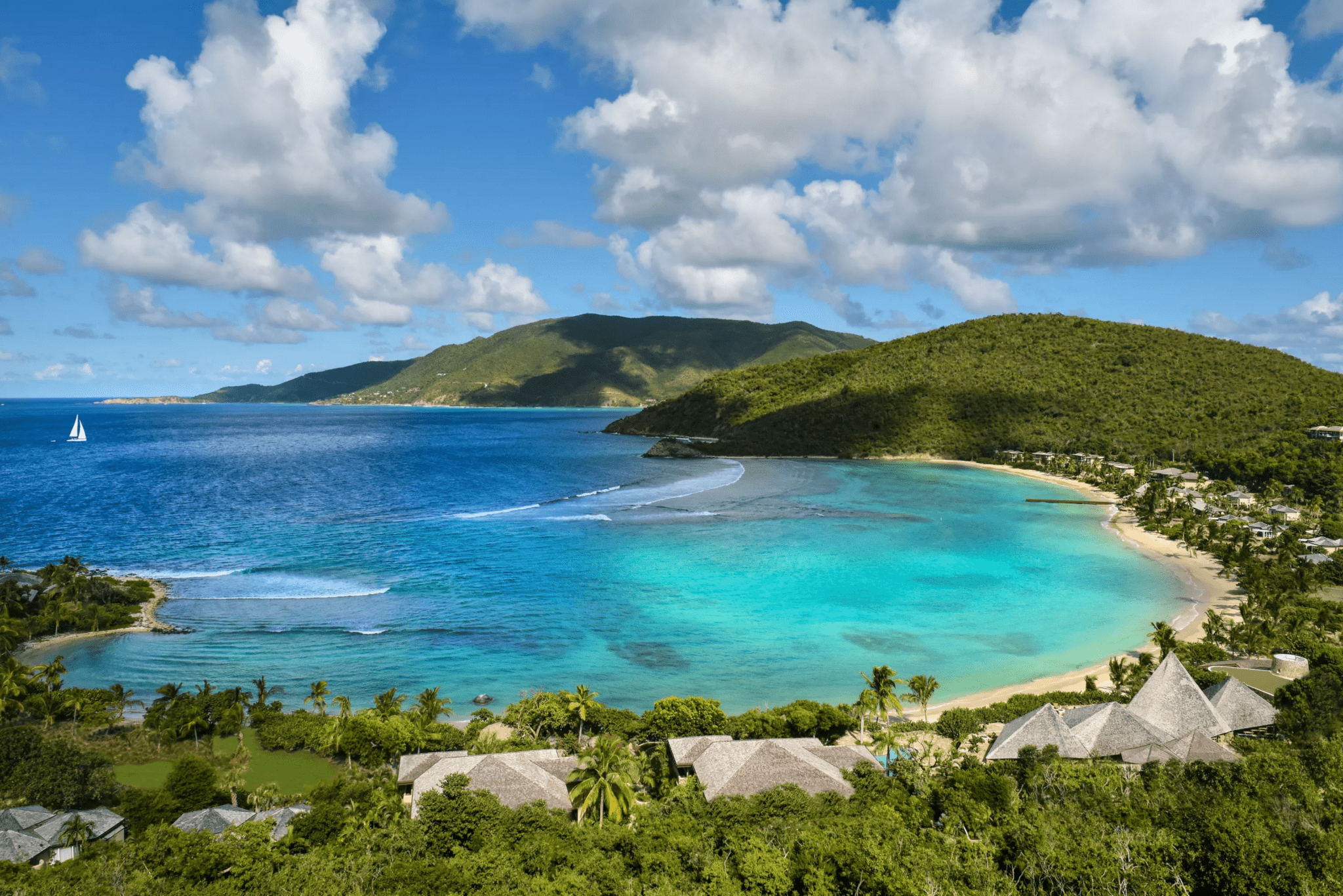 photo source: Rosewood Hotels
Virgin Gorda, the third-largest island in the British Virgin Islands archipelago, is renowned for its opulent hotels and beaches. Rosewood Little Dix Bay and Bitter End Yacht Club are just two of the upscale hotels that can be found in Virgin Gorda. Stylish restaurants, bars, and swimming pools are just a few of the facilities that these resorts provide.
The British Virgin Islands significant tourism business is aided by the subtropical climate, which is pleasant and warm for most of the year. Despite being in the tropics, the mild trade winds that blow the majority of the year from the northeast help to moderate the heat.
Did You Know?
The Baths is the name of Virgin Gorda's busiest beach.
---
8. Barbados
Average Rate per night: $777
Island Area: 430 sq. km.
Location: Southeastern Caribbean Sea
Owner: British Commonwealth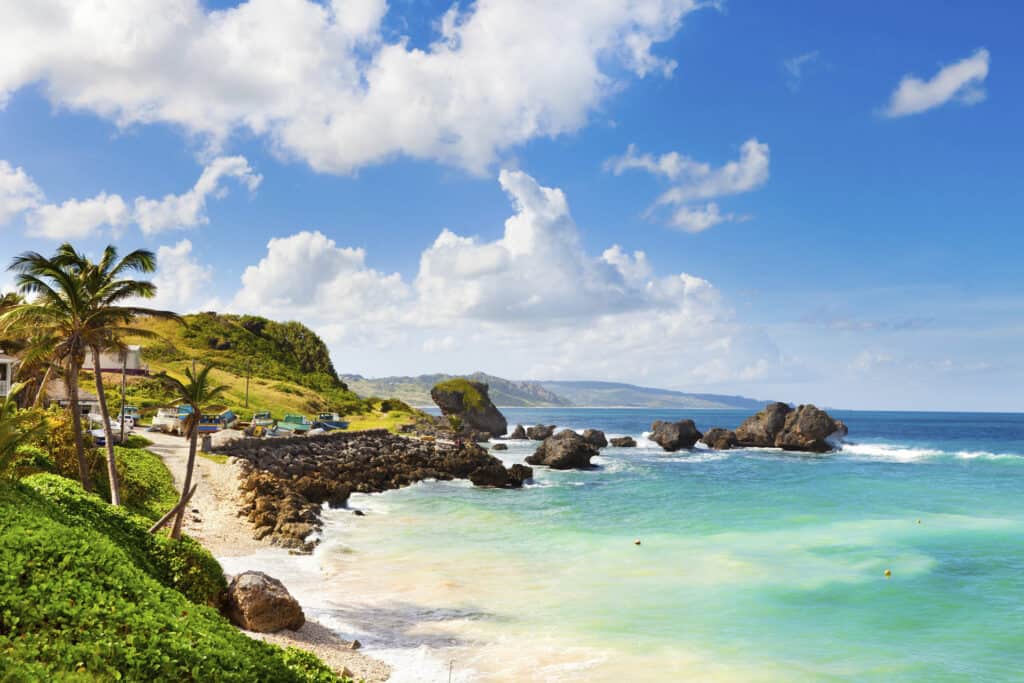 photo source: Jetsetter
Barbados is a well-liked vacation spot for people trying to get away from the chilly winters in the Northern Hemisphere because of its white sandy beaches, turquoise ocean, and opulent resorts. With high expenditures for lodging, dining, and activities, Barbados is also among the most costly travel destinations.
Due to the presence of numerous top-notch golf courses on the island, Barbados is a well-liked vacation spot for golfers.
Good roads are spread around the island. On the west coast, Port St. Charles is a luxurious marina complex and Bridgetown has a deepwater harbor. The southern shore is close to where an international airport is situated. Traveling in and out of this area is fairly simple since several international and regional airlines provide regularly scheduled and charter flights.
Did You Know?
Barbados has a variety of cultural attractions in addition to its natural beauty, such as museums, historic structures, and art exhibitions.
---
7. Canouan
Average Rate per night: $810
Island Area: 7.6 sq. km.
Location: St. Vincent and the Grenadines
Owner: St. Vincent and the Grenadines
photo source: CNN
Canouan is a mysterious island in the Caribbean that is only a 45-minute flight from beautiful Barbados. Only a select group of people who are in the know travel there to moor their million-dollar yachts or avoid the paparazzi. Even the phrase "haven where billionaires go to escape millionaires" has been used to describe it.
Roads show inhabitants gathered on the streets of a tiny, bustling hamlet up close, and every turn in the road reveals unobstructed ocean vistas. There aren't crowds of cruise passengers, tacky tchotchke stores, or densely populated areas crowded with hotels and restaurants.
The wildlife is so untouched here that it makes you feel that you are among the first people to come, and traffic means stopping to let turtles pass.
Did You Know?
A Carib term that means "island of turtles" is the source of the name "Canouan."
---
6. Anguilla
Average Rate per night: $900
Island Area: 102 sq. km.
Location: Eastern Caribbean
Owner: British Commonwealth
photo source: Caribbean Islands
White sand beaches and turquoise waters may be found on the British overseas territory of Anguilla. Several upscale resorts are also located on the island. Swimming, snorkeling, and windsurfing are among the activities available to visitors visiting the island of Anguilla. Both honeymooners and families love Anguilla as a holiday spot.
In addition, with nightly prices beginning at $600 USD, it is one of the most costly locations to visit in the Caribbean. It will cost you about $1000 per night to stay in a villa at Aurora Anguilla Resort & Golf Club. Altamer Luxury Villas, Cap Juluca, and Malliouhana are a few further opulent lodging options in Anguilla.
Did You Know?
The Summer Festival, or Carnival, which is held on the island every year from late July to early August, is its cultural highlight. The festival's primary attractions include pageants, a competition for Calypso Monarchs, musical concerts, and a Parade of Troupes, in which dance troupes in elaborate costumes parade through the streets.
---
5. Cayo Espanto
Average Rate per night: $1,995 to $15,995
Island Area: 3 acres
Location: Belize
Owner: Jeff Gram
photo source: aprivateisland,com
Three miles off the shore of Belize's Ambergris Caye lies the tiny island of Cayo Espanto. The seven luxurious villas at this unique resort, which can only be reached by boat, are tucked away among the mangroves and palm trees.
You can swim in the pristine seas, enjoy a sunset sail around the island, or simply unwind in one of the overwater Caribbean villas with private plunge pools.
A bird-watching excursion, fly-fishing, spa treatments, and scuba diving are all available to guests. Cayo Espanto offers non-exclusive rates that start at $1,995 per night and include transportation, 3 custom meals and snacks per day, and personal butler service. In the summer, a whole island rental starts at $15,995.00.
Did You Know?
Despite being less than two hours from Miami and Houston, Belize is still mostly unknown.
---
4. Jumby Bay Island
Average Rate per night: $2,500 to $10,800
Island Area: 1.21 sq. km.
Location: Antigua
Owner: Jumby Bay Island Company Ltd.
photo source: Tripadvisor
Off the coast of Antigua is where you'll find this 300-acre private Caribbean island. Jumby Bay also referred to as Long Island, is the ideal spot to unwind and get away from the pressures of daily life with its white sand beaches, clean seas, and lush greenery.
A five-star resort called Jumby Bay Island – Oetker Collection is also located in Jumby Bay. It attracts high-end tourists and celebrities because of its exquisite lodgings. The cost of a suite starts at more than $2,500 per night, while a villa on Jumby Bay Island starts at $4,550. Jumby Bay offers private houses starting at $10,800 per night.
Did You Know?
The word "jumbie," which is slang for "playful spirit" in Antigua, gives its name to Jumby Bay Island.
---
3. Necker Island
Average Rate per night: $5,650 to $8,000
Island Area: 0.3 sq. km.
Location: British Virgin Islands
Owner: Sir Richard Branson
photo source: Private Islands Online
Exclusive getaway Necker Island is owned by Virgin Group founder and billionaire Sir Richard Branson. An infinity pool, spa services, and a private beach are all available to guests.
Pink flamingos, red-footed tortoises, and endangered rock iguanas are just a few of the animals that call Necker Island in the British Virgin Islands home. Only boats or helicopters are used to enter the Necker Island resort. Activities available to visitors at the 74-acre resort include sailing, windsurfing, and snorkeling.
In addition to being home to Sir Richard Branson, it is one of the most opulent private islands in the world. With room for up to 48 adults and six kids, it's the ideal private playground for friends and family to enjoy.
Did You Know?
The name of the island honors Jonathan de Necker, a Dutch fleet commander in the 17th century.
---
2. Moskito Island
Average Rate per night: $17,500
Island Area: 0.506 sq. km.
Location: British Virgin Islands
Owner: Sir Richard Branson
photo source: CNN
The Oasis Estate, The Branson Estate, and The Point Estate are three opulent private estates on Moskito Island that may be rented alone or together. The Point Estate's low season rates for one night start at $17,500.
Many shared recreational spaces are also available, including the Beach House, which features a bar, game and movie rooms, floodlit tennis courts, a beach, and a wraparound pool.
Scuba divers and sailors have long favored Moskito Island, an island off the coast of Virgin Gorda. The island was home to Drake's Anchorage, a sail-in dive resort, for a long time. Close to Virgin Gorda and Necker Island, which is also Branson-owned, the island is situated on the western side of Gorda Sound.
Did You Know?
Shortly after leaving office as president of the United States, Barack Obama traveled to the island in February 2017 and picked up kiteboarding there.
---
1. Musha Cay
Average Rate per night: $50,000
Island Area: 19.02 sq. km.
Location: Bahamas
Owner: David Copperfield
photo source: Bahamas
The most expensive Caribbean island you can visit is Musha Cay, which is owned by the magician David Copperfield. For a minimum of 5 nights, it costs $50,000 each night for 1 to 12 individuals to stay here. Additionally, the Copperfield Islands have a huge selection of activities, including tennis, catamaran excursions, snorkeling, and scuba diving.
Musha Cay provides a private, luxurious island resort for only you and your guests that spans over 700 acres of beautiful, unspoiled nature. Four lovely beachfront homes with air conditioning are available, together with a 10,000 sq. ft. hilltop home with mesmerizing panoramas.
Did You Know?
Every resort here has a private beach and is furnished in a tropical manner, and our attentive staff will look after all of your needs.